What You Should Know About Bumble's New Magazine
(Hint: It's about way more than dating.)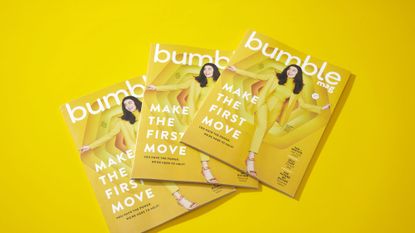 (Image credit: Stuart Tyson)
QYou know Bumble's app is great for dating (maybe you've even used it to find a match or two), but did you know that it can help you build a network, find a mentor, and even set you up with your next badass boss?
Bumble Bizz is Bumble's career-focused platform, joining Bumble Date and Bumble BFF in helping to empower women and end misogyny throughout the world (lofty goals, and we're all for it!). On Bumble, women are in control—they have to make the first move on swiping right. The app has over 50 million users worldwide, so chances are good that you'll make some great connections.
So what's the best way to go about making these connections? Bumble has a new resource to help you. They just came out with their first magazine—Bumble Mag—that's filled with stories on harnessing your inner power; building stronger, happier relationships; and helping you navigate our frenetic, 24/7 world.
And there's a whole section devoted to you and work: In one piece, Bumble interviews its data guru on what types of Bizz profile pics result in the most connections (eye contact and smiles, among other things). There's a story on what to wear to work when you don't work in an office (sneakers, sneakers, sneakers).
There's a Q&A analyzing all the awkward "professional" situations you find yourself in (no matter how much you hate it, you should not ghost a job). And speaking of awkward, Bumble tackles office life in the #MeToo era, helping you achieve success and combat sexism for a better future.
When you're finished reading Bumble Mag's Bizz section, turn to the sections on friends, dating, and self-care. Discover some fabulous destinations to visit with your girlfriends, read about what dating will look like in 20 or 30 years, and learn how to really, truly practice mindfulness.
For more on the magazine, including how to get your hands on the first issue for free, click here. Hurry—it's only while supplies last!
Celebrity news, beauty, fashion advice, and fascinating features, delivered straight to your inbox!