Roz Brewer Is Starbucks' Brew Boss
Starbucks COO Roz Brewer discusses her journey from chemist to power exec.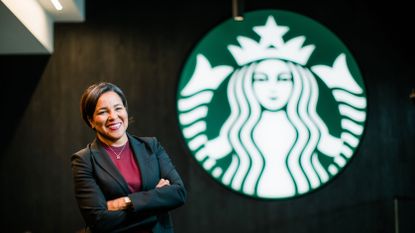 (Image credit: Joshua Trujillo)
Starbucks's chief operating officer started her career as a scientist before rising through the leadership ranks of Kimberly-Clark and Walmart to become president and CEO of Sam's Club. Based in Seattle, Brewer now oversees operations for Starbucks in the Americas. In February, she also joined the board of directors at Amazon, where she is an advocate for diversity and inclusion. Here, Brewer shares what she's learned on her path from the laboratory to the boardroom.
Marie Claire: You started out as a chemist at Kimberly-Clark. What was that like, and how did you begin taking a leadership role?
Roz Brewer: I was working in the lab for four years. I'm a double minority, and I'm not sure the hiring managers had confidence in my abilities early on. I typically was given low-visibility roles and hard tasks, so I knew I had to deliver results. I just kept my head down and worked really hard. I became pretty vocal once my confidence improved because I was achieving results. I began to ask for opportunities that gave me greater visibility. Could I sit in on business meetings? Could I travel with the sales team? Eventually, my role changed.
MC: After Kimberly-Clark, you took a VP job at Walmart. How did you make the leap from science to retail?
RB: I studied under some of Kimberly-Clark's best leaders. Tom Falk, the [former] CEO, was one of my mentors. I also intensely studied the business and learned retail from the ground up. I think it pays to have a STEM background. The skill of analytics is very transferable.
MC: When you became CEO of Sam's Club in 2012, what was it like to join the old boys' network of other retail chiefs?
RB: I would attend industry meetings, and I would have to constantly introduce myself with my title and explain what I do. I could never understand that, because all CEOs do the same thing. Initially, I wondered, was I not carrying myself appropriately? When I walk in a room, I can gain attention, but it just didn't register in the eyes of my male peer CEOs.
MC: How did you set up for your next move?
RB: I began thinking about it probably six to eight months before I left the company. I knew I wanted to stay in retail and move to luxury brands. I decided to look at joining the board of Starbucks. That came about after a conversation I had with Howard [Schultz, former CEO]. After my second or third board meeting, Kevin [Johnson, Starbucks's current president and CEO] spoke with me about coming inside.
MC: In 2018, less than a year after you joined, two black men were in a Philadelphia Starbucks for a meeting, and the store manager called the police on them. There were calls for a boycott. How did you react?
RB: I never would have thought that could happen in a Starbucks store. It was also shocking because the two gentlemen were 23 at the time, and I had a 23-year-old black son. So it was deeply personal. It was a day of reckoning and thinking about how we can make sure this never happens again in one of our buildings. I flew to Philadelphia and didn't come up for air for probably 60 days. We stopped all marketing and did unconscious-bias training. We've done additional training since then.
MC: How can workers at Starbucks and other places address social injustice when they don't have the power someone like you does?
RB: I think they do have the power. You don't have to be the one in charge to recognize when conversations are happening that you have an opportunity to teach and learn. You don't have to be confrontational or aggressive. Most people seek to understand, and I think it's about taking every opportunity you can get to educate and change the conversation.
This article originally appeared in the September 2019 issue of Marie Claire.
RELATED STORIES
Celebrity news, beauty, fashion advice, and fascinating features, delivered straight to your inbox!
Stephanie Clifford is an award-winning journalist writing about criminal justice and business, and author of the bestselling novel Everybody Rise.