Reed Krakoff Doodles in Meetings Too
The revered designer on his prolific career and his newest project: Tiffany's first dual fragrance.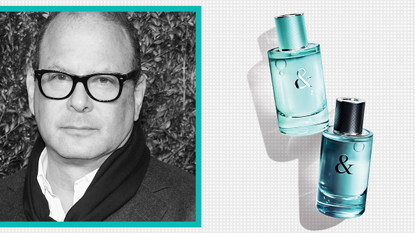 (Image credit: Getty / Courtesy)
Marie Claire Newsletter
Celebrity news, beauty, fashion advice, and fascinating features, delivered straight to your inbox!
Thank you for signing up to Marie Claire. You will receive a verification email shortly.
There was a problem. Please refresh the page and try again.
The fashion industry veteran has been shaping trends for years. As former creative director at Tommy Hilfiger and president and executive creative director at Coach Inc., Reed Krakoff is credited with reshaping classic brands into their most successful, modern iterations. Now, as the chief artistic director of Tiffany, he's using scent to change the game with the brand's first dual fragrances. Here, Krakoff talks Tiffany & Love for Her and for Him, mental ruts, and the best business lesson he's ever learned.
Marie Claire: The name of the new fragrance pair is Tiffany & Love. Tell us about the campaign concept and the scent.
Reed Krakoff: "Tiffany has been a beacon of the idea of commitment forever, since the days of the original diamond in the 1800s, and this the other side of that: the embodiment of modern love. Today's commitments are more non-traditional and deeply personal, so we wanted to represent that. That's why we wanted two fragrances that could live together, as a juxtaposition between two different people. One is more masculine and one is more feminine, but they're two sides of the same coin, and can certainly be worn by either person. It's a more personal way defining your commitment."
MC: What's your creative process?
RK: "I have to be honest—there's no process. The work I do gets done while I'm doing other work, if that makes sense. I don't sit around and do inspiration boards. I'm always just sketching, looking at my iPhone, researching, and looking at books, and it's all related. Whether it's photography projects or fragrance, it all just mixes together."

MC: How do you get your mind moving when you're stuck in a mental rut?
RK: "The worst thing is to stare at an empty page. I'll usually draw things I've already done, which helps me get a move on new things. If I feel a bit uninterested, I'll just do something else and then come back to it. If you allow yourself to not always know the answer, it will come to you as long as you're active and talking and researching."
MC: Do you have a preference for paper vs. digital when creating something?
RK: "It's funny. I've forever been a grey marker and printer paper kind of person, but for the past couple years now, I've used an iPad. It's perfect for when I'm traveling and need to be fast. I use it because you can do 50 sketches at a time."
MC: What do you do in a typical day?
RK: "I'm always working on multiple projects at the same time. I sketch all the time, and during meetings. If they're especially boring, I'll sketch a lot—like two collections. What I sketch can be anything: interiors, bottles, stores, clothes, perfume, campaigns, or store environments. I never get bored."
MC: What's a business lesson all entrepreneurs should know?
RK: "No one knows how how to do what you do better than you, and if you don't, you shouldn't be doing it. What I do is a great combination of creativity, history, marketing, branding, and popular culture, and for me, it's a perfect mix. When I was studying painting, my father wanted to show me how hard it would be to make a living being an artist. We had lunch at an expensive restaurant, and while we were eating, he said, 'Do you have any paintings you can to sell to eat here?' And that was it, point taken."
MC: What's the best advice that you've ever received from someone else in business?
RK: "I was a creative director when I was in my 20s—be happy when you get what you want, and don't expect people to be happy for you. Another piece of advice is that you can never go wrong with working hard. It's for yourself as much as anything, but you always have more opportunities if you just work hard.
MC: What's a life motto you live by?
RK: "Work hard, and don't be a jerk. I think as time has passed, awareness is radically different now, information is everywhere, and the light has been shone on people in many industries that didn't behave well."
Tiffany & Love for Her and for Him will be available exclusively through Bloomingdales on October 1.
For more stories like this, including celebrity news, beauty and fashion advice, savvy political commentary, and fascinating features, sign up for the Marie Claire newsletter.
Celebrity news, beauty, fashion advice, and fascinating features, delivered straight to your inbox!
Taylore Glynn is the Beauty and Health Editor at Marie Claire, covering skincare, makeup, fragrance, wellness, and more. If you need her, she's probably roasting a chicken, flying solo at the movies, or drinking a bad Negroni at JFK.