Everything You Need to Know About Paid Family Leave
Katie Bethell, founder and executive director of PL+US (Paid Leave for the United States), the national campaign to win paid family leave by 2022, answers your FAQs.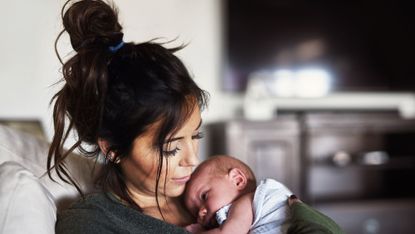 (Image credit: PeopleImages)
The United States is the only country in the developed world that does not mandate employers give paid time off to new mothers and fathers or other workers who need to step away to care for themselves or loved ones. When you compare the U.S. to Bulgaria, which gives 59 weeks of maternity leave at 90 percent salary, plus an additional year to be split between parents, or Norway (49 weeks), India (26 weeks), Chile (18 weeks), Iraq (14 weeks), our country looks downright pathetic.
So why is the U.S. so far behind the rest of the world, and what are members of Congress, presidential contenders, companies, and individuals doing about it? To find out, Marie Claire asked Katie Bethell, founder and executive director of PL+US (Paid Leave for the United States)—a national campaign to win paid family leave by 2022—to answer some of the most pressing FAQs about paid family leave.
It's paid time off from work because you need to welcome a new child or take care of an ill or elderly family member or yourself.
Paid family leave was a core piece of the economic stimulus plan to rebuild Europe after World War II. The policies were put in place, along with universal child care, because the horrible truth was that so many men had died that economists and politicians realized that they needed women to be able to both work—there weren't enough men to fill all of the jobs—and be able to have babies to rebuild the population. In the U.S., the message from politicians was very different. It was: Our boys are coming home, so all of you women who have gone to the factories need to go back home and prepare a home for your husband so he can go back to work. We completely missed the opportunity to build structures that supported women in the workplace.
How is paid family leave different from FMLA?
The Family and Medical Leave Act allows workers to take unpaid leave only; it also only applies to about 60 percent of the U.S. workforce because you have to work for an employer with 50 or more employees in a single location to take advantage. Similarly, many companies give employees "sick days," but those only cover short-term leaves.
Who takes unpaid family leave now?
Of the people who use unpaid leave guaranteed by FMLA every year, about 25 percent take leave because they're new parents, another 25 percent take leave because they're taking care of a family member, and about 50 percent of the people use it to take care of their own serious illness—for cancer treatments or to recover from heart surgery, etc. One out of every seven working people in America has lost a job as a result of having to take unpaid caregiving leave.
What does a good paid family leave policy look like?
It needs to be at least three months (we argue for up to six months), include protections to make sure that a person's job is there for them when they're ready to come back, and cover 100 percent of your income. (Many current proposals only give two-thirds pay and that's just not enough, especially for minimum wage workers—nobody can live on that!) It also needs to be available to you no matter where you work—whether you work for yourself or for a big corporation—and be available to every type of family. We're advocating for a national paid family leave insurance program. It's similar to unemployment insurance, which covers lost wages when you lose a job unexpectedly.
What has been proposed in Congress?
The leading Democratic proposal is the Family (Family and Medical Insurance Leave) Act, sponsored by Senator Kirsten Gillibrand (D-N.Y.) and Representative Rosa DeLauro (D-Conn.). It would give workers 12-weeks paid leave at 66 percent of their salaries and could be used to care for a new baby, for a sick family member, or the worker themselves. The plan would be paid for with a 0.2 percent tax on wages (about $4 a week for the average worker), split between employers and employees.
The leading Republican proposal is the CRADLE (Child Rearing and Development Leave Empowerment) Act, sponsored by Senators Joni Ernst (R-Iowa) and Mike Lee (R-Utah). It would provide one, two, or three months of paid leave solely to new parents. Workers would fund the leave themselves by getting an advance on their Social Security income and in exchange would agree to delay retirement by two, four, or six months. Senator Marco Rubio (R-Fla.) has a similar proposal called the New Parents Act, which would provide up to three months leave paid for by allowing new parents to draw from Social Security early in exchange for a three- to six-month delay in retirement, or a reduction in their first five years of Social Security payments.
In April, Senators Kyrsten Sinema (D-Ariz.) and Bill Cassidy (R-La.) announced they are working on the first bipartisan proposal, but the legislation has yet to be introduced.
Where do the 2020 candidates for president stand on paid family leave?
Almost every single Democratic candidate has said something positive about paid leave. Senator Gillibrand had a comprehensive plan, but she dropped out of the race in August. Her bill in Congress has 34 co-sponsors, including fellow 2020 candidates Senators Elizabeth Warren (D-Mass.), Bernie Sanders (D-Vt.), Cory Booker (D-N.J.), Amy Klobuchar (D-Minn.), and Kamala Harris (D-Calif.). Separately, Harris also has an interesting way of getting paid leave: She's proposing an equal pay policy where companies would pay a fine if they don't compensate men and women equally; the fine would be based on the size of the inequality. That fund would support a national family leave program. The presumptive Republican nominee President Donald Trump called for nationwide paid family leave in his 2019 State of the Union address, but he has yet to release a plan.
How much paid family leave do members of the U.S. Senate give their own staffs?
There's no across-the-board policy in Congress for paid family leave—how much to give is left up to each member—so Marie Claire asked all 100 senators what they provide. Thirty-two replied: 28 Democrats, two Republicans, and two Independents. Of those, Senator Tammy Duckworth (D-Ill.) has the most generous plan, with 16 weeks paid, followed by Senator Harris, with 14 weeks paid; most others who give paid family leave allot 12 weeks.
What's happening at the state level?
In 2018, nearly 30 state legislatures considered paid family leave proposals. In June, Connecticut became the seventh state to institute paid leave, following in the footsteps of California, New Jersey, New York, Massachusetts, Rhode Island, Washington State, and also Washington D.C. All of the states have used an insurance model; in some states, only the employee pays in, in others, both the employer and employee contribute.
What are companies doing on paid family leave?
Some companies are setting the standard for what good paid leave policy looks like. The salad chain Sweetgreen is now offering birth, adoptive, and foster parents five months fully paid leave, and Deloitte, a consulting firm, offers 16 weeks that can be used by new parents and caregivers alike.
A version of this story originally appeared in the September 2019 issue of Marie Claire.
RELATED STORIES
Celebrity news, beauty, fashion advice, and fascinating features, delivered straight to your inbox!
Kayla Webley Adler is the Deputy Editor of ELLE magazine. She edits cover stories, profiles, and narrative features on politics, culture, crime, and social trends. Previously, she worked as the Features Director at Marie Claire magazine and as a Staff Writer at TIME magazine.