There Wasn't a Community for Black Women in Venture Capital. So Black Women in Venture Capital Made Their Own.
In the mid 2010s, Sarah Kunst, Mercedes Bent, Sydney Sykes, and Sydney Thomas were scanning the industry for women who looked like them. Once they found each other, they made it their mission to disrupt the VC game from the inside.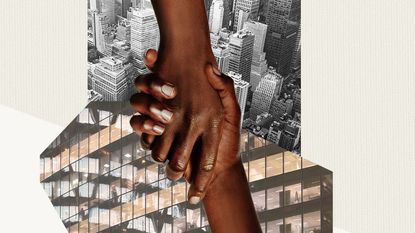 (Image credit: Getty/ Morgan McMullen)
It happened over dinner. Or, maybe, it was many dinners.
Sydney Thomas, Sydney Sykes, Sarah Kunst, and Mercedes Bent definitely met for the first time at a dinner party. The question is, which dinner party was it? It could have been two—or even three. In pre-pandemic times, there were many, many dinners: Bent, now a partner at Lightspeed, a venture capital (VC) firm that has backed the likes of Snapchat, Daily Harvest, and Stitch Fix, remembers hosting one, near certain that's where she first met Sykes and Thomas. Thomas, a Principle as Precursor Ventures, a seed and early-stage fund, recalls the dinner—but she says the two had actually been in contact before, a lunch that fell-through last minute. Kunst, founder of Cleo Capital, backer of female-founded brands like Love Wellness and Glow Bar, describes at least two different dinners, both with a guest list of Black women in VC. She reminisces on an intimate evening organized by Sykes, an angel investor and the co-founder of BLCK VC, a non-profit focused on doubling the representation of Black investors by 2024.
The memories of dinner parties may be faded, crisscrossed, or composited now, years later, but what's clear is the community that grew out of them. One that hadn't existed prior: a community of Black women in venture capital.

VC funds—companies that invest in other companies at some point in their launch or start-up stage— are generally staffed exactly how you would picture them to be: by old, suit-wearing white guys. According to Harvard Business Review, 65 percent of venture capital firms have no female partners, and 81 percent have no Black investors at any level. Less than 3 percent of professionals in venture capital are Black or Latinx; a 2016 study by Deloitte and the National Venture Capital Association found that just 3 percent of investment professionals overall are Black. Sykes' nonprofit BLCK VC also notes that only a small portion of that already tiny fraction are in positions of power, actually controlling the $100 billion+ invested annually in the U.S.
The lack of diversity in VC has a negative trickle down effect. As Kunst puts it: "We know that people tend to invest in people who look like them." Only an estimated 1 percent of venture capitalists are Black women, an issue in its own right. And on the other side of the coin, the reality seems just as bleak: With few Black women in positions where they can invest, very few VC dollars go to Black women–founded companies. Though Black women–owned businesses are growing at rapid speeds (from 2014 to 2019, women of color–owned businesses grew at a rate of 50 percent; the number of startups founded by Black women more than doubled from 2016 to 2018) they are still majorly missing out on a piece of the pie. According to findings from a 2018 analysis, Black women-led startups have only received .06 percent of the $247.7 billion in total tech venture funding raised since 2009. Recent research has found that the third quarter of this year saw the lowest venture funding for female founders in three years.
In 2017, Thomas created and published a list of all the Black women she could think of in venture capital. "It essentially increased visibility to all the Black women in VC, because I realized nobody realized that there [were] actually more than three of us," she says now. The list was a jumping off point for community—many catalogued ended up guests at those dinner parties. She even started a group for women of color in VC to meet up quarterly, a chance to connect and converse. "I think a lot of the Black people in VC felt this enormous pressure, myself included, to lead the way for the people in VC who are not Black and perhaps do not have Black communities," she says.
She wasn't the only one trying to bring Black people in VC together to share experiences and ultimately, build better representation across the board: In 2018, Sykes co-founded BLCK VC, meant to create opportunity for a more inclusive VC community (specifically, help grow the number of Black investors from 2 percent to 4 percent of the venture industry by 2024). She, too, was hosting dinners, gathering groups, and helping colleagues build more diverse portfolios.
"I do think we build the community mostly on our own for ourselves," says Bent, looking back. "It's not because the rest of the industry isn't supportive. I do think the rest of the industry is quite supportive, but I there's a lot of value in building community and being with folks where you can just 'let down your hair' and describe some of that, share your stories to some of the frustrations."
In 2019, Bent was the only woman who identified as African American to make partner at a VC firm, and she remains one of the few Black women to hold a senior role at traditional firm. "Many of the Black women partners have started their own firms or work at smaller firms. At [the] mega VC, top-tier level, there's really not any [Black women at the executive level]. I'm very used to being in spaces where I'm the only one. It's been like that for me since childhood, honestly," says Bent. When she found out about her newfound pseudo-celebrity status, she wasn't shocked—when she started out in VC, she hadn't seen too many Black women in higher roles. "I'm not terribly surprised," she says. "And it doesn't faze me in terms of my ability to get things done. If anything, it pushes me to really try and change the industry. If you're going to be the first, don't be the last."
Kunst is one of those people who decided to start her own firm: After stints in fashion and marketing, she bopped around the start-up space, and even started a company in the sports media space (raising money from organizations like the Los Angeles Dodgers), all while helping other venture funds realize how "deeply non-diverse" they were. When her company shuttered three years after starting, she decided to leap full-time into VC. "I looked around at venture funds to join, and I wasn't really finding the diversity and innovation that I wanted to see in a fund." Her company, Cleo Capital, an early stage and pre-seed fund that invests mostly in tech-based start-ups, doesn't treat diversity as an afterthought; it's baked into her investing decisions. "Being able to help move that needle on diversity in terms of who I invest in and who I invest with has been really awesome," she says.
Despite different paths, goals, projects, the fact that they work at different firms, and the ways the women's careers have diverged since those early days of passed hors d'oeuvres, the feeling of community has never wavered. Collaboration has always trumped competition—lateral mentorship has become genuine friendship; sideline cheerleaders have become trusted partners. The group find ways to work together—oftentimes, different funds back the same companies, and partnerships might make for stronger deals. Lightspeed, Bent's fund, is an LP (licensing partner) in Cleo Capital; that means, by proxy, she's investing in some of Kunst's investments. Sykes just joined Bent's third Scout program at Lightspeed, dedicated to racial minorities. (A scout fund is one in which VC firms back individuals to make investments in early-stage companies.) Thomas describes a recent deal she went in on with Kunst for a female-founded business. "I hope that by all of us collaborating, we make each other stronger," says Bent.
But they're not just meeting up to ink deals. "I always have an email in my inbox from [Sarah]," says Bent. "She's like, 'Hey, do you want to hop on this mentorship thing?'" Sykes says she often calls Kunst for gut-checks and opinions on next moves. "Some of my closest friends are Black women I met in venture and they're on the board of my nonprofit and they're the people I text every day and they're my mentors, and it kind of really runs the gamut," says Sykes.
They are also universally motivated to create long-term change in VC and leave the industry better than the way they found it. Kunst describes her fear: "Imagine you literally win the job lottery, you're one of the most successful people in the world, much less Black women, and [if you then leave] your industry, it would still cause a percentage drop because there are [so] few people who look like you in your industry. That's really driven me to... I think of it as replacing myself." The sentiment is shared by all the women. And though they love group-texting, there's a hope that, one day, their clique might become a crowd.
"I am hopeful that there will be a point where a Black person who's coming to venture can come in and say 'I'm literally just here to invest—I don't need a second job. I don't need to mentor every person who comes into my inbox,'" says Sykes. "But right now, most of the people who have joined venture in my generation are here, in part, because they want to make a difference. They see themselves as being able to change the industry just by being in it."

Until then—and after—the foursome, and so many other Black women in VC, will continue to lean on each other and provide unwavering support. They'll work together to score big deals, yes. But they'll also work together because they genuinely respect and like one another, and there's power in numbers when it comes to creating change.
"This is a terrible analogy," says Bent, "but [I think of] Megan Thee Stallion and Cardi B's collaboration with 'WAP.' It [was] the number one rap song, and the first song to ever debut at number one on Billboard for female rap collaboration. We need to be the Black female VCs like they are the Black female duos. Working together like that, my hope would be that one day, we can do something together that becomes the biggest deal in history. When people talk about 'I was the first investor in Uber, I was the first investor in Airbnb, or I was the first investor in Facebook,' I can't name any Black women who were in those deals. But, I hope in the future when they talk about that huge deal, there will have been a couple of us together working on it."
RELATED STORY
Celebrity news, beauty, fashion advice, and fascinating features, delivered straight to your inbox!
Megan DiTrolio is the editor of features and special projects at Marie Claire, where she oversees all career coverage and writes and edits stories on women's issues, politics, cultural trends, and more. In addition to editing feature stories, she programs Marie Claire's annual Power Trip conference and Marie Claire's Getting Down To Business Instagram Live franchise.