Twitter's God-is Rivera on Making the Platform More Inclusive
As the global director for culture and community, God-is Rivera amplifies the voices of previously disenfranchised digital communities.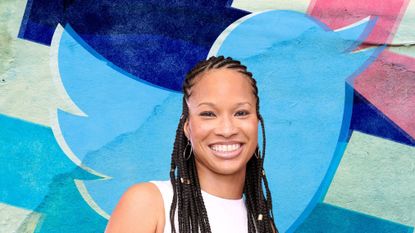 (Image credit: OBIN MARCHANT)
It was a presentation that landed God-is Rivera her dream job. In 2016, Rivera, then associate director of social-media strategy at global advertising agency VMLY&R, prepared a talk she called "Woke, Lit & Ready: A Guide to Understanding Black Twitter." At the time, Rivera regularly used Twitter as a marketing tool and was amazed by how the platform was able to give a voice to people, organizations, and communities. "Twitter was always the holy grail because it is this huge record of public thought," she says now. "What I love about it is that it really is changing the dynamics of the public discourse. It's this idea of democratized conversation. So everybody gets the same amount of characters, right? Depending on how real or authentic what you say is or how it resonates with people, you can get this exposure globally."
Despite this built-in equality, Rivera felt that, historically, some voices have not been heard at the same volume; instead, they've been silenced, marginalized, or ignored. Before social media, pundits, experts, activists, and more "had to get chosen to go on CNN or to go on ABC," she says. "And someone had to make that choice. [There] was a lot of exclusion." Her presentation was a challenge to ad agencies to be more inclusive in their content—in who created it and whom it was tailored to. She brought the talk to the attention of Twitter brass, who asked her to present it at an employee all-hands meeting. Later, she says, "I challenged them: 'As someone who loves the app, I would love to lead the work of how you as a company connect with these consumers.' " Afterward, Twitter CEO Jack Dorsey invited her to talk one-on-one. She then got to do that rare thing in the business world, especially for a woman of color: design her own role. In a corporate climate where some diversity hires get great publicity but, when it counts, no real equity, she says, "I give Twitter so much props for recognizing and trusting my ability and my vision. And then when I walked through the door, [I was] positioned and empowered and supported as a leader." She adds, "It is something that I pray that so many Black women, women of color, or all Black people get to feel." As global director for culture and community for the social-media platform since November 2018, Rivera helps users be heard and feel seen. "What this work does is say, 'We're focusing specifically on the group that had been in the margin to make sure that it is integrated into how people think about consumers and customers,' " she says. "And so we can't do that without actually asking them about how they feel."
One of the programs Rivera, 35, has created to do just that is called #TwitterVoices, which consists of events intended to foster sustained communication between the platform and marginalized groups. In the last two years, she has brought together participants within the Black, Latinx, and LGBTQ+ communities from places like Brazil, Nigeria, Puerto Rico, Panama, and Bermuda. She closed out last year with a #TwitterVoices at Home event for UK Black Voices, which included British journalists, finance and tech leaders, and creatives. It was a night of "sharing your brilliance & your truth," Rivera tweeted later. "This was just the start of our connection." These events, typically dinner parties (during the pandemic, Twitter sent invitees an UberEats credit), are an opportunity for invited "voices" to directly question Twitter leaders and speak to one another about topics impacting their community.
Rivera is all about doing more than having a single event and then moving on; she is helping Twitter build long-term, meaningful relationships. The most fraught moment of her career, she says, happened after the social unrest following the deaths of Breonna Taylor and George Floyd. From May 25 to June 19, 2020, Twitter saw the most significant spike in conversation about Black Lives Matter since the movement's inception. There was a staggering number of tweets—an average of 230 tweets per second—about Black Lives Matter and related topics in those three weeks. "These sentiments from these people were important," Rivera realized. "[People] needed to hear their words." Her team took the conversation offline, creating a billboard campaign to amplify about 30 tweets around racial justice. In cities including Philadelphia, Louisville, Oakland, and Minneapolis, Americans could read all the emotions that people were feeling—from pain and fear to a celebration of Blackness. "It felt like the right moment and the right way to show our support for this community," she says. "I am a Black woman myself; it was the pinnacle of my career, [but] I wish I never had to do it."
During the election, Rivera's team held virtual gatherings with Latinx community members about the platform's election policy, which included labeling and adding context to tweets containing misinformation, banning advertising from political accounts, and providing a public reporting tool for misinformation.
In some ways, Rivera feels that her job as a social-media catalyst was destiny. "I think about how social media has literally shaped my entire life: I slid into my husband's DMs on Myspace," she says. Social media helps her tap into her love of storytelling. "[It] is this incredible vast encyclopedia of people's thoughts and feelings and user behavior," she says. She knew the power of words at a young age and studied journalism at Clark Atlanta University. Hell, yeah, I'm going to tell my people's story, she thought at the time. She felt her elder family members and neighbors had immense knowledge but were not valued by mainstream media. "I knew that society was counting out a lot of voices, a lot of stories," she says.
With her Voices events gone virtual, the upside for Rivera has been that her family has become even more involved in her work. Rivera finds herself spearheading campaigns while helping her 9-year-old daughter adjust to virtual learning. Her family has witnessed career milestones firsthand from their living room. Now, Rivera says, "to watch me do it, they feel like it's a part of our family's legacy."
What will that legacy be going forward? Her plans include creating #TwitterVoices events with the differently abled and Indigenous communities. Despite all the "chaos," as she says, and challenges of 2020, she looks back with a sense of accomplishment and forward with excitement. "I feel really, really proud. I'm in a good, good space today." When she was in high school, she did a project telling the story of Black people from the 1960s to the '90s through poetry and dance; the way she wrote and choreographed that piece, she says, "I look back, and I'm like, 'Damn, I'm still doing that right now.' It's crazy."
This story appears in the Spring 2021 issue of Marie Claire.
Related Story
Celebrity news, beauty, fashion advice, and fascinating features, delivered straight to your inbox!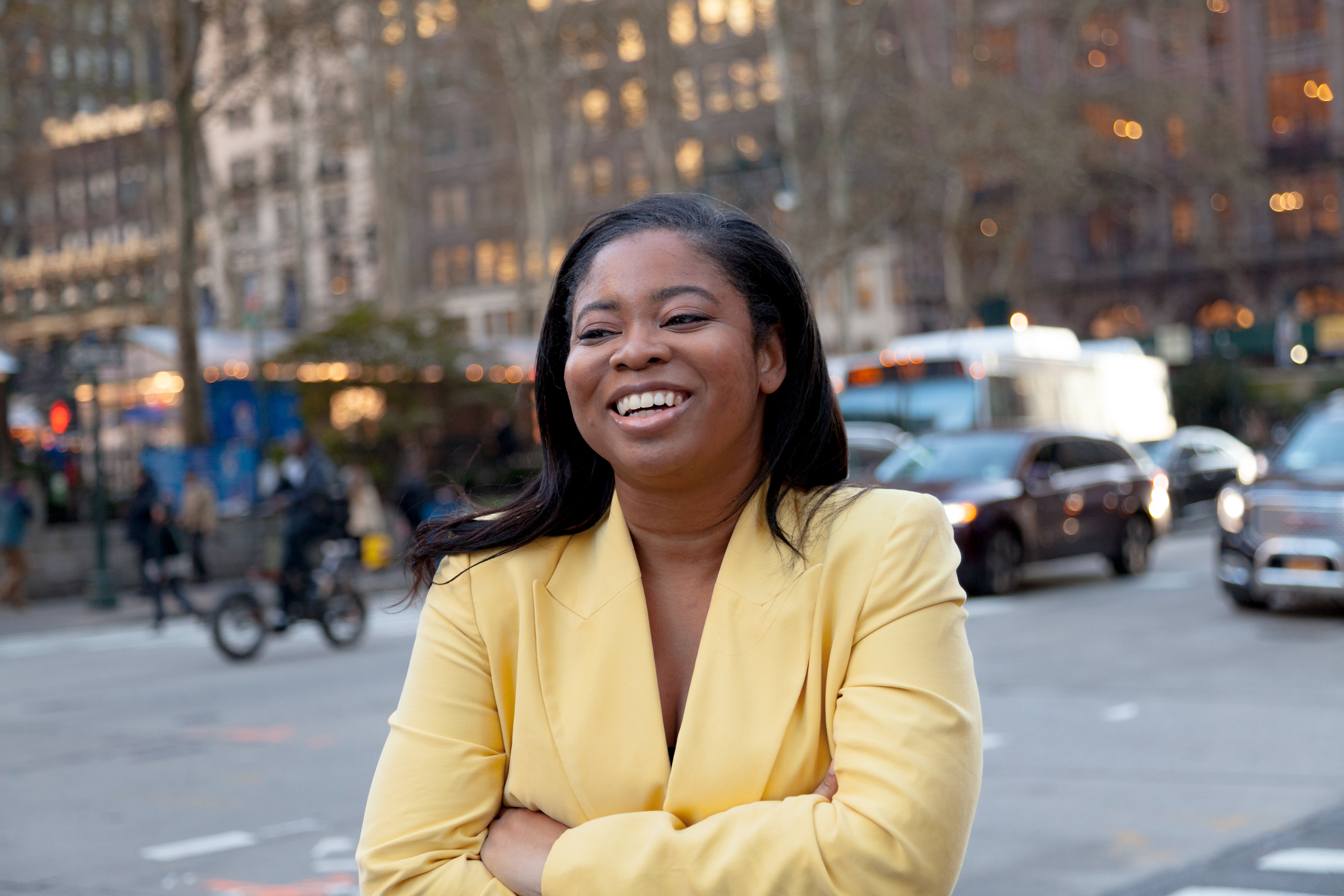 Brittney Oliver is a career and lifestyle freelance writer and content strategist based in Nashville. Over the past six years, Brittney has built her platform Lemons 2 Lemonade to help young professionals turn career obstacles around. Her platform is known for it's networking mixers which has brought over 5,000 professionals, entrepreneurs and creatives together to turn life's lemons into lemonade in NYC, Nashville, Los Angeles, San Francisco, Chicago, and Atlanta. In 2019 Forbes listed her as one of "Nine Black Women Leaders Dedicated to Empowering Others." Brittney has a BA in Public Relations from Howard University. After living in NYC for seven years, Brittney returned to her home state Tennessee to grow Lemons 2 Lemonade nationally.