What I Wear to Work: Bozoma Saint John, Chief Marketing Officer at Endeavor
Two words: heels and sequins.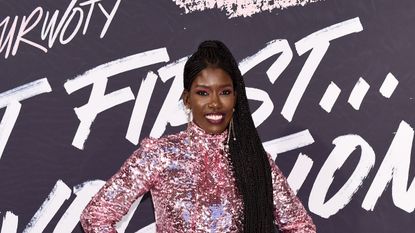 (Image credit: Ilya S. Savenok)
In a bi-weekly series, we're interviewing female executives, founders, CEOs—basically, boss ladies—on their one "power suit" a.k.a. the outfit they wear every day for easy dressing to conquer whatever the job throws at them.
What do Emma Stone, Michael B. Jordan, the NFL, and Fortnite have in common? They're all represented by Endeavor, a global entertainment, sports, and content company that counts IMG (they rep models Bella Hadid and Joan Smalls and run events like New York Fashion Week) and the Miss Universe Organization in its portfolio. Endeavor also owns Endeavor Global Marketing, whose varied client list includes Audi, Marriott, and Visa, as well as the Professional Bull Riders.
If your mind is already like whoa, information overload, same. For Endeavor's Chief Marketing Officer Bozoma Saint John, however, pivoting and juggling is her normal. Saint John has a pulse on every branch of the business because she manages the marketing strategy and vision for each of the clients in Endeavor's portfolio. Her background at companies like Uber (she was chief brand officer) and Apple (where she was head of global consumer marketing) have set her up to conquer her current role as CMO and, as she tells me, "I really consider myself a connoisseur of pop culture."
But this doesn't mean Saint John finds keeping up with all the information easy. One of the hardest parts about her job is trying to be in many places simultaneously.
"For this job, you have to understand what is happening in the box office, while also knowing what the biggest songs on the charts are, while also understanding the scores from the bull rides or knowing what's happening with the pageants," she says with a laugh. "I've always grown up as a curious person, but now it's constantly having to be in the know not simply out of curiosity but because it is part of my role. I perform better with the more information I have."

When Saint John isn't busy, mentally or physically—she's traveling for business every week—she spends time with her 10-year-old daughter and books non-business travel (particularly for birthdays). I caught up with Saint John to ask her more about life, including her daughter, her daily routine, and how she dresses for her high-profile role. This #bosslady actually does everything in heels.
Her Morning Routine
"My daily routine changes because I travel so much, but there are some philosophical things that never change. Whether I am running to the airport or running to take my daughter to school, I always pray in the morning to center myself. It helps me get ready for the day. No matter where I am, I check in with my daughter to see how she is, what she's doing. On top of that, I work out so I can get my body in the same place that my mind is. After an hour and half or so of time to myself, I'll then check into emails and work-related things. I give myself a chance to really get into my own day, to set my purpose, before engaging myself in something that someone else wants from me."
Her Getting Dressed Strategy
"I don't plan my outfits. Every morning I look at my closet and I wear whatever is going to make me feel the most powerful that day. Sometimes it's denim, sometimes it's a blazer, sometimes it's sequins—it depends on what I want to say. Whatever I put on that day though, my outfit is definitely my armor.
If I am traveling, here's the big secret: No matter how long I am gone for, I never check a bag. I bring a carry-on suitcase and a duffle bag that I stuff my purse into, which allows for a little more space. I'm a stiletto-type of girl, so I must have two pairs of stilettos in there. Usually it's a gold pair and some other color, which can be anything because I consider a leopard to be a basic, so sometimes it's that.
My other trick is to pack things that can be worn twice, like a leather jacket you can wear indoors so you can simply change out the top underneath, therefore it feels like a different look every time you wear it. I also pack top or pants that I can wash in the sink, so I can quickly hang dry it and wear again. Roll everything up in your suitcase to save space."
Her Work Uniform
"The one consistent thing I wear are my stiletto heels. I love my Christian Louboutins, but really any shoe that is bright or has a pattern. I am almost 6 feet tall, when I put on those 4 extra inches, I'm now 6'4 and I'm towering. That makes me feel powerful. I don't hunch down or feel the need to come down to anyone's level. Everyone else can rise up towards me. I also just like the sound of a heel. I like walking down the hallway and people can hear me coming. It's like, beware!
If there's ever a week that goes by where I haven't worn sequins, it's a sad week. Last week I wore gold sequins and leather, today I'm wearing leather, and I'll probably wear sequins before the end of this week. [Laughs.] I like sequin tops a lot because they make a statement and can be worn under leather jacket. I like the contrast between looking like you're going to a black tie function and a BBQ at the same time.

I also wear a lot of African prints, like Ghanaian designs, which may not seem to be in the 'corporate handbook,' but I love it.
Also, this may not be a piece of clothing, but I'm definitely wearing lipstick before I walk out of the house, usually a red or bright pink. My nail game is also popping, because I love nail art. I work with an artist who comes to my house and we sit and talk about the design, which she hand paints. It's very therapeutic and my form of self-care. My nails are always done."
The Three Words That Describe Her Power Outfit
"Feminine, bold, and probably bright."
Her Motto
"I use this as a hashtag all the time: #watchmework. You can be a spectator and simply watch me or, if you've ever doubted me, I'm really going to show you something."
If you love Bozoma's #powerwoman work style, shop similar pieces, below.
For more stories like this, including celebrity news, beauty and fashion advice, savvy political commentary, and fascinating features, sign up for the Marie Claire newsletter.
RELATED STORIES
Marina Liao is the former fashion news editor at MarieClaire.com, where she covered celebrity style (from Meghan Markle to Katie Holmes), fashion trends, and shopping advice, plus conducted original interviews with industry insiders. She's also had many opportunities to write content in other areas such as beauty, food, tech, and even home. Her previous fashion stints include POPSUGAR and Cosmopolitan.