New Film Series 'Five' Celebrates Female Entrepreneurs Making Change
Filmmaker Lisa Madison's new project highlights five female entrepreneurs who are determined to make a positive impact on their communities.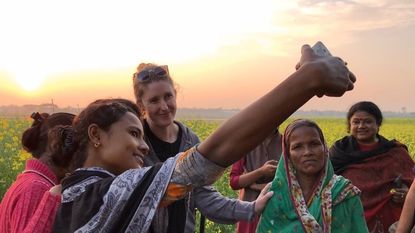 (Image credit: Courtesy)
Marie Claire Newsletter
Celebrity news, beauty, fashion advice, and fascinating features, delivered straight to your inbox!
Thank you for signing up to Marie Claire. You will receive a verification email shortly.
There was a problem. Please refresh the page and try again.
Oftentimes, the word "business" feels synonymous with capitalism: People selling goods or services to get rich. But around the world, female entrepreneurs are launching businesses that do more than just make money. They make incredible change.
In a series of five short films (aptly titled Five), filmmaker Lisa Madison shares the stories of five women who started companies to create impact in their communities. Each woman is from a different corner of the globe and has a different social mission, but one thing remains constant: They are all determined to impact their communities in a positive way. There's Carolina Ignarra, the founder of Talento Incluir, a consulting firm focused on including disabled people in the workforce (São Paulo, Brazil); Ekta Jaju, the entrepreneur behind ONganic Foods, a business that creates sustainable farming solutions (Calcutta, India); Sarah Beydoun, the founder of Sarah's Bag, which teaches incarcerated and at-risk women the trade of making handbags in order to support their families (Beirut, Lebanon); Irena Orlovic, the owner of publishing house Harfa, which creates educational resources for families navigating developmental disabilities (Split, Croatia); and Maya-Camille Broussard, owner of Justice of the Pies, a social mission-based bakery that serves children in low-income communities (Chicago, USA).
Madison, the VP of distribution and impact at the production company behind Five, Square Zero Films, was a producer on all of the shorts, plus directed ONganics Foods. Below, she shares how the films might change our way of thinking about what a company can truly achieve—especially with a woman at the helm.

Marie Claire: Can you share more about your background? What drew you to the documentary style?
Lisa Madison: I actually started from the activist side. I was helping on a film about sustainable agriculture, and the filmmaker didn't have any way to distribute the film. So, I set her up on a political organizing platform to distribute the film via house parties and community screenings. My entry into documentary filmmaking was trying to focus on how to create utility around social action films for communities around the globe. Documentaries, at their best, especially social action films, are tools for change. I like to give that agency to activists in their own community—to take the film and turn it into something that people can use.

MC: What drew you to the Five project? How did you pick the five stories you told?
LM: Mastercard [who commissioned the films] approached Square Zero Films because they were impressed with our last feature film, Soufra, which is about a group of refugee women in a Beirut camp that start a food truck. Square Zero Films has always been focused on telling the story of the underdog, telling stories of resilience and hope. It just so happens that most of the time, that turns out to be stories of women uplifting their community, often through entrepreneurial engagement.
For the Five project, we spent a long time sourcing stories from around the world. It was a lot of collaboration with Mastercard. We had more than a hundred stories of incredible female entrepreneurs. At the heart of all of the [stories that we chose] is a human that wants to change her community. It's always been a guiding principle of ours to tell a story about an emotional journey, not a business journey.
MC: Let's talk specifically about your choice to pursue one the stories, ONganic Foods, which you also directed. In it, you follow Ekta Jaju, a woman from Calcutta, India, who launched her company to help create more sustainable and safe farming solutions on her local community. What drew you to her story?
LM: As I mentioned, the first film I worked on was about sustainable agriculture. So it's a topic that's definitely near to my own heart. Ekta's a really strong and dynamic person. We had to jump in and get to know each other over WhatsApp a few weeks before I went to film the piece. I was inspired by her motivation to lift up communities in West Bengal, [especially] farming communities who had been really struggling with the effects of pesticides on their community. Children were falling ill; communities were popping up with higher rates of cancer and other illnesses. She saw this problem and figured that if she could create a system in which the farmers knew that they could sell organic produce at a higher rate, then they would grow it. It was this trickle-down effect.
It's a very thoughtful perspective on a series of circumstances and how a business can change a community. All of the films that we have in the Five series have that complicated perspective of using a business to enact change on a much wider level.
MC: The pandemic has pushed us all to focus on shopping small. The theme of community is threaded throughout all of the films. What's the biggest takeaway, there?
LM: These five films really underscore the need, and our own capacity, to change how we think about consumerism. I think that it's also a re-imagining of consumers, with more community in mind. I don't want to attribute this only to gender, but it does seem to be a pattern that women-owned businesses are more aware, more cognizant, of the importance of building a business that uplifts the whole community. All of these stories can help push us to a more holistic approach of business; thinking about businesses that actually do good, beyond just doing well financially.
MC: Was there a moment during the filming process that was particularly emotional or inspiring?
LM: For Sarah's Bags, we were trying really hard to get into the prison to film, and it took a lot of logistical maneuverings to do that. We were the first film crew to have access to that prison in 15 years. That was a really satisfying moment; to tell the stories of these women who were inside and who were learning the beadwork trade.
MC: What do you want viewers to walk away thinking?
LM: I think it would be to really look at these women and the successes they've had and think about the women in our own communities that are doing the same work, and facing the same struggles. These five women are incredible, but there are cases like this in all of our lives [on a local level].
Another thing: In India [where Ekta is from] women aren't always given equal opportunities. [What was interesting to me was] she never would point to her gender as being a detriment to her success. Our culture sort of sets [it] up as a, "Oh, it's a female-owned business, so that must mean that they struggled more." Which is true, but I think that in trying to change that dialogue, trying to change that conversation, [we can] teach our daughters that that's not necessarily going to be a struggle. It just means you need to be a little louder. Taking the word "struggle" out of it is really where we need to go next as a community. It's re-imagining what assumptions we have about the struggles or challenges of the bodies that we're born into, and reframing those as benefits or as characteristics that can help us along the way.
Watch Five, presented by Mastercard, on ShortsTV, and available on demand here.
Celebrity news, beauty, fashion advice, and fascinating features, delivered straight to your inbox!
Megan DiTrolio is the editor of features and special projects at Marie Claire, where she oversees all career coverage and writes and edits stories on women's issues, politics, cultural trends, and more. In addition to editing feature stories, she programs Marie Claire's annual Power Trip conference and Marie Claire's Getting Down To Business Instagram Live franchise.