The Budget: Renting an Apartment In New York City
In Marie Claire's latest money column, we break down one reader's plan to afford a life-changing purchase. This month, our experts help one woman find the perfect NYC apartment in her price range.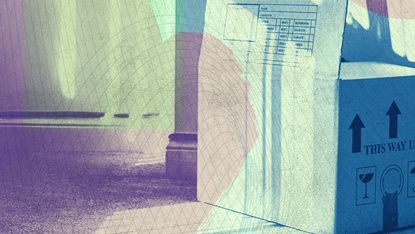 (Image credit: Getty Images)
Marie Claire Newsletter
Celebrity news, beauty, fashion advice, and fascinating features, delivered straight to your inbox!
Thank you for signing up to Marie Claire. You will receive a verification email shortly.
There was a problem. Please refresh the page and try again.
Nearly one in 10 Americans have moved (or had someone move in with them) because of the pandemic—many of them city dwellers fleeing to the burbs. Some feared coughing in close quarters; others couldn't make the rent. Jane,* a 28-year-old banker, couldn't justify the $1,100 she was spending on her apartment in Manhattan's Seaport District, which she shared with four roommates. So last June, she became one of many young adults who moved in with their parents. But living under your folks' roof has its … challenges. Now, Jane is back in the bloodthirsty New York market, looking to rent a place she can call her own. Here, Rachel Rabinovich, financial planner at Ellevest, and Nyasia Casey, real estate broker and YouTuber in NYC, share their tips for budgeting to live alone.
Jane's Financial Stats
Annual Pretax Income: $120,000 as a senior banking consultant
Monthly Take-Home Pay: $5,200after taxes and a 9% 401(k) contribution
Savings: $7,000 with $3,000 for up-front apartment fees
Estimated Total Net Worth: $33,000
Current Rent: $100. Jane subleased her $1,100 apartment room and is paying a $100 difference.
Debt: $5,500. Over the past two years, Jane has paid off $15,000 in credit-card debt, mostly accrued during her move from Hawaii (where she's from) to New York in 2018.
Price Limit: $2,000 per month or less for a studio or one-bedroom apartment on the Lower East Side of Manhattan. She can live without an elevator, dishwasher, doorman, or central AC but wants laundry in the building and does not want roommates. She plans to move this summer but is flexible.
Know How Much You Need ...
Consider a rental price of $1,800 per month: Jane would spend $3,625 on her first month's rent, a security deposit, and an application fee. She might need to pay a broker's fee too, which is essentially a commission for the real estate agent; expect to spend up to 15 percent of the annual rent on a broker's fee (or hunt for one of the few apartments in NYC without one). Not including furniture or a moving company, Jane would need $7,000 to cover up-front costs. —N.C.

 ... And How to Save That
Divide what you have left to save by the number of months until your move; put that much aside each month. —R.R.
Which Might Mean Changing Your Move In Date.
And that could save you money: June, July, and August are the busiest months for moving in most cities. Competition is fiercer, as many leases end and new graduates roll in. If you want the best deal, late fall or winter is the way to go.
—N.C.
Furnish Frugally
Look for ways to cut costs by buying used or discount furniture. Focus on the must-haves (a bed, a couch) and then add "want" pieces (that kitschy-cool lampshade) as you can afford to. Avoid financing new furnishings on a credit card unless you can pay it off within the month. —R.R.
Say Goodbye to Laundry
Maybe. In the Lower East Side, buildings can be more than 100 years old, so laundry is generally not an amenity you'll find. If an apartment you love does not have laundry, consider using part of your savings to purchase a washer-dryer combo unit. Of course, ask the landlord for permission first. —N.C.
Don't Forget About Saving ...
Target an emergency-fund goal of three to six times your monthly take-home pay (for Jane, between $15,000 and $31,000). This can seem overwhelming, so first focus on having one month of take-home pay; build from there. Since Jane will be the only one responsible for the rent, we suggest having this saved before moving. She'll want to make sure she can cover any unexpected expenses or financial emergencies. —R.R.
... And Don't Stop Budgeting Once You've Moved In
Manage your spending with what Ellevest calls the one-number approach. It's all about having a set weekly flexible spending amount; stick to it and you're free to shop or go to restaurants each week without guilt. Find this number by subtracting your monthly savings and your fixed and nonmonthly costs (like gifts or haircuts) from your take-home pay. Divide the result by 4.3; that's what you can spend on a weekly basis. —R.R.
This story appears in the April 2021 issue of Marie Claire.
RELATED STORIES
Celebrity news, beauty, fashion advice, and fascinating features, delivered straight to your inbox!
Megan DiTrolio is the editor of features and special projects at Marie Claire, where she oversees all career coverage and writes and edits stories on women's issues, politics, cultural trends, and more. In addition to editing feature stories, she programs Marie Claire's annual Power Trip conference and Marie Claire's Getting Down To Business Instagram Live franchise.