5 Things the Pandemic Taught Us About Financial Wellness
Sallie Krawcheck, CEO and cofounder of Ellevest, shares monetary lessons we can take away from the past year.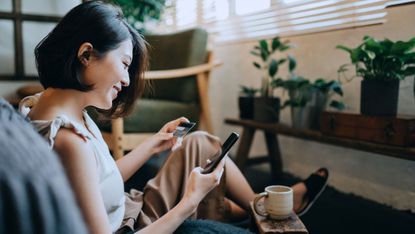 (Image credit: AsiaVision)
Marie Claire Newsletter
Celebrity news, beauty, fashion advice, and fascinating features, delivered straight to your inbox!
Thank you for signing up to Marie Claire. You will receive a verification email shortly.
There was a problem. Please refresh the page and try again.
Spring is springing. Vaccines are rolling out. And for the first time in a long time, I'm starting to make plans. I'm going to go away for a week with my daughter; I'm going to visit my parents; and I'm scheduling a couple of dinners. To any friend, acquaintance, or person-I've-only-met-once who invites me to anything this summer or fall: I'll be there. (Safely.)
That so many of us are starting to make plans means that the economy is looking up: The Chair of the Federal Reserve indicated that the economy could grow quickly, and über-banker Jamie Dimon is predicting economic blue skies that could last "for years." People are ready to get back to restaurants, concerts, and bars. People are ready to shop (for real clothes!). People are ready to be back out in the word again, and that will fuel our economy forward.
But before we all head back out there, let's take a minute to draw a line under some of the financial lessons of the pandemic and prepare ourselves financially for the next chapter.
The pandemic hit some of us harder than others.
So, first of all, kudos for making it through. We know the past year hit women (especially women of color) harder than men–whether it was job losses, loss of productivity because of family care obligations, or the need to tap into your emergency fund (or maybe spend more of your credit limit, if you didn't have cash saved up).
You did great, even when it didn't feel like it.
Companies found ways to grow and prosper despite the pandemic.
What we learned: Well, damn, stock market. The stock market is 87 percent higher now than its low point in March 2020. Who would have guessed that? (Answer: no one.) You may have heard "the stock market is not the economy," and that's true: The stock market is "forward-looking" and (as we can tell from how much more quickly it's recovered) doesn't represent what average Americans may be experiencing economically at any point in time. It instead represents expectations of a broad set of companies' growth and profitability prospects.
The fact that companies can find ways to grow and prosper even in a pandemic (and for some, because of the pandemic): That's capitalism in action. And this brings home the lesson that investing in the stock market (a.k.a. investing in those companies) has historically been a generator of wealth—for some, of generational wealth—in this country. (No, that's no guarantee that the market goes up every year by any means, but it has historically been upward trending.)
But we know that, similar to the pay gap and wealth gap, there's a gender investing gap that means women leave far more money on the table than men. In a future column, we'll be helping women learn how to get started with investing.
Financial wellness is having a moment—let's keep it that way.
For true wellness, we need to add financial wellness to the old saws of emotional wellness, physical wellness, and spiritual wellness. It often gets left out of the self-care routine, but not being on top of your finances can significantly undercut your wellbeing. Money is our number one source of stress. Taking action, like saving and investing, reduces that stress.
And no one, I repeat, no one, needs any more stress after the past year we've had.
It's worth looking at our careers with clear eyes.
A fourth thing we've learned: We know more about the character of the company we work for. Did your company adapt to your need for flexibility? Did it help its employees work in a way that worked for them? Was it flexible with time off? Did it continue to drive diversity? Did it inspire a fearlessness to make career moves? Well, now you know. Maybe it means that you want to work there forever, but maybe it means it's time to move on.
And if you were one of the many women who left the workforce this past year (many of whom were laid off; others who had to leave to care for children or a family member), remember, there is still hope. As the economy recovers, we hope to see businesses hiring at greater rates.
Money can be the power to live the lives we want.
Final lesson, as a member of the Ellevest community put it: "If you don't control your own money, you don't control your own life."
Let's get that in order before we get back out there.
RELATED STORY
Celebrity news, beauty, fashion advice, and fascinating features, delivered straight to your inbox!