The Founder of Classic Six Wants You to Buy Less
In a world of excess options, Diana LoMonaco invested her life savings into a fashion venture that focuses on just six elevated staples.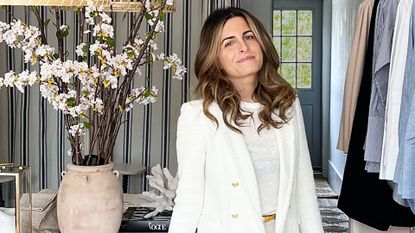 (Image credit: Classic Six)
We've all been there: scrolling online only to be left exhausted by endless clothing options. Sometimes, you'll purchase a few mismatched items, leaving you with a packed closet but nothing to wear. Other times, you'll browse for hours, only to ultimately abandon your cart.
Diana LoMonaco created Classic Six to reduce this all-too-familiar overwhelm. Her thesis: a capsule that offers fewer but better options can actually create more looks with effortless style.
LoMonaco started the business in 2020 with the "The Original Six," six versatile pieces that can be mixed and matched to create 40 different looks. From a double-breasted navy blazer named after Katharine Hepburn to a cream shift dress that pays homage to 1960s British icon Twiggy, everything can pair with each other as well as with other staples in your closet. Prices range between $185 and $450. She has since expanded with new collections, as well as a line of simple white tees that retail for $85 each.
The solo, self-funded entrepreneur says she recently hit $1 million in revenue since launch and remains steadfast in her commitment to minimalist fashion. But building a boutique brand that emphasizes quality over quantity can be risky. For starters, she isn't the first in the stylish staples market. Designers like Misha Nonoo are better known in the "less is more" category, and sustainable ventures like Cuyana have already made an imprint in timeless style. Secondly, manufacturing high-end fabrics and stitching requires a hefty initial investment, and can eat into profit margins.
To ensure a sustainable clothing brand and sustainable business model, LoMonaco selected a factory in China that focuses on reduced waste. And while she does not work exclusively with organic fabrics, she says the premise of her venture is less about the types of materials and more about curbing consumption.
Here, LoMonaco details what it was like to invest her life savings into Classic Six, how she used proceeds from her first venture to bootstrap her side hustle, and how an IRL pop-up might be the key to accelerating growth for her future.
What was your career before launching your business?
I started my career as an art director at Macy's and later left to start a graphic design firm, mainly helping small businesses build their creative identities. About four years in, I was missing the fashion world and decided to start a blog. It was during this time that I became completely overwhelmed with fashion. I was shopping excessively to share my inspiration and I was accumulating too much. I started to think, if I am feeling this way, how many other women are feeling this same fashion overwhelm? This was the moment Classic Six was born.
How much of your personal capital did you invest in order to start your business?
Early on, I was using whatever income I had coming in from my graphic design business to provide for incidental costs like my patterns, samples, fabrics, etc, but my original pre-sale is the reason I was able to go into production. After our launch I took a loan from my IRA (individual retirement account), knowing that I had a long runway to work with in paying it back without penalty due to the CARES Act. Happy to say I have now paid that back in full.
What year did you launch?
April 2020, during the height of the pandemic but due to supply chain delays our inventory did not arrive until July 2020. But I had online content that was ready to launch. I decided to launch the brand without any inventory in stock so I could tell our brand story during a time when people were constantly scrolling social media. It was the best decision I've ever made, because come July, people had an idea of who we were, what we were trying to do. They were ready to shop.
Why bootstrap?
It was a natural progression. Because of my background, I was able to build my website, my marketing strategy, and all creative content without having to hire. That helped tremendously in our ability to grow while staying lean. We were essentially funded by our customers in that original sale. From there, bootstrapping took on a life of its own and we have consistently been able to grow only by investing our profits back into the business.
How has the decision to bootstrap affected your personal finance decisions—from budgeting to saving and investing?
In the beginning it affected everything. The guilt was intense not to spend money on anything other than my business. The pandemic helped. We were home. There wasn't an opportunity to spend on experiences, dining, and travel. I was given the ability to save without the fear of missing out. My first business in graphic design set the groundwork for me when it came to understanding how to budget for my personal and professional life. By the time I started Classic Six, I already had a good idea of what it would take financially to be a solopreneur. My advice to anyone starting a business is to have a lifeboat to take the pressure off.
What's your biggest startup milestone so far?
Three days come to mind. First, the day we did more in sales in one day than I had earned working an entire year in my corporate job as an Art Director. Second was the day we hit the $1 million mark in sales. Whenever I would read about a "million dollar business," I would think, wow that is major. It's now how I feel reading about $100 million businesses. There will always be loftier goals to reach.
Last, the day I closed shop on my graphic design business felt like a milestone. I no longer had to worry about running two full-time businesses and had the freedom to only focus on growing one.
How did your summer pop-up in the Hamptons go?
Classic Six was slated to open a store in Manhattan in fall 2023. During a winter trip, my husband and I found a home to buy in the Hamptons, so I started looking for a little store in the area. As I was driving through town one afternoon I saw this vacant store on Main Street in Sag Harbor, but it was already taken. I said out loud "Oh that's a bummer. I would have loved this little store." A man standing nearby said to me me, "I'm the owner of the building and have one two doors down available in June." The owner is a wonderful man in his 80s who has lived in Sag Harbor for decades. It was meant to be.
Our summer pop-up opened in June and is now staying open indefinitely because it is doing so well. We made the pop-up a purposeful experience. Everything from the website is available, but we focus on offering in-person styling for some of our favorites like the Donna Button Down Shirts, the navy Katharine, the Brigitte Linen Sweater, and our newly launched linen tee.
Marie Claire email subscribers get intel on fashion and beauty trends, hot-off-the-press celebrity news, and more. Sign up here.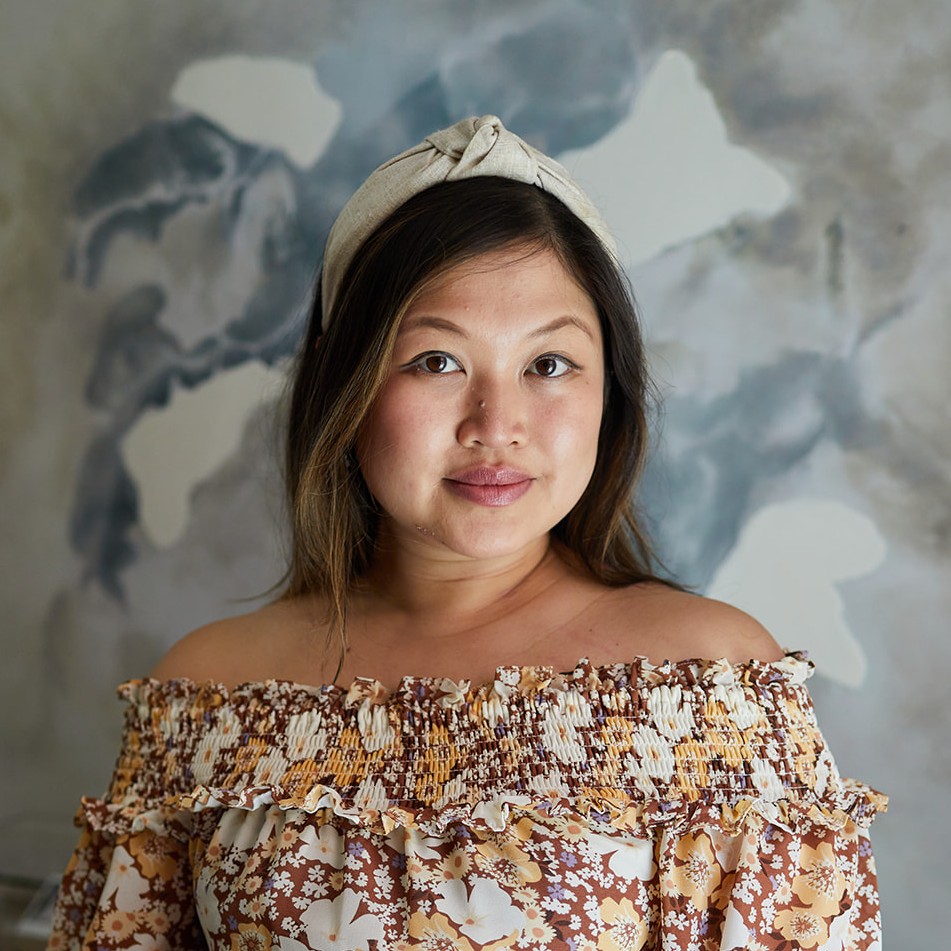 Tanya Benedicto Klich is Senior Editor at Marie Claire where she manages the Money & Career section. Over the course of her 10+ years as a journalist she has overseen the coverage of female founders, funders, executives, innovators and more. Tanya was previously a Lifestyle Reporter for Forbes, where she worked at the ForbesWomen and Forbes Lifestyle verticals. She was also a Features Editor at Entrepreneur Magazine, and a former on-air reporter for NY1 News. Tanya is also a graduate of Columbia University Graduate School of Journalism where she specialized in business & economic journalism, and is an adjunct professor at the NYU Arthur L. Carter Journalism Institute. She lives in Brooklyn with her husband and two little sons. Follow her on Twitter: @TanyaKlich