What Misha Nonoo Wears to Work
Take a peek inside the designer's ultra chic (and, ultra organized) minimalist wardrobe.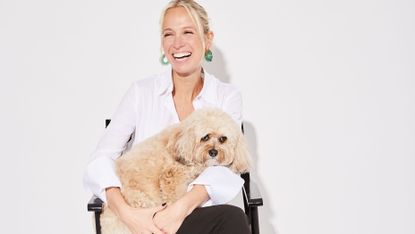 (Image credit: Courtesy)
Anyone who wants to look effortlessly cool and have it be a truly effortless endeavor (not I-actually-spent-one-hour-picking-out-this-outfit "effortless") needs to invest in a few Misha Nonoo items. The 35-year-old designer launched her eponymous ready-to-wear line in 2011 after a senior buyer at Intermix complimented her jacket, which Nonoo, then an apprentice at an atelier in NYC's garment district, had designed herself. Ten years later, Nonoo has a league of devoted fans, including Meghan Markle, Bella Hadid, Amal Clooney, and Marie Claire's editor in chief (opens in new tab).

Though Nonoo might be best known for her Husband Shirt (a slightly oversized, crisp button down), her collections are full of tailored and timeless separates that reflect her personal, restrained aesthetic. Each piece is intentional and versatile, designed to be styled in near-infinite ways. Ingrained is this ethos is the idea that we don't need 100 pairs of jeans to look great; in fact, investing in quality and classic staples is the foundation of an always-stylish wardrobe. It's also why Nonoo is devoted to sustainability in every area of production, including sourcing responsible materials and exclusively working with ethical factories.
The brand made waves in 2016 when Nonoo announced their pivot to the direct-to-consumer model—a move that has helped them navigate the COVID-19 pandemic (because clothes are made to order, the brand was not stuck with surplus inventory). Despite the challenges of the past year and adapting to a "new normal," one thing can remain constant: "Your aesthetic doesn't change in these moments, whether you become pregnant, whether you go through something like a pandemic," she says. For her, that means always looking smart—even if Zooming with her team from the couch.
Here, she shares what she wears, WFH or not. (Hint: It includes lots of Husband Shirts and we are jealous.)
Her Morning Routine:
I am a big believer in routine, particularly first thing in the morning. I wake up around 6:45 a.m. because [that's when] my son wakes up, and I get him out of his crib by 7:00 a.m. I give him breakfast, and then I usually exercise from 8:00 until 9:00 a.m. I make a morning matcha, which I love so much. While it's cooling, I do a 20-minute meditation. Finally, around 9:30 a.m., I jump into my work stuff. Unless it's something that's very urgent, I'm not really working before then.
Her Getting Dressed Process:
I'm very methodical and COVID has not changed that. Some people are like, oh, during COVID I don't get dressed. If I don't get dressed—if I've had a really chaotic morning and somehow, I haven't dressed myself properly, or I'm still in whatever I wore to bed at 11:00 a.m.—I'm like, oh, today is not a good day. I think it's really important to actually get dressed in the morning.
All my clothes are very clearly labeled and stored in certain areas of my closet. I have all my sweaters, organized by different thicknesses, in one area. Then, I have all my shirts, miniskirts, longer skirts, and trousers in designated areas. I wake up in the morning and, based on the weather, figure out what I'm putting on, but it's a hyper-organized process because my wardrobe is very slimmed down. Yes, I have 15 Husband Shirts, but it's because I've got them in them in various colors, stud styles, and sizes.
Her Wardrobe Editing Process:
Most of the things that I add into my wardrobe are classics. Even in my own collection, if something is a little bit trend-based, I might not actually add that to my personal wardrobe. For example, when I was pregnant with my son, I was very selective about the items that I asked for in a larger size. I took three or four pieces and wore them day in and day out, because I didn't want to feel wasteful. I'm really, really considered about what comes into my wardrobe. As a result, I don't have to constantly remove things. I don't like things that aren't going to last.
[I take that approach] even with my underpinnings. I invest in really good bras—it's more expensive, but there's a reason—they last longer. Otherwise, they wear out so quickly. It's the same with your athletic wear: You know what pieces actually are well-made because they withstand the test of time, and that isn't necessarily always price-based.
Her Favorite Activewear:
I love Nike leggings. I also love the Athleta crop top. It's a really beautiful sports bra, but it's a little longer, so if you're wearing a high waisted legging, it only shows a sliver of your tummy. Lululemon is really great, and I have some Adidas pieces as well. Those are currently my go-to. All my pieces are in navy blue, black, gray, white. Definitely no prints for me.
On Discovering Her Personal Style:
I've actually fine-tuned my style very specifically over the past five years. I was much more exploratory and playful before I hit 30. I played with this idea of femininity in my 20s that actually wasn't me. I'm much more tomboyish in my personal aesthetic.
When I turned 30, it all kind of clicked into place for me: I know who I am, and this is what I like the most. It's not just how I dress, but it's also my aesthetic when it comes to interior design: It's super clean, very minimal, and tends to be a lot of whites and solids instead of prints.
But something that I had in my 20s that I [still love] is jackets and tailoring. In fact, my collection started on the foundation of just eight jackets and coats. Being a working mom, [it's easy to pull on] a great pair of pants or leggings, with something classic, like a shirt or a T-shirt or something, but layer a beautiful blazer or jacket on top. I love a great blazer.
Her Go-To Uniform:
I'm very much into separates dressing as opposed to dresses. I reach for the Austen Skirt; on top, it's either the Husband Shirt or a cashmere sweater, depending on what the season is. I wear sneakers during the day (I love the white ones from Common Projects), or if I'm going somewhere more dressy, it's easily to pull on a fun pair of Prada pumps. Another look would probably be the Husband Shirt paired with a classic skinny trouser, like the Ivy Trouser.
Three Words to Describe Her Personal Style:
Edited, elegant, tailored.
The Accessories She Can't Live Without:
I love earrings; I actually collect old Celine earrings. I scout eBay and all sorts of places to find them. In terms of handbags, I always go back to the same one, which is the Cassette Clutch from Bottega. It's so easy. I don't have a diaper bag, I just I stuff a diaper into the Bottega bag. I'm all about being super streamlined and efficient.
Lately, I've also been wearing blue light glasses. One of my dearest friends, Whitney Wolfe Herd, who founded Bumble, sent these to me because we're always spending so much time on Zoom.
Something She Wears Every Day:
My wedding ring.
Her Hot-Weather Uniform:
I am very into shorts and pleated skirts at the moment. I think is really chic when you wear shorts with a classic button-down. Another really nice transitional piece is a shirt dress; they're versatile because they can be a bit more done up for the office, especially if you belt them, but you can wear them with a sneaker to run onto the subway.
The Piece that Makes her Feel Powerful:
A Husband Shirt.
Megan DiTrolio is the editor of features and special projects at Marie Claire, where she oversees all career coverage and writes and edits stories on women's issues, politics, cultural trends, and more. In addition to editing feature stories, she programs Marie Claire's annual Power Trip conference and Marie Claire's Getting Down To Business Instagram Live franchise.