Kate Bolduan: Background Check
Kate Bolduan, the 30-year-old cohost of CNN's New Day, shares her predawn routine, best career advice, and the carb she just can't quit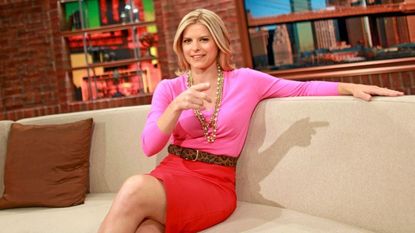 (Image credit: Yana Paskova)
First Job: In high school, I persuaded my dad and the other doctors in his Indiana complex to ditch their expensive lawn-care service and pay me to cut the grass. It was an easy job, and I could tan at the same time.
Best Career Advice: Don't follow in someone else's footsteps. Create your own. It takes courage, confidence, and maybe a little risk, but that's what finding success is all about.
Morning Routine: At 2:30 a.m., the alarm goes off, with two backup alarms set just in case. That leaves 25 minutes to shower, throw on clothes, and head out. I'm at the office by 3:15.
Go-To Breakfast: Oatmeal with a little brown sugar, raisins, granola, and peanut butter. Don't knock it till you've tried it.
Fitness Regimen: I've recently gotten into Spinning. Working out has become about much more than just staying fit. It is the absolute best stress reliever and biggest help in getting to bed on time.
Blackberry or iPhone: Both. I love the iPhone for taking pictures and Instagram, but I just can't give up my BlackBerry for e-mail.
Afternoon Pick-Me-Up: I love fruit Popsicles. They're the perfect sweet treat and can sit in your freezer forever.
When I Punch Out: There's never really "punching out" in news. I leave the office around noon, but my BlackBerry is always by my side.
Twitter Handle: @katebolduan (opens in new tab). I also have to give shout-outs to @chriscuomo (opens in new tab), @michaelacnn (opens in new tab), and @newday (opens in new tab).
Reading List: I've long been a fan of Daniel Silva's spy series. When a new book comes out, I download it immediately.
Career Highlight: I'm living it as we speak. I've never worked harder or had more fun than I am right now.
Wish List: Another five minutes to prep for the show, another 30 minutes to read a book, another hour to sleep, and another day in every weekend.
Greatest Weakness: Breakfast cereal. I seem to collect boxes. I just can't get enough.