The 25 Most Inspiring Hillary Clinton Quotes
"Human rights are women's rights, and women's rights are human rights."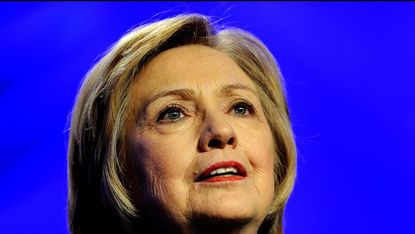 (Image credit: ARCHIVES)
Marie Claire Newsletter
Celebrity news, beauty, fashion advice, and fascinating features, delivered straight to your inbox!
Thank you for signing up to Marie Claire. You will receive a verification email shortly.
There was a problem. Please refresh the page and try again.
"Human rights are women's rights, and women's rights are human rights."
"There is a sense that things, if you keep positive and optimistic about what can be done, do work out."
"In too many instances, the march to globalization has also meant the marginalization of women and girls. And that must change."
"If I want to knock a story off the front page, I just change my hairstyle."
"The American people are tired of liars and people who pretend to be something they're not."
"I think that you can disagree with people and debate over their positions with issues without engaging in the politics of personal destruction."
"It is past time for women to take their rightful place, side by side with men, in the rooms where the fates of peoples, where their children's and grandchildren's fates, are decided."
"Dignity does not come from avenging insults, especially from violence that can never be justified. It comes from taking responsibility and advancing our common humanity."
"You know, everybody has setbacks in their life, and everybody falls short of whatever goals they might set for themselves. That's part of living and coming to terms with who you are as a person."
"I think that if you live long enough, you realize that so much of what happens in life is out of your control, but how you respond to it is in your control. That's what I try to remember."
"The worst thing that can happen in a democracy - as well as in an individual's life - is to become cynical about the future and lose hope."
"We should remember that just as a positive outlook on life can promote good health, so can everyday acts of kindness."
"The difference between a politician and a statesman is that a politician thinks about the next election while the statesman think about the next generation."
"Every moment wasted looking back, keeps us from moving forward…In this world and the world of tomorrow, we must go forward together or not at all."
"There cannot be true democracy unless women's voices are heard. There cannot be true democracy unless women are given the opportunity to take responsibility for their own lives. There cannot be true democracy unless all citizens are able to participate fully in the lives of their country."
"Take criticism seriously, but not personally. If there is truth or merit in the criticism, try to learn from it. Otherwise, let it roll right off you."
"Like it or not, women are always subject to criticism if they show too much feeling in public."
"To LGBT men and women worldwide, let me say this: wherever you live and whatever the circumstances of your life, whether you are connected to a network of support or feel isolated and vulnerable, please know that you are not alone."
"You want me to tell you what my husband thinks? My husband is not secretary of state; I am. If you want my opinion, I will tell you my opinion. I am not going to be channeling my husband."
"It's time that we move from good words to good works, from sound bites to sound solutions."
"Always aim high, work hard, and care deeply about what you believe in. And, when you stumble, keep faith. And, when you're knocked down, get right back up and never listen to anyone who says you can't or shouldn't go on."
"I have a million ideas. The country can't afford them all."
"Don't confuse having a career with having a life."
"I'm going to be pitching Andy [Cohen] on a new show for Bravo. We can call it 'Project Pantsuit.'"
"Whether I am meant to or not, I challenge assumptions about women. I do make some people uncomfortable, which I'm well aware of, but that's just part of coming to grips with what I believe is still one of the most important pieces of unfinished business in human history—empowering women to be able to stand up for themselves."
Follow Marie Claire on Instagram for the latest celeb news, pretty pics, funny stuff, and an insider POV.
Celebrity news, beauty, fashion advice, and fascinating features, delivered straight to your inbox!
Hallie has worked in beauty editorial for ten years and has been editorial director at Byrdie since 2021. Previously, she was a senior editor at Byrdie since 2016. During her time at Byrdie, she's written hundreds of high-performing stories on skincare, wellness (including fitness, diet, mental health, body image, et al) makeup, and hair. She's a regular on set, helping to source inspiration for makeup and hair looks, as well as interviewing celebrities, models, and other notable women and men in the beauty space.
Before that, Hallie ran Marie Claire's social media and wrote beauty and culture stories for the site, and helped launch Time Inc.'s digital-only beauty brand, MIMI. After college, she contributed to Time Out New York's Shopping & Style section before landing her first beauty editor gig at Hearst's Real Beauty. Hallie's writing has also appeared in ELLE, Cosmopolitan, and InStyle. Hallie graduated with a BA in Communication Arts from the University of Wisconsin-Madison.