The Women of Google
Google's lineup of women execs proves that pocket protectors are no longer emblematic of this industry.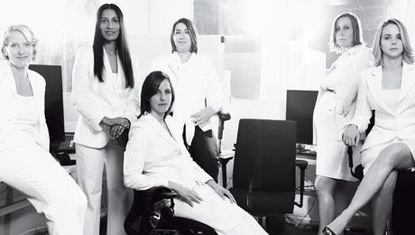 (Image credit: Neil Kirk)
If you think the tech world is only for the geek-chic set, guess again. Google's lineup of women execs proves that pocket protectors are no longer emblematic of this industry. Overseeing everything from business operations to online sales and product management, these dynamic women are company and community leaders.
With one of the best-educated work forces in the world, the company places a high value on continuous learning. Employees regularly enjoy visits from outside speakers; Eve Ensler, Sally Ride, Gloria Steinem, Jane Fonda, Diane von Furstenberg, and most of the 2008 presidential hopefuls have all dropped by Google offices. In fact, Google credits much of its success in creating innovative technologies with its emphasis on diversity of perspective, cultures and ideas in the workplace.
And then there are the perks — everything from gourmet meals, shuttles, and massages to annual ski trips. Good news for moms-to-be: They offer a generous maternity leave. Click here to learn more about working at Google.
The New York Times once called Megan Smith one of the "women who could change the face of technology." True to prophecy, the MIT Media Lab grad has left her mark on Silicon Valley, using her mechanical expertise and passion for start-ups to build companies (everything from social network PlanetOut to mobile devices). Now, as Google's vice president of new business development, Megan overseas its new-ventures partnerships, explorations, and licensing, and jointly champions the company's unique start-up culture. Now raising two boys with partner Kara Swisher, Megan says, "I'm a fan of choosing steep learning curves, big challenges, and focusing on things that both interest you and help others."
Sukhinder Singh Cassidy, Google's vice president of Asia-Pacific & Latin America operations, is an Internet veteran and entrepreneur (including cofounding Yodlee in 1999, a leading online player in financial services). At Google, Sukhinder has led the company's entrance into the world's most vital developing markets over the last three years, building operations in more than 18 different countries, from Beijing and Bombay to Buenos Aires. Sukhinder is not the only Cassidy leaving her mark on the globe: in her first eight months, daughter Kenya accompanied Mom around the world, racking up more than 60,000 frequent-flier miles.
Leading Google into Sub-Saharan Africa and developing organizational initiatives are all in a day's work for Francoise Brougher, vice president of business operations. By designing business processes and solving strategic problems around the company, she ensures that Google's growth is global, scalable, green, and always innovative. Francoise's insatiable energy has fueled her through a masters in engineering in France, an MBA at Harvard, and her "other" career: mom to three sons. Francoise says she picked up her favorite piece of parenting advice at Google: "Follow your instinct, trust your judgment, do something earlier rather than later, experiment, and ask for forgiveness when you are wrong!"
Marissa Mayer, Google's vice president of search products, is known in- and outside the Googleplex as the gatekeeper for big ideas. A razor-sharp critic and wildly creative thinker (in her brainstorming sessions, products are critiqued in the art school style), she's led Google's efforts in Web search, images, news, maps, Google Earth, and more. From holding office hours to dreaming up a world tour for associate product managers, Google's first female engineer defines and fosters its culture of innovation.
Shona L Brown joined Google in 2003 to oversee critical operational issues across the company as senior vice president of business operations. Prior to Google, she was a partner at the strategic consultancy McKinsey & Company. Shona has not just made her name with her unique brand of strategic management, she wrote the book on it (1998's best-selling Competing on the Edge: Strategy as Structured Chaos). Shona holds a bachelor's degree in computer engineering from Carleton University, a master's degree from Oxford University (where she studied as a Rhodes Scholar), and a Ph.D in industrial engineering from Stanford University.
As vice president of product management, Susan Wojcicki oversees one of Google's most vital areas: its online advertising business. Developing road maps for the company's advertising and monetization platforms, Susan manages the products that place Google ads all over the Web (and someday on TV, radio, and in print). Google's 18th employee and first marketing professional, Susan is also linked to a piece of historical real estate: Her garage served as the company's first headquarters.
Click here to see the Marie Claire photo shoot at the Google headquarters and to learn more about the Google campus.
Marie Claire email subscribers get intel on fashion and beauty trends, hot-off-the-press celebrity news, and more. Sign up here.