Secrets and Lies
When I found out my business partner had been hiding a tragic truth, I was devastated — then furious.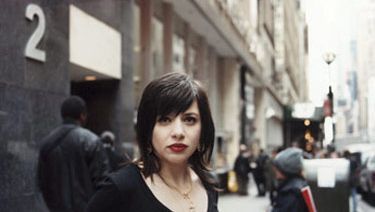 (Image credit: Anna Wolf)
Marie Claire Newsletter
Celebrity news, beauty, fashion advice, and fascinating features, delivered straight to your inbox!
Thank you for signing up to Marie Claire. You will receive a verification email shortly.
There was a problem. Please refresh the page and try again.
It was a lazy Sunday morning in May, and I was still in bed, half-asleep among the weekend newspapers, when the phone rang. It was a stranger with unbelievable news: My partner in our jewelry-design business was dead. Her funeral would be in a couple of hours.
"Nobody knew..." the caller said, before quickly hanging up.
Nobody knew — what? I wondered. I was so shocked that my husband called the chapel to make sure it was really Caron being buried that afternoon and not one of her relatives or a stranger with the same name. I frantically phoned friends with the news until I had to throw on a suit and head to the chapel.
As the mourners filed in, I heard bewildered people comparing notes.
"I just saw her this week," said one woman.
"I had an appointment with her next Wednesday," said another.
I had seen Caron just a couple of weeks earlier myself. She looked gorgeous, bubbling over with energy and in a rush, as usual. Caron was a transformative force in the glittering New York City diamond industry: Years earlier, she had broken the industry's glass ceiling, becoming the first female director of a major trade organization. The Caron I knew was, at 52, a chic, powerful businesswoman with a knack for sweet-talking customers into a sale. "You two are so in love," she would coo to a couple browsing jewelry in her showroom. "I wish I could just bottle whatever it is you have."
At the chapel, confusion reigned until Caron's husband stood up to give the eulogy. Caron, he told us, had lost a secret 16-year battle with breast cancer.
The congregation let out an audible gasp. Caron's husband lauded her bravery and stoicism, her determination not to be a burden on anyone. Everyone else seemed dazed.
After the funeral, I talked with Caron's friends and relatives outside the chapel. One of her doctors told me that Caron had been treated for cancer for many years but had simply lost the fight. She said Caron had once talked to her about our joint business, wondering aloud whether she was being fair to me in launching a start-up, when she knew she might not have much time left. Only a few people, mostly immediate family, had known of her illness. I met one of them there — Caron's brother, who had an angry air about him. I wasn't sure if he was displeased to see me — a potential financial complication — or if he was angry at Caron for some reason.
Later that day, I felt angry myself. I thought about how Caron and I had argued just a few weeks earlier about our business. She was unusually irritable, and had pointedly declined to share some important information about our relationships with key suppliers and manufacturers. Now I had orders for my designs, but no access to the people who could actually make the jewelry. I felt oddly betrayed.
At the same time, I felt great empathy toward Caron. I knew she had to be strong to excel in a field dominated by men and by family connections. She started out completely on her own and became so successful that when an industry newspaper listed great moments for women in the business, her name was there, right alongside Tiffany & Co. jewelry designer Paloma Picasso's. I'm sure Caron feared her illness would put clients off.
I was one of those clients. I met Caron in 2001 when my husband and I were looking for a jeweler to create my engagement ring and wedding band, which I'd designed myself. A friend had recommended her, and I was captivated by her beautiful pieces and lively personality. She had a glow about her, with her halo of blonde hair and fitted white suits, and she always sparkled with her own product: bracelets, rings, especially brooches; I once spent an entire meeting speaking directly to her giant topaz-and-diamond pineapple-shaped pin because I couldn't tear my eyes away from it.
Three years later, we started our joint business. After 10 years in journalism and five years at an investment bank, I was ready to do something entrepreneurial, and I'd always been interested in fashion. Caron and I had some immediate success with Kaviar and Kind — now called Roseark — a celebrity-friendly store in West Hollywood, where actresses and a star athlete bought our diamond bangles. Caron was thrilled when Lindsay Lohan bought a bracelet, although we didn't exactly celebrate with cocktails. Our relationship was friendly, but distant.
For me, her death raised difficult questions: At the end of the day, what do any of us owe each other — in terms of honesty, intimacy, and disclosure — as friends, colleagues, neighbors? How could I have had an intimate working relationship with Caron and not have known something like this about her? It made me question my judgment, my powers of observation.
Still, I wondered: Why didn't she do right by me? I know that in the grand scheme of things, our little business project paled in comparison to the fact that she was facing death. But even so, if she felt her illness was too private to share, she could've simply provided the information that would keep our business going. It seemed odd to me that her work and her life were always so intertwined, yet so separate at the end. I couldn't wrap my mind around it.
But I knew one thing for sure: I wasn't going to give up. If there was a lesson to be learned from Caron, it was perseverance. So I started rebuilding the business on my own, thanks to the help of a few friends. I renamed it Wendy Brandes Jewelry and designed a new collection. Most of my pieces are named after notable women in history: Elizabeth I and Cleopatra, various noblewomen, a mythical female pope. I draw a lot of strength from the lives of my "ladies."
It's been two years now since Caron died, and recently I finally erased the last message she had left on my answering machine. It was just a typical businesslike message, nothing personal, but it was my reminder of the Caron I'd first met — the vibrant, successful Caron, not the one who was hiding a tragic secret. I think about her often. But that doesn't mean she didn't give me a hard lesson. Future business partners better be ready to provide every contact in their BlackBerry, a doctor's note, their mother's maiden name, and anything else I can think of. I'm going to be like the FBI, the IRS, and CSI all wrapped up in one snazzy jewelry box.
Wendy Brandes writes about everything from fashion to feminism at wbjewelry.blogspot.com.
Celebrity news, beauty, fashion advice, and fascinating features, delivered straight to your inbox!