Jet Blues
The highs and lows of corporate travel.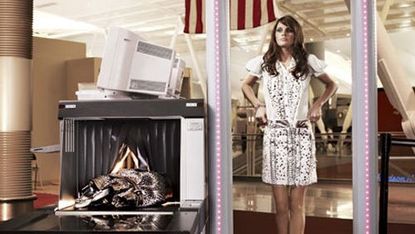 (Image credit: Thierry Van Biesen)
HIGH: You score precious face time with the boss to pitch your new project.
LOW: Your boss is a close talker--with halitosis.
HIGH: Room service, here you come!
LOW: "Room service" at the Econo Lodge equals vending machine.
HIGH: You're all set with your state-of-the-art multimedia presentation.
LOW: The airline loses all your stuff (including the sparklers that were part of your big finale).
HIGH: You packed your knock-'em-dead suit.
LOW: The hotel's lack of hair dryers means your power-suit look is now topped with Krusty the Clown hair.
HIGH: You get a chance to meet people from different departments.
LOW: You have to share a room with weird Judy from sales, who insists on sleeping in the nude.
HIGH: One-on-one, your uptight boss finally seems to relax.
LOW: After three glasses of wine, she lets slip that she's embezzling from the company.
THE BUZZ

Do something rewarding with your frequent-flier miles: Find out how to donate them to charity at MileDonor.com (opens in new tab).
For luxurious airport lounges around the globe, check out LoungeGuide.net (opens in new tab).

Get listings of free Wi-Fi at WiFiFreeSpot.com (opens in new tab) no one has to know you're working from the bar.
Be prepared: Read reviews of more than 12,000 public restrooms at TheBathroomDiaries.com (opens in new tab).
LADY BUSINESS
Crunching the travel numbers, female-style.
80% of female business travelers say they view their trips as a sign of professional achievement.
53% of women say they eat the turndown-service mints left on their bed pillows.
$175 billion The amount women spend on their 14 million business trips annually. And that's a lot of peanuts.