Five Women Redefine the Power Suit
Five women redefine the power suit. Must-have accessories: a G-36 gun, chaps, a football helmet.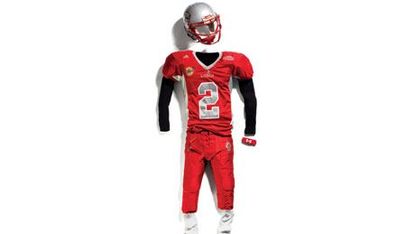 (Image credit: Jeff Harris)
KATE HNIDA, 25, first woman to ever play and score in an NCAA Division 1 football game.
THE JOB: "I come from a really athletic family. I played kicker on my high school team for four years. When I graduated, I was invited to walk on to the University of Colorado squad, but it was a miserable experience. I was verbally harassed by the guys, had footballs thrown at my head, and was raped by a teammate. "I transferred to a junior college and took a year off to make sense of what I had been through, but I knew I still wanted to play football. I enrolled at the University of New Mexico. During my senior year, I became the first woman to appear in an NCAA football game and score two extra points. My experience at New Mexico was amazing, and they embraced the fact that I was female and brought a lot to the team. It was like having 100 supportive brothers around me."
THE REAL ME: "I have a very feminine side — I have long hair, I wear makeup — and people are shocked when they see I'm not butch. When I get dressed for a game, the thrill that goes through my body is incredible. It gives me the confidence and power to think, Yes! This is what I do and who I am. I felt like the Great Pumpkin in that helmet! Wearing pants with too much room in the crotch was weirder than sporting a man's jersey. When I first put on pads in high school, it was the most bizarre feeling, because they're not built for females. My cleats were so molded to my feet from wearing them so often that they felt like an extension of my body."
SARAH LENTZ, 36, Iraq War veteran and first female general surgeon at Carroll Hospital in Maryland.
THE JOB: "I joined the Air Force in 1993, and they paid for my education. By the time I got put on active duty, we'd finished the Gulf War, so I thought the worst was over. But soon, I was sent to the Middle East — and spent January through May 2006 in Iraq. I treated American soldiers, Iraqi soldiers, contractors, and civilians hurt during blasts. I saw devastating injuries, because the weapons tore people apart. I still jump at loud noises. Now, I'm at a 200-bed hospital in suburban Maryland. On a crazy day, I work from 7 a.m. to 2:30 a.m. and go back the next day from 6 a.m. to 4 p.m. I perform about 10 surgeries a week."
THE REAL ME: "My interactions with patients are profound — especially with those who have cancer. I look young, and most patients need to see me dressed up or in a coat to realize I'm their doctor. In one week, I had two patients call me Sarah because I wasn't wearing my white coat. When patients are scared, as they usually are when they're sent to see me, my scrubs and credentials let them know what I am. But it's really up to me to let people know who I am. When you're a physician in combat circumstances, you just do your job. You know the weapon is there and it makes you feel a little safer, but you're there to help the injured, and that's what you focus on."
Blue hospital scrubs — "though they're all too big for me. I step on my heels and clip the V-neck so nobody can see down my shirt. In the Carroll Hospital O.R., I wear a scrub cap I got in Iraq that has skulls and roses on it. My scalpel is a tool that I was trained to use to help save lives. To me, the scalpel is a symbol of surgery."
RACHEL ROY, 31, designer/president of Rachel Roy clothing line.
THE JOB: "From an early age, I wanted to be in fashion. I remember doing back-to-school shopping at Mervin's, and I wanted what I saw in magazines and not on mass-market shelves. "I'm a big proponent of young women dressing appropriately in the workplace to get ahead. We need to demand respect as women, and part of that involves how we present ourselves. You have to tell people what to think about you, instead of having them come to their own conclusions."
THE REAL ME: "I've made so many fashion mistakes, especially when I was younger, but now I dress for my body type. My biggest regret is rolling my tight Levis and bunching them under scrunchy socks in the '80s. Now I know what works for me. I love trench coats and shirtwaist dresses. For the holidays, I really like the black and navy color combo, especially because it doesn't matter how expensive your garment is — those two colors are very sophisticated for any party and any age. In my mind, power comes from confidence. If a great outfit gets you one step closer to feeling good about yourself, then it's worth every penny."
"I wore this outfit to a screening of The Last Kiss."
"For a more formal occasion or social event, like the Metropolitan Museum of Art Gala, I love to accessorize with a decadent statement necklace, such as this Iraqi smoky topaz piece. I'm not heavy into animal prints unless they're on a shoe, which can really pull a look together."
VANESSA HODGSON, 22, professional bull and bareback horse rider.
THE JOB: "When I'm the only girl in an all-boys rodeo and they announce my name, I feel really proud. There aren't many girls who compete in this sport. At guys' rodeos I strut, but when I'm at the women's rodeos, we're like a big family and cheer each other on. We're competing against the animals more than each other. When I first started riding, a lot of guys looked down on me, but now they are behind me. In 2006, I placed second in the world in bareback riding, and in 2004 I finished third in the world in bull riding."
THE REAL ME: "I was raised on a cattle farm in Michigan. As I got older, I hung out at rodeos. I wanted to try riding a bull to see what it was like — and when I did, I loved it. I'd been riding only horses for the past two years, and I figured that since I went so far in that sport, I should challenge myself in a new one. My clothes perfect my performance. When I feel good, people look up to me — especially the kids — and it makes me ride better. I have four cowboy hats right now. I bought my favorite one in Texas. It's very old school. When I buy new shirts or jeans, I'm superstitious about wearing them. I stomp all over them and rip them up so they look worn."
Hodgson wears gloves to help protect her hands and give her better grip.
"When I compete, I wear chaps over my jeans."
"I have such a shoe fetish! I own a dozen pairs of cowboy boots."
CHERYL KIMBALL, 30, SWAT officer
THE JOB: "I'm the only female on a SWAT team with 26 men — and I was the first woman in the history of our department to make it. I have a supportive, brother/sister relationship with the guys. If they pick on me, it makes us closer. The tighter I am with them, the better we gel during tasks. I've always known I wanted to chase bad guys and put them in jail. SWAT is the most challenging unit in the police department. Law enforcement lets me push myself, mentally and physically."
THE REAL ME: "I'm 5'4" and 130 pounds, so it feels good to hear that I intimidate criminals! I have to remind myself that my outfit doesn't make me invisible and officers do get killed. My main goal is to make sure my partners and I go home every night. I've never felt afraid when putting on my uniform, wondering what might occur. I feel like a machine in my armor. People don't see me as a person or woman when I wear it; they only see the uniform. My vest has shoulder pads made from bulletproof material and looks like a turtle shell."
Kimball wears a ballistic helmet with an earpiece that connects to a radio. A handgun attached to her leg is a secondary weapon. Her G-36 machine gun holds 60 rounds of bullets, each half the size of a pen.