Wendy Finerman on Staying in the Picture
The Hollywood hit-maker talks about breaking into the boys club, thriving in a cutthroat business, and banking some of the biggest movies in history.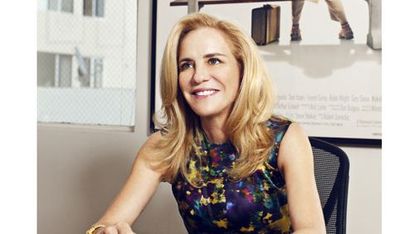 (Image credit: JUCO)
Marie Claire Newsletter
Celebrity news, beauty, fashion advice, and fascinating features, delivered straight to your inbox!
Thank you for signing up to Marie Claire. You will receive a verification email shortly.
There was a problem. Please refresh the page and try again.
You started your own production company in your mid-20s. How'd you do it?

A woman I greatly admired named Dawn Steel had become president of Columbia Pictures — I had developed projects at Paramount and knew she was a huge advocate for women. I called her and said, "I'm thinking of trying to go out on my own. What do you think?" There wasn't even a pause. She said, "I think it's a great idea. We'll back you. You'll get no salary, but you'll get an office where you can hang your shingle." And that was the beginning. It was really the luck of having the support of this woman.
Is a business background essential for being a producer?

I graduated from the Wharton School of Business, which was very helpful. I love working with numbers; it's actually something that's fun for me. I feel very comfortable going through budgets and can quickly figure out where to find the financial risks and opportunities. Years of crunching numbers drilled into me the skills that I use every single day.
One of your movies, Forrest Gump, went on to become the highest-grossing film of 1994. But nobody was interested in it originally, correct?

It took nine years to make. One of the challenges was that Rain Man had come out during our development process, and some of the studios thought that the two story lines were similar. Another obstacle was that the story of Forrest Gump was very episodic and told in an untraditional way. But I thought it was a great story. I'm drawn to things people can relate to and identify with — and everybody knows someone who looks at the world in a different way.
The movie went on to earn six Oscars. How did you celebrate?

The whole Forrest Gump family attended many after-parties that night. It was great, but in the back of my mind, I was thinking about getting enough rest to drive my kids to school the next day. [Finerman has four children.] It was important to me that they knew they were my first priority, despite the thrill of the Oscar win.
You oversee about 20 film and TV projects at any given time. How do you decide whom you want to work with?

I look for someone whom I would enjoy spending time with. A great way to look at it is, Would you want to sit next to that person as you travel across the country in a plane or if you were stuck in traffic? Are they bright, insightful, entertaining, and, most important, polite? When I hire a writer, it's because I'm impressed with the voice, not because he sold 10 pictures in the last week. And I work only with "we" people. When I hear someone refer to it as "my film," I want to say, "Were you the only person who worked on it?" Somebody with that kind of attitude isn't going to be able to be a team player.
What kind of boss are you?

I pride myself on having continuing relationships with the people I've worked with. My previous assistant Lisa Zupan now runs my company. On the production side, I've been working with some crew members for 15, 16 years. We've worked together over and over again and have built a shorthand. And whether it's the casting agent or the makeup artists, they become like family. We trust each other.
Female producers are a rarity in Hollywood. How do you make it work for you?

Let's face it, it's fun to be a girl when there are 30 guys in the room. It's fun to make a movie with [Top Gun and Enemy of the State director] Tony Scott, who is pretty macho, but totally respects women. I wouldn't be telling the truth if I said I didn't enjoy working with a bunch of talented men.
So it's never gotten in your way?

I was once on a location scout in the South. I was the only woman in the group. The owner of the property we were looking at was being particularly rude to me. After a while he noticed that everyone was talking to me like I had some authority and realized that I may have had some say over how much he was going to get paid. He looked at me and said, "So, what does your husband do on this movie?" And no, we didn't end up using his location.
What advice do you have for up-and-coming producers about breaking into Hollywood?

First I'd try to scare you straight with my "Hollywood is the worst place in the world" speech. If at that point you start to waiver, you really shouldn't be here. Second, learn all different kinds of media — old TV shows and movies, how films are distributed, everything about their shelf life that you can. The more knowledgeable you are, the better understanding you'll have of the entertainment business. Third, you're not making art, you're making a product. Sometimes you get lucky and you really do get a beautiful treasure. But once you become too precious with your creative medium, you lose sight of the commerce. And at the end of the day, I'm in the business of making successful — and profitable — projects.
Celebrity news, beauty, fashion advice, and fascinating features, delivered straight to your inbox!