Confessions of a Mad Woman
Powerhouse ad exec Margaret Keene has produced some of the most game-changing commercials in history, including Apple's "Think Different" campaign. Now she reveals how much has changed since the industry's Mad Men days.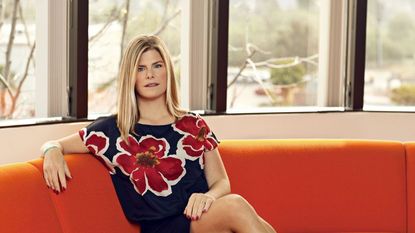 (Image credit: JUCO)
You spent your entire career at one agency before jumping to Saatchi last year. What prompted the move?

I'd been at Chiat\Day for 20 years, climbing up the ladder, nose to the grindstone. I had tons of clients, amazing teams, and lots of friends. Then I had a great meeting with Kevin Roberts, Saatchi's worldwide CEO. I hadn't had a new mentor in a long time, and I needed a life change. It was very painful to leave, but when someone says, "You have more to learn. Take my hand, we're going to create new brands, we are going to create new experiences," you say, "Yes."
How has the transition been?

During my first few months, I was at a very important internal meeting and had to leave for my 8-year-old daughter's dance performance. Things had started to get heated in the room, when I saw Kurt Ritter, CEO of Saatchi & Saatchi LA, look at the clock. He said, "I'm sorry, I have to escort Margaret to her car because she has to be somewhere." To have my new boss do that for me was overwhelming. He has a sign above his office door that says, "Everyone matters." That's why I'm here.
Who gets ahead in advertising — the most creative person in the room or the hardest-working?

If you don't have the talent, at some point you're going to hit a ceiling. But so much is about the late nights. If you have the perseverance to get to a hundredth idea and the talent to make sure it's as fresh as your first, you are going to make it. I probably wasn't the most clever or the best designer, but man, if you gave me a shot, I would be here day and night trying to make the best of the talent I had.
How did you carve out time for a personal life?

It wasn't always a priority for me. I've spent plenty of nights working late and have had plenty of friends I didn't see. It's never a typical 9-to-5 workday, especially if we've got multiple shoots and I have to fly somewhere. But either I spend 20 minutes on Facebook or 20 minutes with both my kids finishing homework. It's important to note that I have an amazing husband — he's an entertainment lawyer — who's really my biggest fan and has supported me in every way. Whenever there's a conflict, like if one of us has to go out of town for business, we work it out. That kind of support system is crucial. He really believes in me — he is my greatest cheerleader.
You share your title with your longtime creative partner, Chris Adams, who made the leap to Saatchi with you. Is he your office spouse?

Chris and I have more of a brother-sister thing going on. We have a lot in common: Both of us are only children. Our moms worked with people with special needs, and our dads are professors. Last Christmas we vacationed together with our families. Not all creative partnerships work as well. Some people are put together but aren't compatible emotionally. But Chris and I draft off each other, and boy, we can create some mad ideas together.
Who comes up with the concepts?

We have teams that come up with ideas, and Chris and I put the cherry on top. Last year, for the Super Bowl, we let all the creatives in the agency pitch ideas, from the kids all the way up. When Chris and I were young, we always wanted to work on everything. So we make sure everybody gets a shot.
Which of your ad campaigns are you most proud of?

I was privileged to work on Apple's "Think Different" campaign when I was just 27. One of my greatest triumphs was the Pedigree adoption drive that Chris and I created, which raised millions for dog adoption. But the same rules apply that you see in Mad Men — it has to be engaging and it has to be great.
How has the industry changed from the Mad Men era?

I've got to come clean. Someone who was pitching me some Procter & Gamble work said, "I want you to work on it is because you're a frat guy in a woman's body." There's some truth to that: I'm not a girly-girl. I've always gotten along well with men, and that helps me a lot. Recently I hired a bunch of women, which is a priority of mine, but I'm not going to hire someone just because they wear a bra. They have to have a great sense of humor and be highly collaborative. They have to have skills.
How close is your experience to the show?

Nothing has changed and everything has changed. I think all the ad girls out there can relate to Peggy's ability to talk to the guys and her need to create her own persona among them. The parallels are ever-present: You can't become so masculine that you're not yourself, but you also can't act so feminine that you're not taken seriously. We have very smart clients, but at the end of the day, many were in fraternities or played football, and if you didn't participate in that, it can be difficult to hang with them.
Are more women applying for jobs than, say, when you first started?

I have to spend more effort finding them. I think that's because you're working 24/7 for the first 10 years. Then it starts to get really competitive right around the time you want to get married and have kids. So it's quite a compromise to figure out the lifestyle. The good news is that it really does seem to be changing. Also, for decades, men have been writing about women from the male perspective, and there's a whole generation of women calling bullshit on that.
Seems pretty casual around here. Can you wear whatever you want?

I tend to wear a lot of black. I've been trying to work on my color because I'm supposed to be a creative person. Our office is right next door to Target. I've been known to get an entirely new outfit at 7 a.m. and show up to work looking fabulous for under $50.
Are they a client?

No, but they ought to be!
Check out our free career boot camp with LearnVest here.