I Started at the Bottom… Now I'm the Boss!
Meet four power players who started on the lowest rungs of their companies and made it to the very top. Here, they reveal their secrets to parlaying entry-level gigs into corner offices.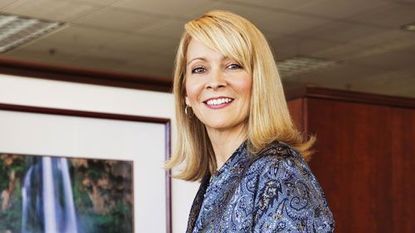 (Image credit: Marie Claire)
Kate Gutmann

President, Worldwide Sales, UPS
STARTED AS: Intern
While a senior at Siena College in upstate New York, Gutmann landed a marketing internship at the Albany offices of UPS. Afterward, the company offered her a junior sales job. Today, the 43-year-old mother of two runs the company's massive international sales force.
TIP #1: BE OPEN TO RELOCATING. "I've had 10 different positions and moved seven times. At one point I was assigned to Brussels to oversee marketing for Europe, the Middle East, and Africa, which was far out of my comfort zone. I was married with two kids, and everything was a challenge. But I always saw these moves as opportunities and jumped at them."
TIP #2: MAKE SURE THE DECISION MAKERS KNOW YOUR NAME AND WHAT YOU DO. "I was based in Atlanta—I'd already moved two or three times at that point—and was hoping to get promoted to a vice president position. But the person making the decision didn't know me at all, which can happen in a big company. So I wrote a memo—'Why Kate Gutmann?'—explaining who I was and why I should at least get an interview. It was a little courageous and scary at the time, but it worked. I got the interview and eventually landed the job."
TIP #3: SEIZE AMBITIOUS PROJECTS—EVEN WHEN THE ODDS ARE AGAINST YOU. "When I was 28, a customer from a Fortune 500 company wanted me to sell directly to their headquarters in Japan. I was a young American female—would older Japanese men accept me? It just wasn't done then. For that reason alone, it would have been easy to let the opportunity go. But I was so determined. I read three books on Japanese culture and studied up on everything, from what suit to wear to traditional gifts to bring, even what color paper to wrap them in. I went over there, led the presentation, and won the sale. From that point on, I was on everybody's radar."
Mellody Hobson

President, Ariel Investments
STARTED AS: Intern
In 1989, the Princeton University sophomore scored a summer internship at Chicago-based Ariel Investments, then a small boutique investment firm. Her sole responsibility: answering founder John Rogers' mail. Hobson, now 43, rose through the ranks quickly, becoming president a decade later.
TIP #1: MEASURE SUCCESS IN YEARS, NOT MONTHS. "When I look at a résumé and see a lot of jobs, I can't be sure of the person's success. Many people leave jobs just in time—they fail up. Someone sent me a cartoon once that said, 'One job for 20 years. What, no get up and go?' I feel it's just the opposite—longevity projects a positive statement. I've always had long-term goals, but I know I don't have to hit them in months. I'm patient. That says something to a client: 'When you hire me, I'm not going anywhere.'"
TIP #2: SHOW—DON'T TELL—HOW GREAT YOU ARE. "Starbucks CEO Howard Schultz called me up and said, 'We'd love to have you on our board. But you're very young—we're going to have to get to know you first.' I remember thinking, Don't push—being overly aggressive will lose you this opportunity. So I told him, 'However long it takes, I'll wait for you to come back to me.' I would drop him nice notes occasionally so I would stay on his mind. But I'd never call. I didn't have anyone lobby for me. A couple of years later, he came back and asked me. The lesson: Be realistic, show some humility, let them come to the conclusion on their own. It's a major turnoff when someone shows up and tells you how great they are."
TIP #3: SUCCESSFUL FRIENDS ARE OFTEN MORE VALUABLE THAN MENTORS. "[Facebook COO] Sheryl Sandberg is one of my closest friends. Though we met only in the last few years, we clicked instantly. I remember calling Sheryl after a really bad meeting where the guy treated me horrifically. I just needed someone to vent to, someone I could get a little teary with. It's very rare in these sorts of busy, crazy lives we lead to have someone like that, but you need them. We are very honest with each other, and we root for each other. I've had unbelievable male mentors, but my relationships with women have been game changers. There's no agenda except our well-being."
Julie Greenwald

Chairman and Chief Operating Officer, Atlantic Records
STARTED AS: Personal assistant
Law-school-bound Greenwald took a summer job as aide (and chief coffee fetcher) for Lyor Cohen, head of the then fledgling hip-hop label Def Jam Records. The 42-year-old mother of two worked her way up to president of what later became known as Island Def Jam Records before jumping with Cohen to Atlantic Records in 2004.
TIP #1: ASK A TON OF "DUMB" QUESTIONS. "I was 22 when I started with Lyor, and my desk was literally on the edge of his couch. It was very intimidating. But ignorance is bliss. I went in, asked a lot of questions, and threw out a lot of dumb ideas. I had nothing to lose. For every idea that made them say, 'Wow, that's really good,' they made fun of me for the 50 others that weren't. But I wouldn't let it bother me."
TIP #2: DON'T WHINE—FIX THE PROBLEM. "All the male executives used to go out on golf outings, and I didn't know how to play. I felt left out and out of the loop. It was like, no matter how much I was respected inside these hallways, if I couldn't do those extra social bonding experiences that make executives tighter, I was at a disadvantage. I had to speak up. So I suggested we go to basketball games or skiing instead, which I knew Lyor loved to do—and I did, too. And Lyor agreed. That's how I fixed that problem. I just had to speak up."
TIP #3: EVEN THE GREATEST JOBS DEMAND SACRIFICES. "I live a crazy life—every night I see a live show and get home at midnight. My children [Lulu, 12, and Eli, 7] used to get very mad at me because I never picked them up from school. I was the only mother who didn't, but I just couldn't leave the office at 3 p.m. Of course, now my daughter gets to go to concerts and she appreciates what I do. But there was a long time when she'd say, 'Why does Dad always pick me up?' I think it's really comforting when super-successful women acknowledge the fact that it's really hard."
Tina Schiel

Executive Vice President of Stores, Target
STARTED AS: Entry-level area manager
Schiel was a senior at Texas' Hardin-Simmons University when she was recruited by Target for its entry-level executive training program. One of her first duties: stocking shelves at the Target in Abilene, Texas. Today, the 45-year-old oversees Target's 1,800 stores nationwide.
TIP #1: BORED? ASK FOR MORE TO DO. "When I was starting out, they had us rotating a few jobs during the course of a year. I knew I was game for more, so I went to my district manager and said, 'Have you ever thought about more jobs, less time—that way we get more experience as we go?' He was open to the idea, so we made a deal: As long as I did really well at the job at hand, I could tell him when I was ready for something new. It's that kind of thinking that has opened the door to some amazing experiences for me, all within the same company."
TIP #2: WORK WITH PEOPLE WHO ARE DIFFERENT FROM YOU. "People tend to gravitate to those they really like or who are just like them. That's a mistake—you make better decisions when you surround yourself with people from different backgrounds and with different experiences. Back when I ran a district [usually 10 stores], we always seemed to perform better when I had a diverse team working for me. The advice I got was usually much more long-term and strategic, less personal. They didn't just agree with me, which never gets you where you really want to go."
TIP #3: ALWAYS SEEK OUT UNFAMILIAR TERRAIN. "My whole career had been spent overseeing the stores, but two years ago I took on business development for the brand. It's a much more formal, Monday-through-Friday kind of environment, so that was a culture shock for me. The best advice I can give in a situation like mine is to know what you don't know and seek out those who do. This new area has been completely re-energizing for me."
Check out our free career boot camp with LearnVest here.