Are You Undermining Your Presence?
Common blunders that tell the boss you're not management material — and what to do about them.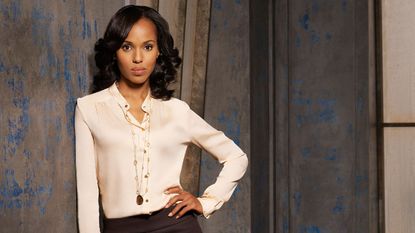 (Image credit: )
TOO SEXY FOR WORK
Good rule of thumb: Your skirt is too short when your hands reach farther than your hemline while standing. Other office no-no's: cleavage, bra straps, panty lines, and sheer tops. When in doubt, channel Scandal's Olivia Pope (right) — the poster girl of chic professionalism.
HEAVY MAKEUP
Save the kohl-rimmed eyes, red lips, and bright eyeshadow for after-hours. Another big gaffe: wearing no makeup at all. In general, natural hues work best.
ILL-FITTING CLOTHES
If your blouse strains to stay closed or your trouser pockets pucker, your clothes are too tight. Make finding the right size a priority, especially if you've recently lost or gained weight, or are just back from maternity leave.
VISIBLE ROOTS
If your hair is highlighted or colored, be sure to stay on top of touch-ups. Nothing sabotages a killer suit like two inches or regrowth.
"LOOK AT ME" NAILS
Loud reds, funky designs, and Rihanna-esque talons don't inspire confidence — and won't win you plum projects. Color is fine, just keep it muted. And no chips!

Real women appearance tips:

"I was mentoring a woman who was 30 but looked 22. She couldn't get to the next level, so I told her, 'Get a haircut. You look like a kid, and people don't trust a kid to do a grown-up's job.' The next time I saw her, she looked amazing [with a new hairstyle]. And guess what? She got that promotion." —Vice president, global consulting firm
"Early in their career, I tell women to go to a department store and get a personal shopper to find out what works for their body type. So many women get that wrong, and as a result, men get distracted by their mistakes." —Vice president, financial services firm