Can You Really Have It All?
Smart girls are the sexiest kind.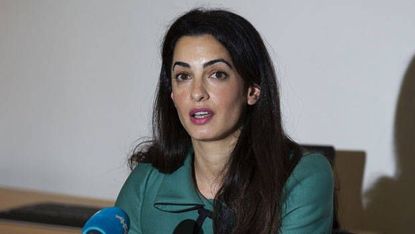 (Image credit: AFP/Getty)
Photo Credit: AFP/Getty
I am not sure there is a woman in America who is not curious about the private, high-achieving, and captivating Amal Alamudin, the girl George Clooney is lucky enough to marry. This woman is a true powerhouse – a lawyer of high profile clients (including Wikileaks founder Julian Assange), formidable human rights activist, graduate of both Oxford and New York Universities, and fluent in French, Arabic, and English. When checking out at her credentials and observing her quiet, self-assured confidence...I suddenly realized I'm having a major girl crush moment, too. She certainly seems to "have it all".
In Megan Dalla-Camina's recent survey "Getting Real About Women and Work", the findings state that over 60 precent of women "define success on their own terms" but still struggle at large with work-life balance. Amal is a shining example of creating her own definition of achievement. She works hard and does not expect accomplishments to arrive on her lap. She dares to take on controversial and prominent cases. She is in no hurry to marry. She has created a fulfilling and rewarding career. This is a woman who has little opportunity for regret.
Here are 5 lessons we can learn from the woman who seemingly has it all (and got the eternal bachelor to commit after just 7 months of dating!):
Follow Your Dreams

Amal was not twiddling her thumbs, using her features to attract men in bars. She was busy at work—specializing in human rights, criminal law and extradition (and has been named to several United Nations commissions). Even a UK blog named her London's "most eligible bachelorette." She is unstoppable. She was even able to stop George's heart and his insatiable appetite for more women!
Camina's study says that women largely want more rewarding careers, better opportunities and more confidence. 66% of women would like a better career. Consider Amal's story this way… with or without George, she is in a great position in her life—living her truth and making a contribution to the world. And the right man will not be threatened. She took the trail she could control into her own fate and has reaped the rewards on both counts.
Independence, Confidence, and Passion Are Sexy

Secure men find these qualities irresistible. On the flip-side, who wants an insecure, needy husband? Her confidence and dedication to her work is very apparent and appealing. George is no doubt attracted to her independence too as it keeps him on his toes.
Don't Put a Man and His Career First

George will always be somewhat secondary to the career this woman has built over 36 years. She had a professional plan and actualized it. Camina's study says that only 23 percent of women in the United States have a career plan and almost 40 percent of women report they are "winging it" when it comes to their career. Both are points to prove that women should put themselves first and let the rest fall into place.
After years of his dates being snapped on red carpets, taking advantage of press/photo opportunities, Amal is the first to not give a crap about the red-carpet lifestyle. I doubt she feels any pressure to do anything differently because her fiancé is in the public eye and why should she? She's busy.
An Intellectual Union is Lasting

With their shared passion for activism, George and Amal have a lot in common. Conversation potential is abundant—Men really do love smart women. Don't dumb yourself down or let sex drive the relationship. Sexual excitement is physical and fleeting. A meeting of the minds will always endure over making out with a model.
You Can Have It All

Having it all is living life on your terms and without apology. The only way to achieve this is to be true to yourself and following what drives and inspires you. And for our friend Amal, George is just the (yummy!) icing on the cake.
This goes to show, if you want to be girl that everyone respects and falls in love with, you have to respect and fall in love with yourself first.
Related:
Why Young Women Should Care About the Pay Gap

Women CEOs Experience Less Gap in Pay, But Here's Why

10 Must-Do Tips to Ace Your First Job