20 Questions with Cate Blanchett
The Oscar-winning actress and face of Giorgio Armani's new Sì perfume shares a simple beauty secret, her dream to visit the South Pole, and her fantasy dinner-party guest list.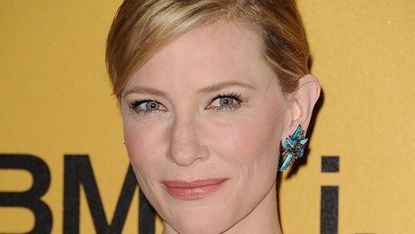 (Image credit: Getty Images)
1. What brings you the greatest joy? Watching my children sleep.
2. What brings you the greatest satisfaction? Surviving opening night.
3. What is the best gift you've ever received? A painting by Mavis Ngallametta.
4. What charities do you support? The Australian Wildlife Conservancy, the Australian Conservation Foundation, Sydney Children's Hospital, and Biennale of Sydney.
5. What is your greatest indulgence? Fragrance.
6. What is on your perennial to-do list? Tackle the mess in our attic.
7. What is on your bucket list? Take up figure drawing; visit the Antarctic and Greenland.
8. What is on your bookshelf? Anne Summers' The Misogyny Factor and Roland Barthes' A Lover's Discourse: Fragments.
9. Who is on the guest list for your ideal dinner party? Amy Poehler, Julian Schnabel, Steven Soderbergh, Tim Flannery, Hillary Clinton, Christine Lagarde, and Elaine Stritch.
10. What makes you laugh? This question.
11. What makes you cry? The missing schoolgirls in Nigeria.
12. What item in your closet do you wear the most? My Acne boots.
13. What is your beauty secret? Sunscreen.
14. What splurge is well worth it? A kayak.
15. What do you never leave home without? Lipstick and wet wipes.
16. What is your favorite food? Cheese and Vegemite on toast.
17. What movie has the greatest ending? Brief Encounter.
18. What song instantly puts you in a good mood? "Proof" by I Am Kloot.
19. How did you make your first dollar? Working in the kitchen of an old-age home in high school.
20. What is the best advice you've ever been given? Follow your nose.