Princess Diana's Designer Duds Are Up For Auction
A piece of Will and Kate's wedding cake, too.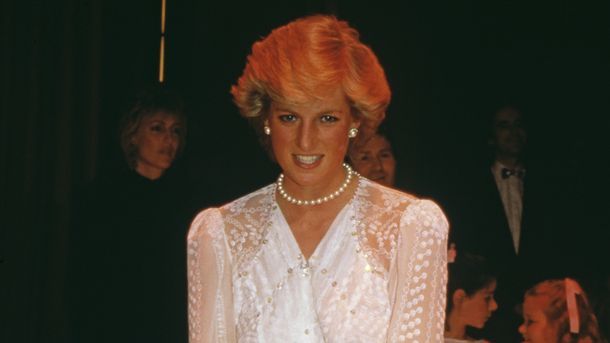 (Image credit: Archives)
The accident that led to Princess Diana's untimely death occurred just over 17 years ago, but the People's Princess still manages to captivate the minds and capture the hearts of those all over the world. And this winter, her memory will draw people to open their wallets, too. Royal lovers from around the world will have a chance to get their hands on a piece of history this December, when several of Princess Diana's iconic dresses, as well as other royal mementos, will be put up for auction.
Julien's Auction, a Beverly Hills-based auction house, will offering a few of Diana's gowns to royal lovers with some seriously deep pockets. Among the gems up for bidding are an emerald green Catherine Walker dress circa 1993, a soft salmon pink off-the-shoulders frock, also worn by Diana in 1993, and a stunning embellished Zandra Rhodes gown in sheer white, among others. But don't think that these pieces don't come with a hefty price tag. The dresses are expected to sell anywhere from $60,000 to $100,000.
These gowns aren't the only the only regal relics up for sale. Buyers can also indulge in a slice of the wedding cake served at Prince William and Kate Middleton's wedding. But since the nuptials took place over three years ago, we're guessing the dessert would serve better as keepsake than it would as a post-dinner treat.
Related:
Princess Diana's Most Memorable Moments

20 Times Prince George Mastered the Royal Pout

Prince George Proves Real Men Wear Pink
This is Kate Middleton's Favorite Photo from Her Royal Tour
Photos via Getty Images, Splash News/Julien's Auction
Diana is a producer at ELLE.com. She previously wrote for MarieClaire.com. Diana is a Syracuse grad and a Chicago native, and therefore a pro at dealing with cold weather. She's also an Anglophile, which means she love all things British—especially Downton Abbey, London, and Will and Kate (and Prince George!)