Princess Diana's Most Memorable Fashion Moments
Her style was truly timeless.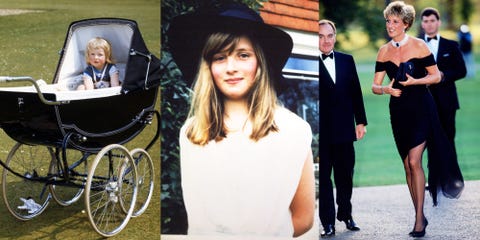 From the moment Diana married Prince Charles in that famous bridal gown designed by David and Elizabeth Emanuel, her impeccable sense of style was recognized by the public. Throughout her marriage, and even more after her divorce, the princess became known for her bold sartorial choices and approachable accessibility. Even decades after her death, we're still looking to Diana for fashion inspiration, proving that she was truly timeless. In honor of the late-fashion icon, we're looking back at some of her greatest style moments.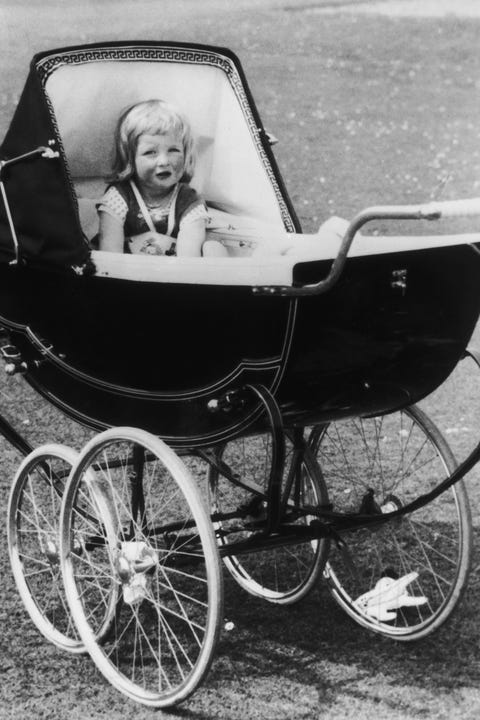 Central Press
Getty Images
1963
Honourable Diana Spencer, daughter of Viscount Althorp and his wife Frances, was born July 1, 1961, in Norfolk, England. A child of the aristocracy, Diana's family had ties with the royals going back generations.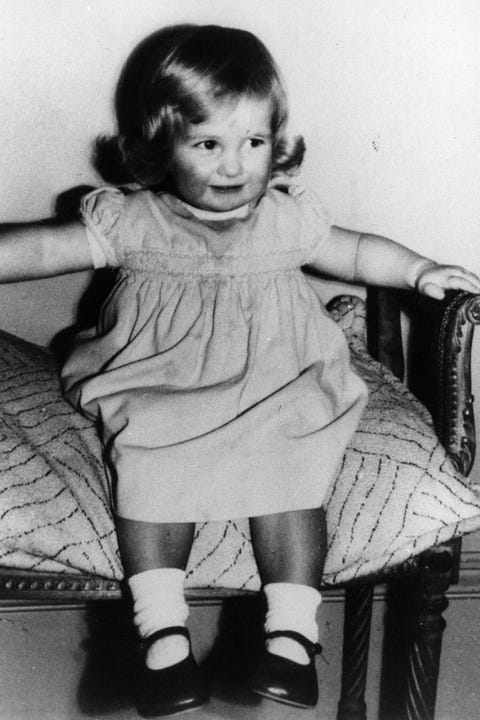 1963
Diana was the third daughter of the Spencers and her birth worried her parents about producing a male heir.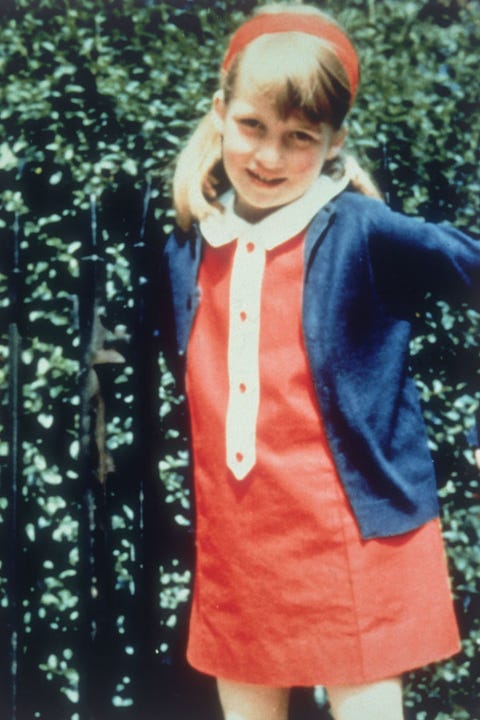 1967
Heartbreak was first introduced to Diana's life at a young age—she was just eight years old when her parents divorced.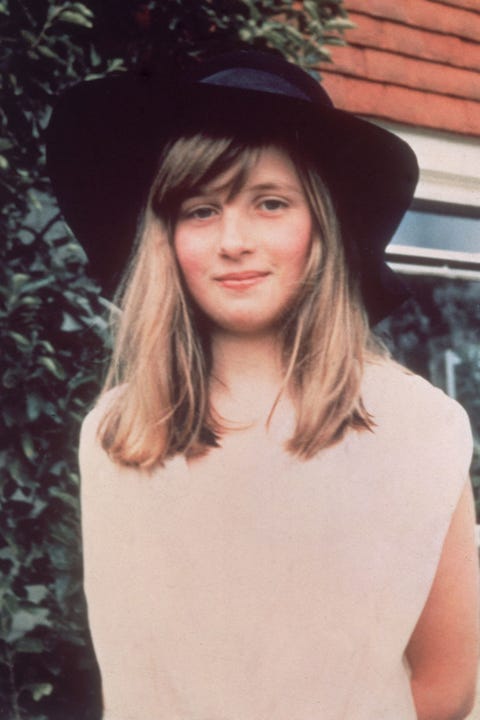 1970
Diana spent most of her teenage years at school, where her generosity and big heart were recognized early on.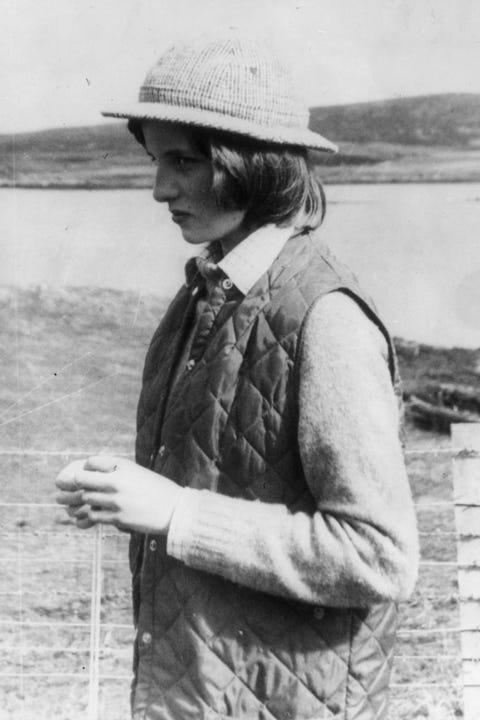 1974
Diana's grandfather died in 1975, so her father inherited the family title's, Earl Spencer, which resulted in Diana getting a title, Lady Diana.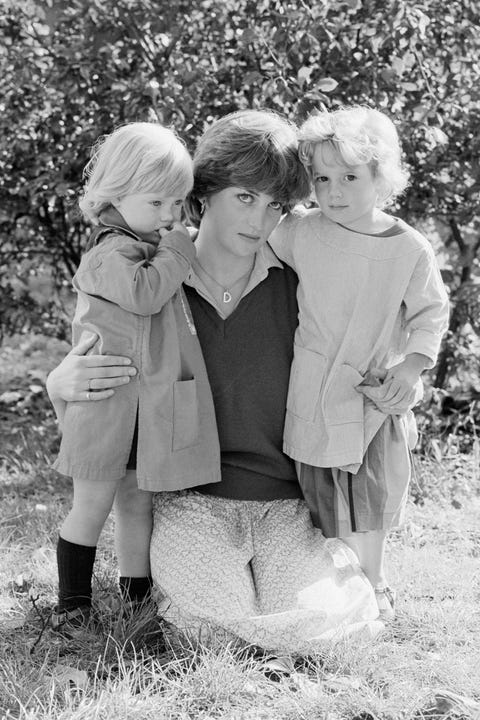 Pool/Tim Graham Picture Library
Getty Images
1980
Diana's love for children started early on—in her pre-royal, "Sloane Ranger" days, she worked as a primary school assistant teacher and a nanny.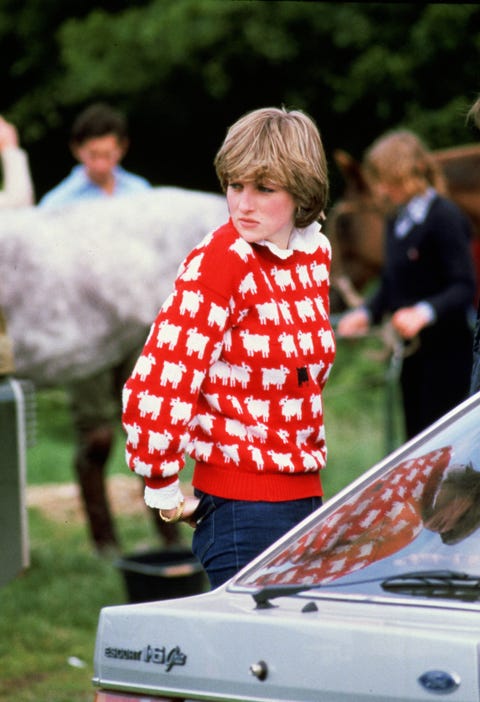 1980
Diana first wore her now-iconic black sheep sweater by Warm & Wonderful in 1980. She would wear it throughout her marriage to Prince Charles, which many took as a message about how she felt about her position within the royal family.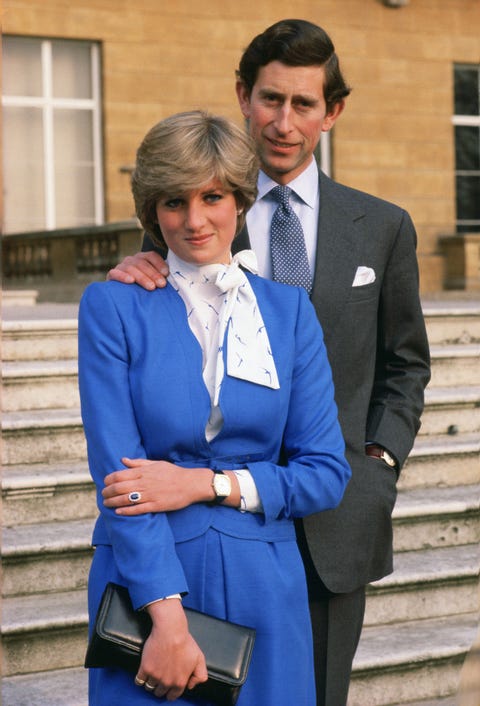 1981
Diana wore a blue suit for her official engagement announcement. Years later, when Prince William and Kate Middleton posed for their engagement portrait, the world drew similarities between Diana's suit from Harrods and Kate Middleton's Issa Phylis wrap dress.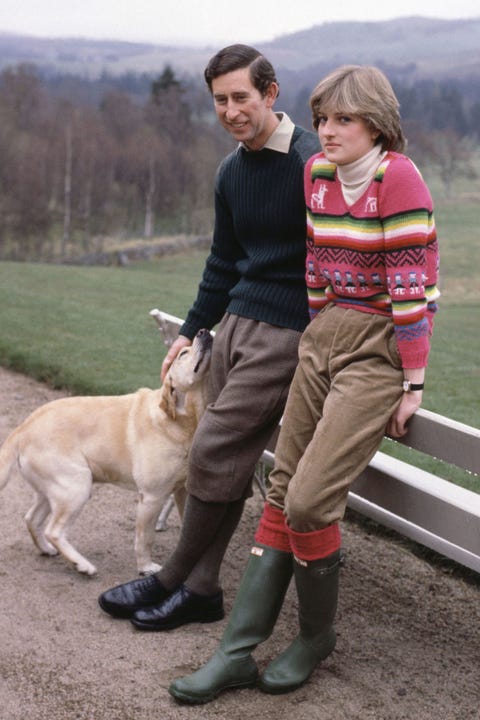 1981
Here, in classic British garb (wellies!), an engaged Diana and Charles relax with their dog Harvey at Balmoral, the Queen's residence in Scotland.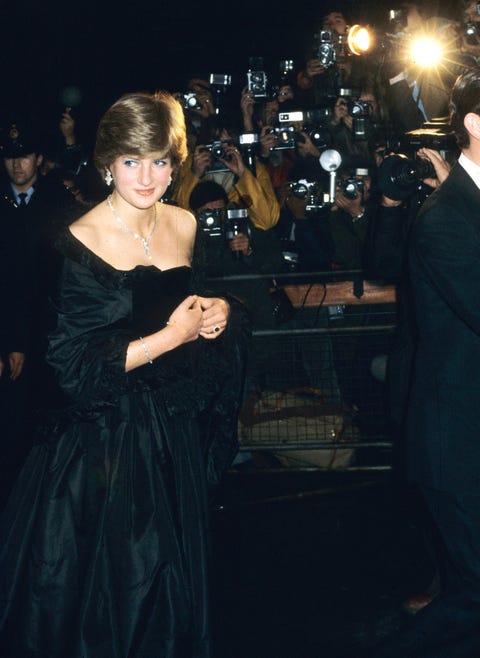 Anwar Hussein
Getty Images
1981
The public began to take note of Princess Diana's style when she wore a black strapless taffeta evening gown, designed by David and Elizabeth Emanuel, for her first public outing with her then-fiancé Prince Charles in March 1981.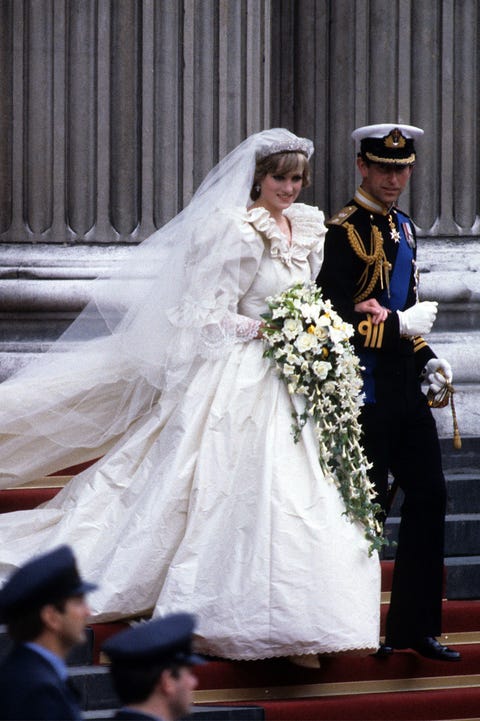 1981
Lady Diana Spencer and Prince Charles's 1981 wedding was dubbed the "wedding of the century." Her dress, designed by David and Elizabeth Manuel, featured layers of taffeta, handmade lace, sequins, and 10,000 pearls.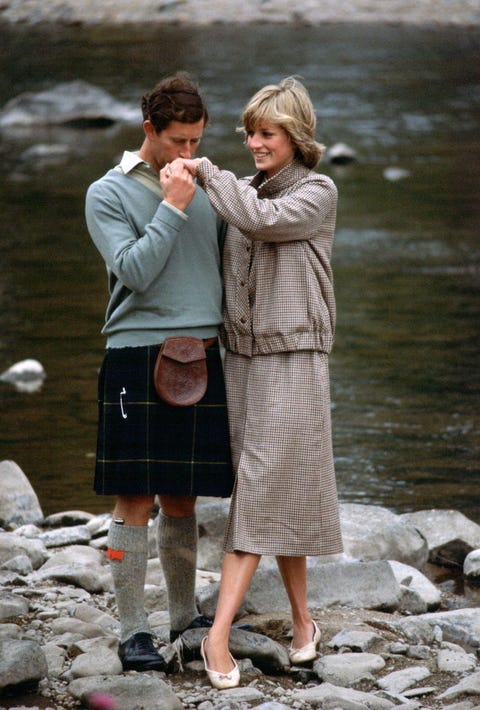 1981
A few weeks after the frenzy of the royal wedding, Charles and Diana emerged in Scottish attire for a photo-op on the grounds of Balmoral Castle. The couple had just returned from their honeymoon cruise around the Mediterranean and these photos made Diana's plaid jacket and dress an instant hit.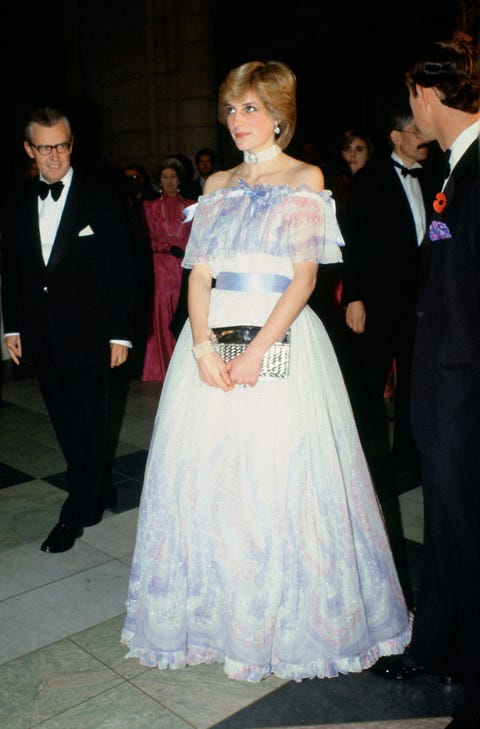 1981
Princess Diana wore an off-the-shoulder lilac evening gown to an event in 1981, which became famous when she fell asleep in her seat wearing it. The palace was forced to announce her pregnancy to explain the faux pas.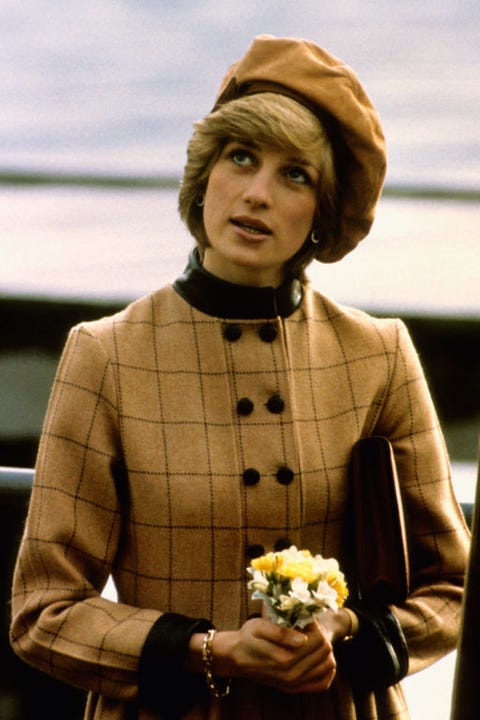 1982
A newly married Diana dons a conservative coat dress designed by Arabella Pollen on a royal visit in Wales.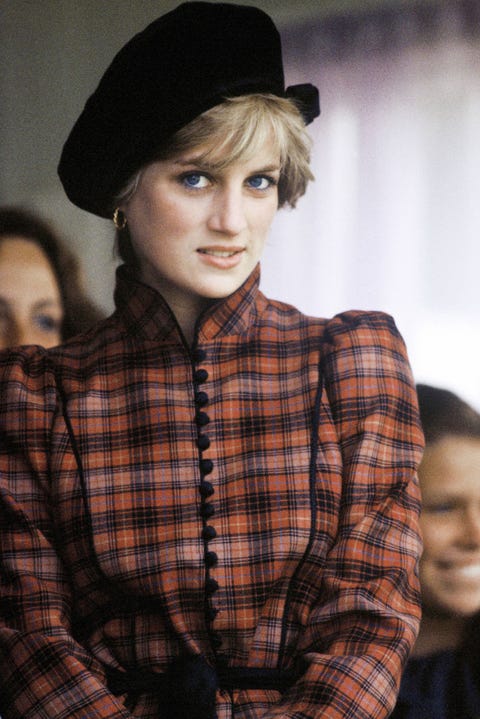 1982
A young, wide-eyed Diana sports a tartan coat at the Braemar Highland Games in Scotland.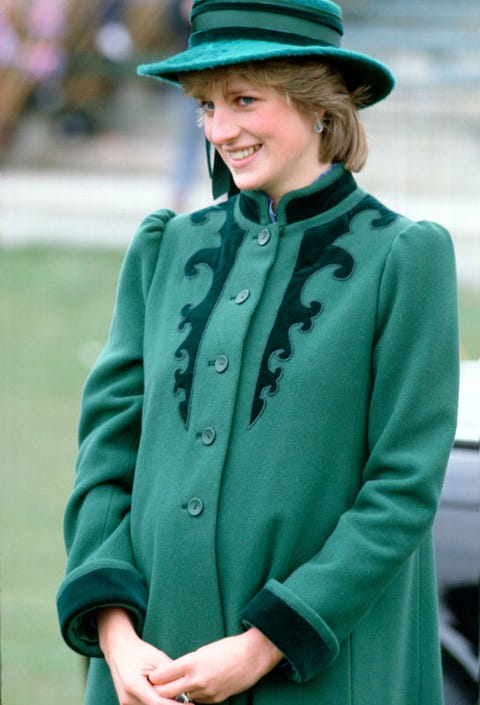 1982
Less than a year after her marriage to Prince Charles, Diana gave birth to the much-anticipated royal heir, Prince William. Here, Diana and Charles stand on the steps of St. Mary's Hospital to introduce the little prince to the world. Her future daughter-in-law, Kate, also wore a polka dot dress debuting her and William's son, George, in 2013.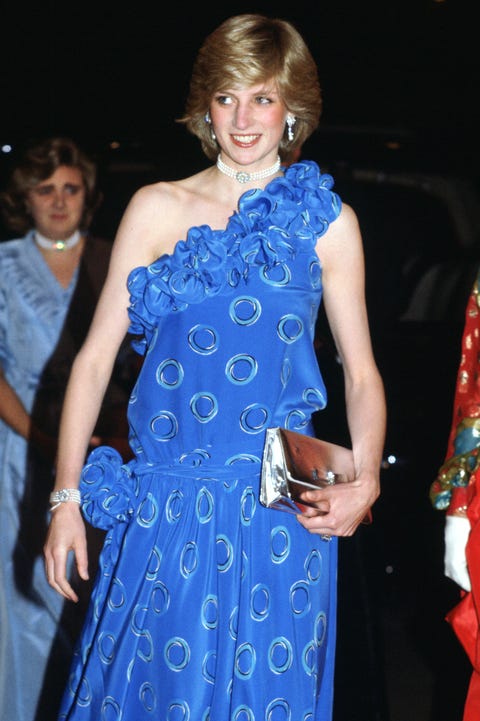 1982
New mom Diana rocks a ruffled blue dress by a favorite designer, Bruce Oldfield.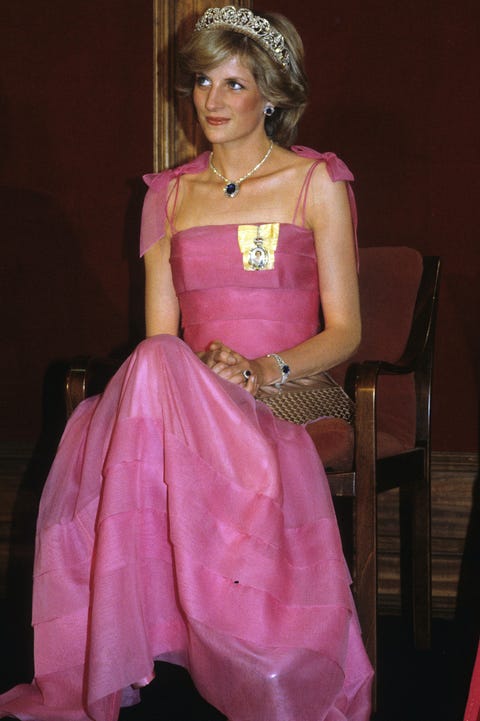 1983
Not only was the Victor Edelstein pink dress Diana wore during an early visit to Australia a smashing success with the press, her sapphire gems (given to her by the Crown Prince of Saudi Arabia) matched her blue engagement ring.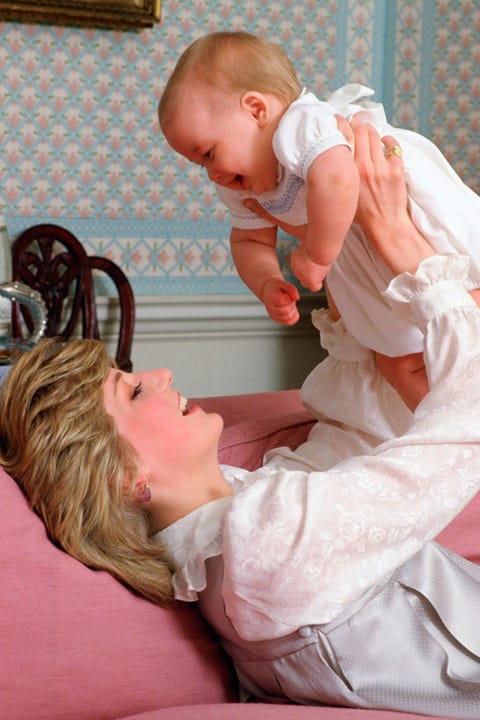 1983
It was in motherhood that Diana found a comfortable role in her royal life. Two years after giving birth to William, her youngest son Harry was born.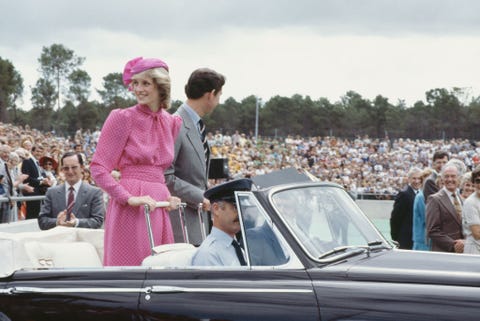 Princess Diana Archive
Getty Images
1983
Princess Diana and Prince Charles arrive in Perth, Australia for a royal tour. Diana was nicknamed the "People's Princess," because of her huge popularity with the public and in the press.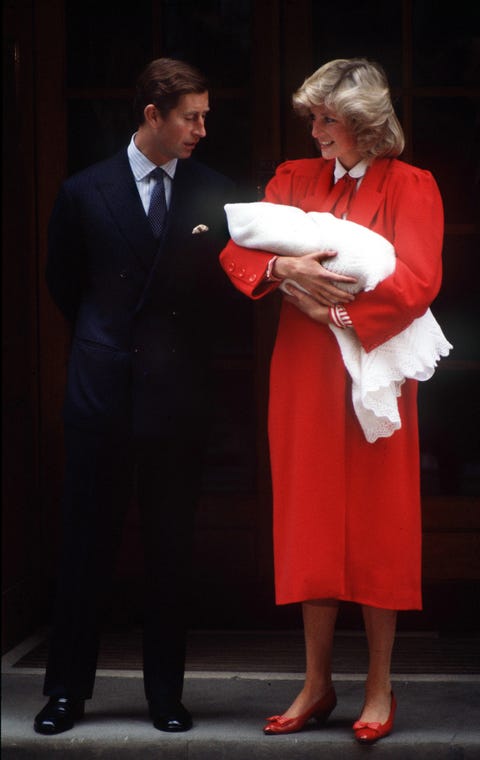 Princess Diana Archive
Getty Images
1984
When leaving the Lindo Wing after the birth of Prince Harry, Diana stepped out in a bright red coat dress, a red necktie, and ballet flats.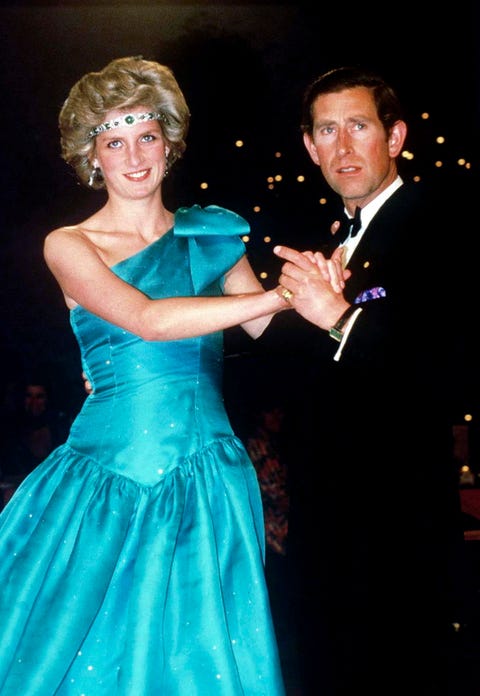 1985
While on a royal visit to Melbourne, Princess Diana attended a gala in a stunning one-shoulder aqua ballgown. But it was the emerald and diamond choker the Princess wore as a headband across her forehead that left a lasting impression.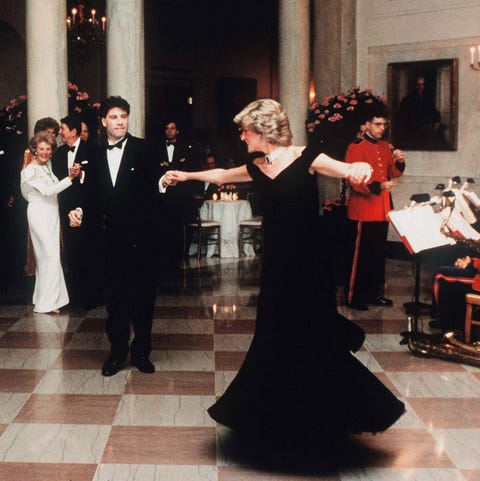 Anwar Hussein
Getty Images
1985
By far one of the most iconic dresses worn by Princess Diana was the black off-the-shoulder velvet evening gown she wore when she was twirled by actor John Travolta. The Princess wore the Victor Edelstein gown for a White House gala in 1985.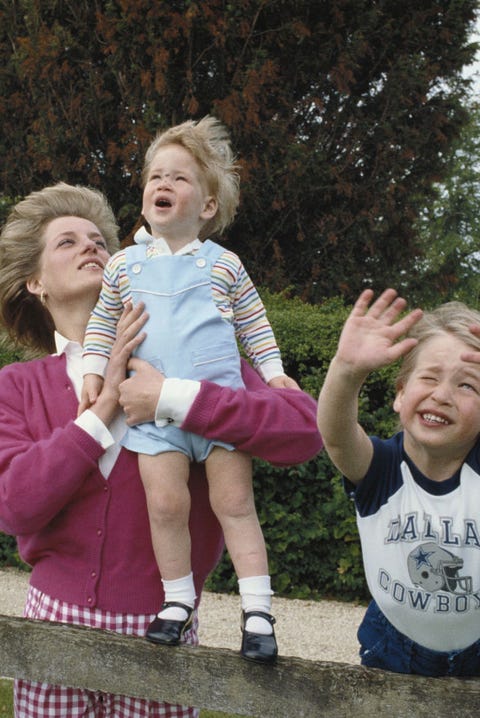 1986
Princess Diana, Prince William, and Prince Harry on one of their many vacations. She dressed William in a Dallas Cowboys t-shirt for the occasion.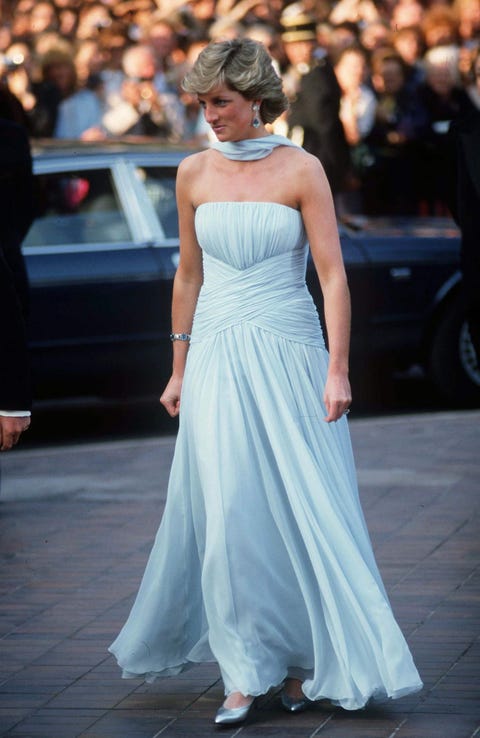 1987
The light blue chiffon Catherine Walker evening gown Diana arrived in at the Cannes Film Festival had an elegance reminiscent of Grace Kelly.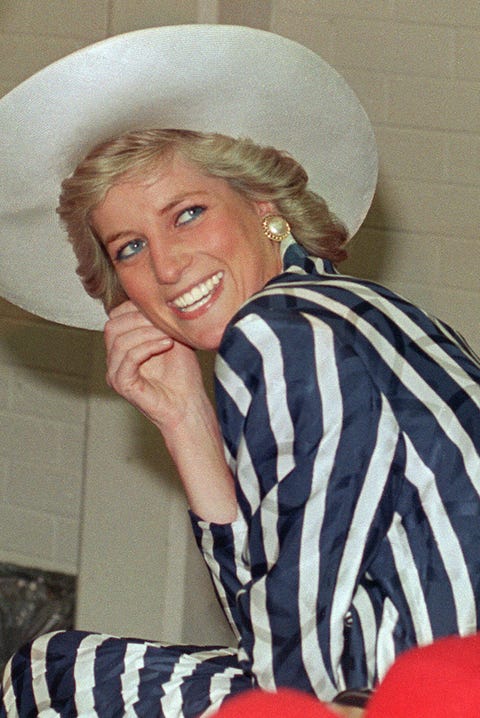 1988
Navy and white stripes with a big white hat were Diana's look of the day during a 1988 visit to Melbourne, Australia.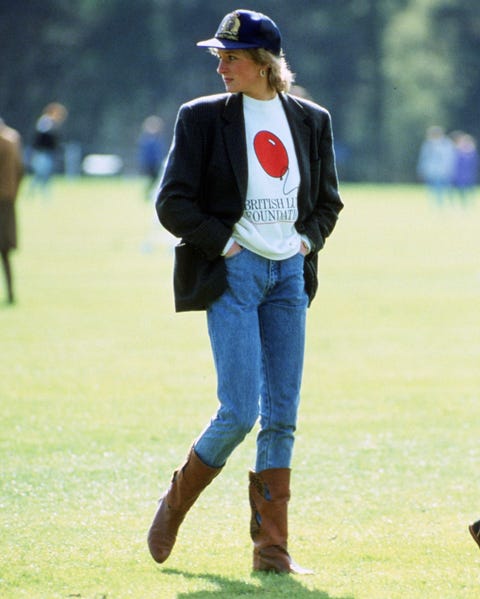 1988
A casual Diana always made headlines, and only further cemented her reputation as "The People's Princess." In 1988, she took a young Prince William to the polo grounds wearing high-waisted jeans, cowboy boots, a sweatshirt under a blazer, and a baseball cap.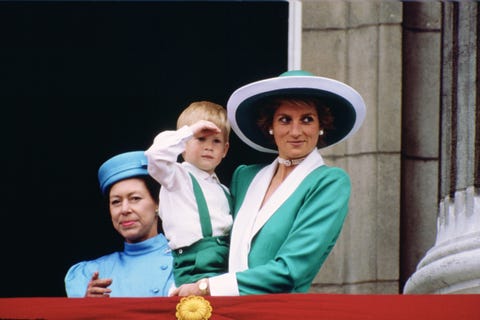 1988
There has never, nor will there ever, be a greater mother-son twinning moment than Princess Diana and Prince Harry at the Trooping of the Colour in 1988. Diana wore an emerald green and white dress with a wide-brimmed hat, while Harry wore a white oxford shirt and overalls in the same color.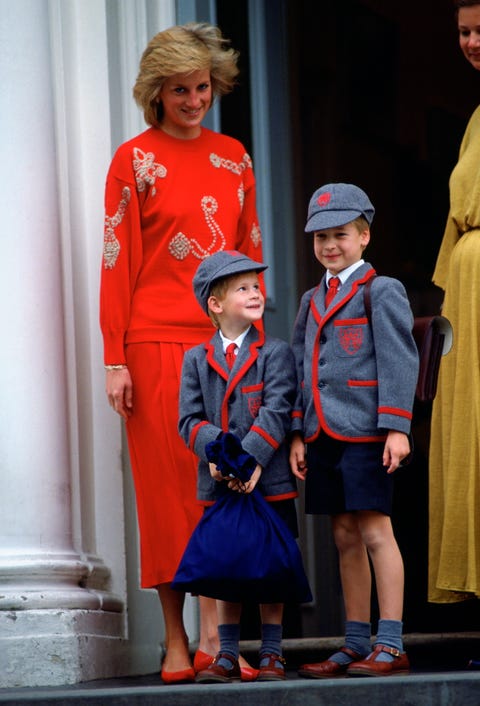 1989
Prince William and Prince Harry in their uniforms on the first day of school. The Princess opted for a monochromatic red look, which coordinated perfectly with the red details on her their uniforms.
This content is created and maintained by a third party, and imported onto this page to help users provide their email addresses. You may be able to find more information about this and similar content at piano.io