Holding Out For A Hero
She's one of America's most iconic caped crusaders—and also one of our most elusive. But is that all about to change? The epic, untold 15-year saga to resurrect Wonder Woman, and what it means for the future of badass women on the big screen.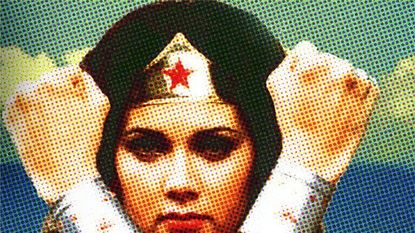 (Image credit: Elizabeth Renstrom)
Every summer, more than 100,000 die-hard comic book, sci-fi, and fantasy readers—many dressed in elaborate costumes and armed with encyclopedic knowledge of their favorite characters' back-histories—descend on downtown San Diego for the annual convention that is Comic-Con International. The gathering might get dismissed as a nerd-fest by pop culture's pooh-bahs were it not for the fact that these fans have become one of Hollywood's most important target audiences. That's because in recent years, the studios have come to rely on so-called tentpole movies—big-budget blockbusters often based on comic book superheroes. So courting these fans is imperative to ensuring their attendance. This year, Warner Brothers, parent company of DC Comics, which owns the rights to some of the most fabled characters in history, orchestrated its biggest Comic-Con presentation yet, wrapping the walls of a 6,700-seat theater with 465 feet of two-story-high screens (the biggest it's ever used) to tease its upcoming slate of films, perhaps the most hotly anticipated of which is Batman v Superman: Dawn of Justice, to be released in 2016.
Flanking the walls were giant stills of the title characters, played by Ben Affleck and Henry Cavill, respectively. Barely noticeable, on one of the side screens, was an image of Israeli actress Gal Gadot, a relative unknown, decked out in body-hugging bronze armor, clutching a sword as she stood before a smoldering landscape—the audience's first glimpse of the new Wonder Woman. Its placement seemed an afterthought, but once the image hit Twitter later that day, it exploded, arguably overshadowing everything else. "'Batman v Superman' Will Sink or Swim on Wonder Woman," declared Forbes.
It was an auspicious, albeit long overdue return for the gutsy heroine, who's been all but absent from popular culture since the late 1970s, when she was the subject of a mildly popular TV series starring Lynda Carter that ran for three seasons. But after that, nothing—no movie, no live-action or animated revivals on TV. Meanwhile, Batman and Superman have starred in a dozen films and seven television series between them. (The latest, Gotham, premiered on Fox in late September.)
Why has Wonder Woman been Hollywood's most elusive superhero? It's not for lack of interest. In fact, a number of executives have tried to resurrect the character without success since 2001. Ask them why their projects have never gotten off the ground and you'll get answers like she's "tricky," "unrelatable," and "a tough nut to crack." Maybe so, but the real reason may have to do with a more vexing issue: Hollywood has never really understood what to do with strong female characters, given the long-held conventional wisdom that men just don't buy tickets for films starring women.
But that old saw has become as outdated as a box of Jujubes at the concession stand. After a disastrous summer—domestic box-office receipts were down 15 percent compared with last summer—Hollywood is in the throes of a seismic shift. The problem, experts say, is that young men, once the lifeblood of moviegoing audiences, just aren't showing up for the big-budget extravaganzas like they used to. Consider that the best-selling video game last year, Grand Theft Auto V, generated $1 billion in sales worldwide in its first three days on the market; Iron Man 3, with the best opening weekend at the movies last year, grossed just $373 million in its first three days.
As guys pass up the multiplex in favor of the Xbox and PlayStation, guess who's been filling the void? In the past two years, some of Hollywood's most profitable hits have been geared toward women—The Heat, The Hunger Games: Catching Fire, and Frozen, among them. (Total worldwide gross for these hits: $2.4 billion.) Maleficent, this summer's moody reboot of Sleeping Beauty starring Angelina Jolie, grossed $744 million, besting even The Amazing Spider-Man 2 and Godzilla. Lucy, the shoot-'em-up thriller starring Scarlett Johansson, banked nearly $44 million in its opening weekend, trouncing Brett Ratner's muscle-bound Hercules, which opened at just under $30 million.
Though Warner Brothers hasn't indicated whether Wonder Woman will be getting her own franchise, there's undeniable interest in one. And, let's face it, given the dearth of powerhouse on-screen leading ladies, it's hard not to believe that some of Hollywood's top talents wouldn't kill for the role. Imagine Mila Kunis or Michelle Rodriguez with the golden lasso hitched to her hips—and a new blockbuster franchise is born.
CREATED BY PSYCHOLOGIST and lie detector pioneer William Moulton Marston, Wonder Woman debuted in comic book form in the fall of 1941, as chronicled in The Secret History of Wonder Woman by Jill Lepore (Knopf), out this month. (Marston was purportedly inspired by both his accomplished wife and his lover—the trio lived together in a polyamorous household.) Her lineage was as exotic as it was kitschy: She hailed from a fierce tribe of Amazon female warriors who for years had been enslaved by Hercules (hence the metal cuffs on her wrists, vestiges of her former shackles). The goddess Aphrodite led them to freedom on Paradise Island, where they lived independently from men. It was there that their queen, Hippolyta, cast a daughter from clay whom the gods gifted with life and special powers. When a World War II Army pilot named Steve Trevor crash-landed on Paradise Island, the Amazon princess (eventually anointed Wonder Woman) nursed him back to health and then returned him to his male-run world stateside, where she avoided detection by masquerading as a meek, glasses-wearing nurse named Diana Prince. Cut to Wonder Woman fending off Nazis and a slew of other baddies, turning the classic superhero trope on its head: Here wasn't the damsel in distress, but a bullet-bouncing badass.
The original ABC series starring Carter, set during World War II, fared well in ratings, but ABC nonetheless pulled the plug after the first season. (The period costumes and sets were too expensive.) Warner Brothers took it to CBS, where it became a paean to '70s-era camp, from the studio backlot sets to Carter's skimpy but ultrapatriotic getup. (Carter, a former pageant queen, says she came up with the idea to twirl whenever Diana Prince transformed into Wonder Woman.) By the third season, the opening credits were accompanied by a disco beat and Carter sported a sexier, higher-cut brief. Dropped after that season, the show lived on in syndication, becoming a cult classic.
But it would be another 20 years before Hollywood would try to tackle the character again in earnest. In 2000, Joel Silver, the powerful producer of the Lethal Weapon and Matrix franchises, secured rights to the character and set off a 10-year odyssey to bring her to the big screen, hiring at least five writers to pen scripts that ranged from a thoroughly modern retelling that skipped over her mythological origins to stories that were totally steeped in them. In one version, Wonder Woman was to be a superspy who dresses in black leather. In another, she's set in a contemporary world but battling Ares, the god of war. Even Joss Whedon, the cult hitmeister behind the WB's Buffy the Vampire Slayer, was enlisted in 2005 to devise a script. He worked on it for two years before being cut loose. "I had a take on the film that, well, nobody liked," he wrote on his blog at the time. (Whedon would get the last laugh, having since written and helmed The Avengers, which has become the highest-grossing superhero film in history.) "I think there was just a sense that we can't make anything that a guy is going to look at and think, That's too girly," remembers Todd Alcott, one of the early screenwriters. "Because that's who [Hollywood] believed the action movie audience was."
Another considerable challenge giving Warner Brothers pause: the catastrophic performance of Catwoman, loosely based on the Batman villain.Starring Halle Berry as a silly, sexed-up antihero, it arrived in theaters in 2004 to scathing reviews and barely grossed $40 million stateside, despite a $100 million budget. Six months later, Twentieth Century Fox released Elektra, starring Jennifer Garner and based on the Marvel action hero. It, too, bombed, grossing a paltry $57 million. "That was all Warner Brothers needed to hear to say, 'See? People don't want to see superhero movies starring women,'" says Alcott.
In 2010, Silver parted ways with Wonder Woman. Warner Brothers then pivoted to television, hiring prodigious hitmaker David E. Kelley (Ally McBeal, The Practice) to gin up a pilot for NBC. His version starred Friday Night Lights alum Adrianne Palicki as Diana Prince, a toy-company mogul battling a rogue pharmaceutical chief played by Elizabeth Hurley. NBC passed on the pilot. Soon after, the CW announced it was working on a Wonder Woman series called Amazon, focusing on the character's origins and taking what one of the writers described as a Little Mermaid approach: Rebellious teen falls in love and threatens to break away from her overprotective mother. But in January, the network announced that it, too, was pulling the plug on the project.
Last year, when asked about the uncertain fate of Wonder Woman, DC Entertainment president Diane Nelson told The Hollywood Reporter, "We have to get her right. She is such an icon. I think one of the biggest challenges is getting that right on any size screen. The reasons why are probably pretty subjective: She doesn't have the single, clear, compelling story that everyone knows and recognizes." That makes sense, of course, but would anyone but comic fans have known that kryptonite would bring Superman to his knees were it not for the landmark 1978 film? But hope is on the horizon: Sony recently confirmed it has a female superhero flick in the works, based on a character from Spider-Man. Word is the studio is also in talks with Paul Feig, who helmed Bridesmaids and The Heat, to direct Ghostbusters 3 with an all-female cast. And most promising: In August, Warner Brothers announced release dates for eight still-untitled superhero flicks, and there's ample speculation that one might just be a bona fide Wonder Woman vehicle.
Note to Hollywood: Our favorite defender of truth, justice, and the American way is ready for her close-up.
Image by Elizabeth Renstrom
Celebrity news, beauty, fashion advice, and fascinating features, delivered straight to your inbox!