Pieces of Kate
Yes, we know she's a movie star. And yes, we know she's a fashion icon. But beer-drinking party girl? Practical joker? We asked friends and colleagues on two new projects, The Girl in the Park and 21, to show us the real Kate Bosworth.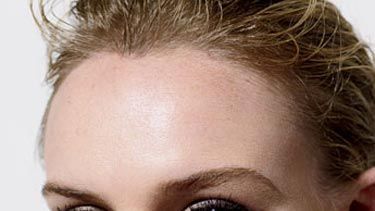 (Image credit: Mark Abrahams)
THE ESSENTIAL KATE
Born:

January 2, 1983
Grew up in:

California, Connecticut, and Massachusetts
Big break:

As a 14-year-old champion equestrian, landed a role in Robert Redford's The Horse Whisperer (1998).
Education:

Accepted to Princeton but deferred.
Those peepers:

Has heterochromia — meaning her eyes are different colors.
ON DOWNTIME WHILE MAKING 21
"Kate Bosworth can drink anyone under the table. Get a couple in her, and she's definitely a very fun and crazy girl. We went out to a pub on St. Patrick's Day. Not only did she pick the place, but she picked the rowdiest place, where everybody and their mother came. And it's like, 'Okay, she's one of us! Let's get shit-faced!' But Kate is always one step ahead of you. She had a blast, and everybody was just enamored of the fact that there's a superstar singing and dancing and going nuts. But she was also the first one to be like, 'Okay, I'm out of here.'" —JOSH GAD, COSTAR, 21
ON THE GIRL IN THE PARK
"Maybe Kate's slightly insecure because she doesn't have the training. But she didn't need it. I could've just as easily been asking her for advice." —SIGOURNEY WEAVER, COSTAR, THE GIRL IN THE PARK
ON PRACTICAL JOKES
"I was at lunch. And some of the makeup artists, her mother, and she were at the table across from us. They kept screwing around — whispering to each other, looking at me. I knew they were trying to fuck with me. Then Kate came over and was leaning over my table. I really wasn't paying attention to her. And she kept saying, 'Dana look, Dana look, Dana, hey Dana.' So I turned around, and I'm like, 'What?' And she's like, 'Look.' Her nipple was sticking out of her shirt right in my face." —DANA BRUNETTI, PRODUCER, 21
ON DEFERRING FROM PRINCETON
"Kate sort of skipped college because, she said, 'Well, I couldn't really see myself in a dorm.' I thought that was very interesting and very brave. Kate kind of knew what she didn't want, which is just as important as knowing what you do want." —SIGOURNEY WEAVER
ON KATE'S DOG, LILA
"She found that dog in Morocco. When someone rescues a dog from the desert and takes it back to L.A. and makes that animal's life work on these new terms, you already know an awful lot about the person." —SIGOURNEY WEAVER
"Her and Kevin Spacey's dogs would have this suite at the Bellagio while the rest of us were in a bathroom in the Aladdin. The dogs would be walked like 22 times a day. I would be walked once." —JOSH GAD
KATE ON GETTING OLDER
"I just turned 25, which was a weird one. I feel like I had this quarter-century crisis. Whenever I said before that I was 21 or 22, everyone would say, 'Oh, see, you're so young.' And all of a sudden, you hit 25, and people say, 'Oh, right, oh, okay.' And you're like, 'Uh, what do you mean?'"
Marie Claire email subscribers get intel on fashion and beauty trends, hot-off-the-press celebrity news, and more. Sign up here.