Rose McGowan Calls Out Ben Affleck Over the Harvey Weinstein Sex Scandal
"You lie."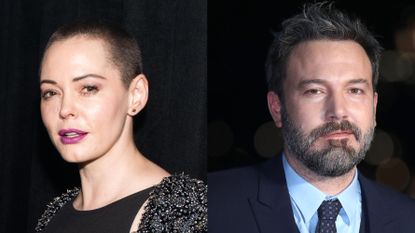 (Image credit: Getty Images)
Rose McGowan has assembled a #RoseArmy on Twitter to take down Harvey Weinstein after it was reported by The New York Times last Thursday that she was sexually harassed by the Hollywood producer in 1997. McGowan is calling out actors, agents and executives who McGowan said knew about Weinstein's actions, including Ben Affleck.
Weinstein gave Affleck his big break when he starred in the 1997 film Good Will Hunting, but on Tuesday, Affleck spoke out against the film executive after a string of allegations made by several Hollywood leading ladies surfaced.
"I am saddened and angry that a man who I worked with used his position of power to intimidate, sexually harass and manipulate many women over decades," Affleck wrote on Twitter. "The additional allegations of assault that I read this morning made me sick. This is completely unacceptable, and I find myself asking what I can do to make sure this doesn't happen to others."
Soon after Affleck tweeted, McGowan responded to her former Phantoms co-star: "GODDAMNIT! I TOLD HIM TO STOP DOING THAT" you said that to my face. The press conf I was made to go to after assault. You lie."
@benaffleck "GODDAMNIT! I TOLD HIM TO STOP DOING THAT" you said that to my face. The press conf I was made to go to after assault. You lie.October 10, 2017
See more
The New York Times reached out to McGowan to confirm whether she meant to assert that Affleck knew of Weinstein's mistreatment of her. "I am saying exactly that," McGowan told The Times in an email without going into any more detail.
The publication also reached out to Affleck's reps for a comment, but did not get a response. Affleck has also not responded to McGowan on Twitter.
Harvey Weinstein was co-founder and ran The Weinstein Company until Sunday when he was forced to resign. Weinstein's legal team denied the allegations, and Weinstein provided a statement to the New York Times saying: "I appreciate the way I've behaved with colleagues in the past has caused a lot of pain, and I sincerely apologize for it. Though I'm trying to do better, I know I have a long way to go." The full statement can be read here.
Celebrity news, beauty, fashion advice, and fascinating features, delivered straight to your inbox!
I'm Eileen, the digital news reporter at Hearst Digital Media. As a member of the newsroom, I report on a wide range of news, including entertainment, politics and lifestyle. I also cover red carpet events for over 20 of Hearst's magazine brands. I previously held positions at CNN, Facebook and MTV, where I worked as a digital producer, writer and on-camera host. Fun facts: I'm fluent in Spanish, a BU alum, and love fashion and travel.