A Full List of the Allegations Against Kevin Spacey
Several men have come forward.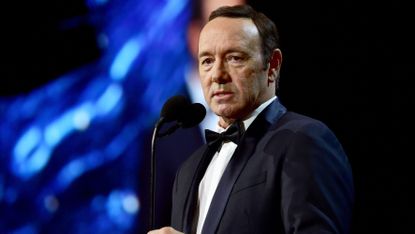 (Image credit: Archives)
Several men have come forward with sexual harassment and assault allegations against Kevin Spacey since BuzzFeed (opens in new tab) published allegations made by actor Anthony Rapp that Spacey made sexual advances toward him when he was 14.
Following Rapp's allegations, Spacey issued a response on Twitter, in which he described the incident Rapp described as "deeply inappropriate drunken behavior" and came out as gay. Spacey's response received criticism, with many interpreting his decision to address his sexuality as an attempt to distract from Rapp's allegations.
Since Rapp's allegations, several other men have come forward with stories of their own. Here are the allegations so far.
Anthony Rapp
On October 29, BuzzFeed published allegations from Rapp that Spacey made sexual advances toward him when he was 14. At the time, Rapp was appearing on Broadway in Precious Sons. Spacey was also on Broadway in a revival of Long Day's Journey Into Night. According to Rapp, Spacey invited him to a party at his home, where he tried to seduce the younger actor.
Harry Dreyfuss
In a first person essay for BuzzFeed News (opens in new tab), actor Harry Dreyfuss (the son of Richard Dreyfuss) alleged that Spacey groped him in 2008 when he was 18 years old. He also alleged that the incident happened while his father was present.
According to Harry, his father, Richard Dreyfuss, was in London rehearsing for a production of the play Complicit at the Old Vic Theatre at the time. Spacey was directing the play. Harry says he was visiting his father over winter break when he met Spacey. He says that Spacey touched his thigh and genitals, but that his father didn't notice the groping as he was focused on his script at the time.
"Over the course of about 20 seconds, centimeter by centimeter, Kevin crawled his hand from my thigh over toward my crotch," Dreyfuss wrote. "My mind went blank."
"I thought I was protecting everyone," he added. "I was protecting my dad's career. I was protecting Kevin, who my dad surely would have tried to punch. I was protecting myself, because I thought one day I'd want to work with this man.…What I do remember is that, other than being a shy kid who obviously admired Kevin Spacey a lot, I never once gave him a signal that I would want to be with him in that way."
In response to Dreyfuss' story, Bryan Freedman, a lawyer representing Spacey, told BuzzFeed News (opens in new tab), "Let me be clear, Mr. Spacey absolutely denies the allegations."
Tony Montana
On October 31, filmmaker Tony Montana came forward with his own allegations, telling Radar Online (opens in new tab), "He put his hand on my crotch forcefully and grabbed my whole package." He said that Spacey told him, "This designates ownership," as he groped him.
"Kevin Spacey is taking the time necessary to seek evaluation and treatment," a representative Spacey told People (opens in new tab) in a statement. "No other information will be available at this time."
Roberto Cavazos
Mexican actor Roberto Cavazos shared his own story on Facebook, saying that Spacey groped him in the bar of London's Old Vic Theatre, where he performed in several productions.
"There are many of us who have a 'Kevin Spacey story.' It seems that it only took a male under 30 to make Mr. Spacey feel free to touch us," he wrote in Spanish.
People (opens in new tab) reported that a spokeswoman for the Old Vic said in a statement that there were "no complaints made against him" during Spacey's tenure and that "no complaints have been made since he left."

When asked for a response to Cavazos' allegations, Spacey's rep told People he had no comment.
Justin Dawes
Dawes told BuzzFeed News (opens in new tab) that, in 1988, when he was 16, Spacey invited him and a friend over to watch a movie at his apartment. When Dawes arrived, however, Spacey allegedly made cocktails while gay pornography played.
"He knew that I was in high school," Dawes said. "It was pretty clear. It's not like I was pretending to be an older, cooler person."
Mark Ebenhoch
Ebenhoch met Spacey when he was working as a military adviser on the set of 1995's Outbreak. He told BuzzFeed News (opens in new tab) that one of Spacey's assistants approached him out of the blue to ask him to go to Spacey's trailer and engage in a sexual act with the actor.

"They asked flat out to engage in a sexual act. It was enough to stun me. It blew me away," he said.

At the time, Ebenhoch was not openly gay. "As a military adviser the last thing you'd want anyone to know is that you were gay," he explained.
Daniel Beal
Beal told The Sun (opens in new tab) that Spacey flashed his genitals at him in 2010, when he was 19 and working as a bartender in West Sussex.
Unnamed man, known only as "John"
On November 1, a man who asked to remain anonymous and was only referred to as "John," told the BBC (opens in new tab) that Spacey struck up a friendship with him in the '80s, when he was in his teens. When he was 17, he says Spacey invited him to visit at his New York apartment and attempted to convince him to share a bed. John refused and opted to sleep on the couch, but woke to find Spacey in his underwear, laying on top of him.

"I was uncomfortable at best, traumatized at worst," John said of the incident.
Anonymous 14-year-old boy
An anonymous actor revealed to New York magazine (opens in new tab) that he began a sexual relationship with Spacey in 1983 when he was 14 and Spacey was 24. The anonymous man says the relationship ended when he was 15 and Spacey allegedly tried to rape him.
A representative for Spacey said, "Mr. Spacey absolutely denies the allegations."
Anonymous 23-year-old man
On November 3, Variety (opens in new tab) reported that Scotland Yard is investigating an alleged sexual assault by Kevin Spacey.
"On 1 November, City of London police referred an allegation of sexual assault to the Metropolitan police service," a Scotland Yard spokesperson said in a press statement. "It is alleged a man assaulted another man in 2008 in Lambeth. Officers from the child abuse and sexual offences command are investigating."
The man says that, in 2008, he approached Spacey to ask for help with his career and that Spacey invited him to his home in South London. According to reports in The Sun (opens in new tab), he and Spacey smoked marijuana and the man eventually passed out. When he woke up, Spacey was performing oral sex on him.
Unnamed actor from the Old Vic in London
An anonymous actor contacted the theater's allegedly-confidential email address for sexual harassment reports, alleging sexual misconduct on Spacey's part in 2013. While he expected the correspondence to be anonymous, he told BuzzFeed News (opens in new tab) that he received a reply from the Old Vic's executive director, Kate Varah.
He told BuzzFeed that his claim included multiple instances of groping and said that Spacey used the theater like "a playground." Spacey was the theater's artistic director from 2004 to 2015.
In response to the actor's criticism of the theater's confidential hotline, an Old Vic spokesperson said, "We are treating any information provided to the confidential hotline in the strictest of confidence...We can assure you that we have only contacted people by telephone who have advised that they would like us to do so. We only have their phone numbers if they have given them to us voluntarily. Such contact has been made to discuss how we may help and offer assistance."
Unnamed journalist
A journalist, who has chosen to remain anonymous, told BuzzFeed News (opens in new tab) about an incident with Spacey from the early 2000s. According to the journalist, he was interviewing Spacey for a national magazine at the time and met Spacey in a club, at which time Spacey allegedly began groping him.
"He just kept reaching between my legs and, you know, just grabbing my dick," the man said. "I would move his hand away, and say something that I thought was pretending was funny or whatever at first. And then I was starting to get annoyed by it, and that was pretty clear."
The reporter also alleged that, when he tried to leave, Spacey began screaming at him. "He was actually saying that I did want to and I was a coward. That was his tactic. It was unbelievable."
Multiple anonymous cast and crew members from House of Cards.
As CNN (opens in new tab) reports, multiple members of the cast and crew of Spacey's Netflix drama House of Cards have come forward with allegations of harassment and said that Spacey created a toxic environment on set.
Kayleigh Roberts is a freelance writer and editor with more than 10 years of professional experience. Her byline has appeared in Marie Claire, Cosmopolitan, ELLE, Harper's Bazaar, The Atlantic, Allure, Entertainment Weekly, MTV, Bustle, Refinery29, Girls' Life Magazine, Just Jared, and Tiger Beat, among other publications. She's a graduate of the Medill School of Journalism at Northwestern University.