Rachel McAdams Opens Up About the New Season of 'True Detective'
No more Ms. Nice Guy. As a rough-around-the-edges law enforcer in cult crime show True Detective, our new cover star Rachel McAdams is like nothing we've seen before. Which is just the way she likes it.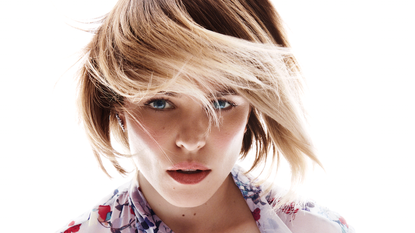 (Image credit: Jan Welters)
Marie Claire Newsletter
Celebrity news, beauty, fashion advice, and fascinating features, delivered straight to your inbox!
Thank you for signing up to Marie Claire. You will receive a verification email shortly.
There was a problem. Please refresh the page and try again.
Rachel McAdams shows up for our interview in an electric car the size of a toaster. We're high up in L.A.'s Fryman Canyon on a bright, breezy spring morning, and McAdams is wearing a baggy maroon hoodie, no-name sunglasses, spandex leggings, and a Pittsburgh Pirates ball cap. Her hair is four inches of black roots plus three inches of bleached-out surf-rat frizz at the ends. Her makeup is slim to none. If anyone has ever wondered what the opposite of a movie star entrance looks like, it's safe to say this is it.
"I hope this doesn't seem too weird," says McAdams of her plan for us to hike the canyon, laying on a smile that could melt steel. You know the one—that dimpled, playful, twinkly eyed number that made the world (not to mention Ryan Gosling) fall in love with her in 2004's The Notebook; the one that afterward had everybody in Hollywood proclaiming that she was the next Julia Roberts. It's a smile that has, at times, made being Rachel McAdams something of a complicated proposition, because it turns out Rachel McAdams is not really all that interested in being a movie star. What Rachel McAdams loves to do is act.
"What I love is dropping into someone else's life and exploring it," she says as we walk along the canyon, the blue sky billowing above us like a parachute. She's in town from Toronto, shooting season two of HBO's hit gothic crime drama True Detective with Colin Farrell and Vince Vaughn, which she describes as "the job of a lifetime." McAdams, 36, plays Detective Ani Bezzerides—a hard drinkin', hard gamblin', cigarette smokin' Ventura county cop (hence the hair) trying to solve a grisly murder. "I love the exploration of someone who has such a different background from you. That exploration runs to compassion, and to cracking yourself open and creating more understanding of how weird and amazing life is."
In addition to True Detective, premiering June 21, she has at least three other projects due out in 2015, including this month's cameron crowe romantic comedy Aloha, with Emma Stone and Bradley Cooper, and Antoine Fuqua's boxing drama Southpaw with Jake Gyllenhaal, out in July. come fall, she stars in Spotlight, with Mark Ruffalo and Michael Keaton, as a Boston Globe reporter investigating the catholic church sex-abuse scandal. She also lends her voice in the animated The Little Prince, currently in postproduction.
If you've ever thought, God, Rachel McAdams is good; why don't we see more of her?—well, this may be your year.
McAdams says Ani Bezzerides from True Detective is the hardest, most complex character she's ever played. The show is tightly bubble-wrapped in silence at the moment, so she can't give out a whole lot of details, but she takes nerdish glee in telling me about the late-night ride-alongs she went on with the Ventura County Police Department while prepping for the role ("We had a bit of a high-speed chase!") and the crime investigation manuals she reads before she goes to bed at night and the LAPD male ex-cop who showed her how real-life cops carry their guns. ("I don't know how they do it every day. I was like, 'I'm going to get a hash brown from McDonald's and go to bed.'") "The research is so much fun," says McAdams, who likes to joke that she uses filming as an excuse to take classes. (She learned French for Midnight in Paris, even though her character never utters so much as a "Bonjour.")
It's also, she says, really fun to play detective. "I love that she's not the girlfriend or the wife," McAdams says of her character—whom I sometimes imagine springing fully formed in creator Nic Pizzolatto's subconscious after The New Yorker's TV critic Emily Nussbaum (among others) slammed him for populating season one with complicated, idiosyncratic men and a bunch of lame-ass paper-doll women who ranged from shrew to bimbo to good-looking corpse. "She doesn't really care what everyone thinks; she feels no responsibility for other people's feelings," McAdams continues. "She's not trying to be charming, which isn't always the case with a leading lady. There's [usually] sort of a responsibility to be a little bit likeable ... Not that you want to be a horrendous character, just a little more human." In general, she says, "I prefer to be a villainess. There's something a bit more delicious about their wickedness."
It's certainly a far cry from the trio of charmers that first made McAdams famous—i.e., the psychobitch charmer Regina George in Mean Girls, followed by the spirited Southern charmer Allie Calhoun in The Notebook, followed by the wry, soulful, brainy charmer claire cleary in Wedding Crashers. But for McAdams, that's pretty much the point. "It's complex, you know," she says of True Detective. "[The characters] have qualities that make you feel conflicted and uncomfortable."
Which is why Pizzolatto wanted mcadams for the show. "She's an edgy, dangerous person," he says of the character, "and I was interested in an actress who was not naturally edgy, or at least not perceived that way. Rachel projects a lot of light and warmth, and by layering over that central core with the defenses and aggressions this person would've learned in order to survive, she provides a more nuanced and dimensional character." He also lauds McAdams' "ability to convey fierce intelligence and emotional complexity with reserves of strength, in total silence."
If you're wondering what strange, hidden darkness in McAdams' past might have drawn her to the role of Bezzerides—there pretty much is none. She grew up in a little Canadian town called St. Thomas in a happy, loving middle-class family with no ties to Hollywood or acting whatsoever. Dad Lance moved furniture; mom Sandra was a nurse; all three kids (Rachel is the oldest, followed by Kayleen and Daniel) worked at McDonald's in high school. The family had dinner together every night, and on weekends, they watched big old-fashioned movies like The Ten Commandments and Gone With the Wind and Anne of Green Gables on TV.
Fairly quickly, McAdams realized that movies were the stuff for her. She was fascinated by the idea of walking through life in someone else's skin. So, at age 7, she wrote her parents a letter declaring her intentions. "Oh, God, it's so embarrassing," she says, laughing. "It said, 'I think there's something I'd like to try ...'" Her parents took this about as seriously as you'd imagine, which is to say not at all. They enrolled her in sports programs instead (including ice skating, which she was good enough at that her coach tried to convince her to go pro), but nothing stuck. She tried a kids' acting camp, and that, she says, "was pretty much it."
After spending four years studying theater at York University in Toronto, McAdams landed her first big Hollywood role at 24, in a comedy called The Hot Chick, starring Rob Schneider. The movie was appalling, but it didn't matter— the next thing you know, she was 25, and the Mean Girls–Notebook– Wedding Crashers trifecta was upon her, and everyone was calling her Hollywood's It girl and trying to get her to, like, pose naked on the cover of Vanity Fair. And she was miserable.
McAdams called a time-out. She walked off the Vanity Fair shoot (her publicist had neglected to tell her about the naked part); she reportedly turned down Anne Hathaway's role in The Devil Wears Prada (yup), and then, in 2006, she packed up and headed back to Toronto. She stayed there for about two years, just hanging out with family and friends and being a regular person. She hadn't ever planned on getting famous. She'd just wanted to act. The whole thing took some time to digest. "I had to kind of reassess and go, What did I want this [success] to be, and how did I expect it to look?" she recalls. She bought a creaky old Victorian brown-stone with her brother, kitting it out with Bullfrog renewable energy. She created a community for herself of people passionate about green living and protecting the environment. She started an eco-friendly lifestyle website called greenissexy.org, which ran from 2007 to 2011. She got into Kundalini yoga and eating local and riding a bike instead of driving a car.
In part, McAdams did all of this because she wanted a private and relatively normal life, but she also did it because she wanted to remain a little, well, mysterious to the rest of the world. Because it makes for better movies. Because really good acting is all about disappearing. "You want people to buy you as just about anything," she says. "So if they think that you're one thing, it's hard to slip into, you know, all these other things." When McAdams returned to acting in 2008, it was on her own terms. Since then, she's had hits like Sherlock Holmes, Midnight in Paris, and The Vow, and misses like The Time Traveler's Wife and Morning Glory—plus artsier projects like Terrence Malick's To the Wonder, A Most Wanted Man with Philip Seymour Hoffman, and Wim Wenders' upcoming Every Thing Will Be Fine. The one thing basically every critic, actor, and director seems to agree on is how consistently awesome she is.
"I have been a huge fan of Rachel's for over 10 years, so just the idea of getting to work with her was exciting," says Emma Stone, who stars with her in Aloha. "The level of natural talent she has is pretty clear and pretty amazing. Her choices are never one-note or unexplored. She makes you care. That's a real gift."
Jake Gyllenhaal, her costar in Southpaw (she plays the feisty, sexy, tough-as-nails wife of his embattled boxer), waxes similarly poetic: "as Gillian Welch says, 'Some girls are blessed with a dark turn of mind.' She has that beautiful darkness but exudes a real, true light. To be dark and light at the same time is as rare as it is infectious." She's also a joy to work with, he says: "i was excited to come to work. And that's no bullshit. You can feel her heart when you are acting with her. I know the audience can, too, which is why people love to watch her.
These days, work is going so well for McAdams, it's even starting to turn Hollywood a bit rosy for her. "I think this is my favorite L.A. stint ever," she says, as we pause for a breather. it's early March, sunny, 75 degrees, and Canada is buried in snow ("I felt guilty about that, like I'm not with my people struggling"), and the San Fernando Valley is spread out below us.
McAdams has dated a handful of movie stars over the years (Ryan Gosling, Josh lucas, and Michael Sheen), but at the moment, she's happily single. Her relationship with Toronto-based music manager Patrick Sambrook ended not long ago, and while she says she'd like to have kids at some point, it's clear "some point" is not yet. instead, McAdams is staying in a house "within jogging distance" of her sister, Kayleen McAdams, who is her best friend and makeup artist, and spending time with their L.A. posse— doing yoga, watching Portlandia, and having brunches and dinners and playing parlor games like charades and mafia and celebrity. ("You have strangers come over, and you literally shake hands and then you're screaming at one another.") They also hike all the time, all over L.A. "We try to do a different one each weekend," she says, looking out over the city. "You get up here, and the sun is shining and the palm trees are swaying, and you think, You know, this really is not bad at all."
This interview appears in the June 2015 issue of Marie Claire, on newsstands now.
And for a little behind-the-scenes action, watch here:
Celebrity news, beauty, fashion advice, and fascinating features, delivered straight to your inbox!