All-Around Badass Rita Ora Gets Real About Love, Playing a Drug Addict in 'Southpaw', and Her Future in Music
Our July 2015 cover star is poised to take over the world.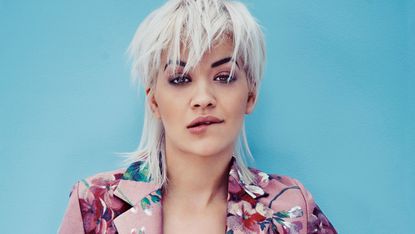 (Image credit: Beau Grealy)
Rita Ora has a plan. The magazine covers, fashion (Roberto Cavalli) and beauty (Rimmel London) endorsements, clothing line with Adidas Originals, campaign with Coca-Cola, even performing a nominated song ("Grateful") at the Oscars are all testimony that the plan is working. "Oh, it is in full effect. We're these conniving Kosovan hungry bitches," Ora says of herself and her older sister, Elena Sahatçiu, who is also her manager. "I knew that one way or another, I was going to do things my way."
On playing the house diva behind the turntables while her parents thought she was going to sleepovers: "I would rip my T-shirts and be really punk and not clean. And I would have blonde hair, really dark eyebrows, red lipstick, lots of fake rings that made my fingers go green. I wouldn't be smelling that great…. But me and my friends, we were really, like, rebel-y. I feel like I lived a lot when I shouldn't have."
On dating: "I'm afraid of being alone. I'm not afraid to admit that, you know. I'm not embarrassed to admit that. I just hope it's not a never-ending cycle. Sometimes love just makes you feel crazy. And that feeling that we have as girls, just to have that feeling, even for five seconds, it's like crack. I mean, don't compare it to that, but you know what I mean. It's like comfort eating."
On her recent breakup: "There was a reason why I split up with him. And there was a reason why I'm at this point in my life where I feel like I have so much musical freedom, and I don't have to explain myself to anybody… It was more of a thing where I was in awe. I was at that point in my relationship where I felt he could do no wrong. I thought he had my back and that he'd never steer me wrong. But then "I Will Never Let You Down" came out, and everything started to go a bit weird. I don't know if it was because business was mixed with personal or what."
[pullquote align='C']"I don't have to explain myself to anybody."[/pullquote]
On playing a drug addict who attempts to seduce a boxer played by Jake Gyllenhaal in Southpaw: "I arrived on the set, and the makeup artist said, 'You're kind of ready to go onstage.' I'm like, 'You know I'm playing a crack whore?' Which shows: Don't look at me when I'm waking up."
On recording three songs with Prince: "He came to London about a year ago and his manager contacted my management, and he said, 'Hey, Prince is in town.' I was like, 'What prince? Like the royal family prince? I wouldn't care about that prince. I care more about actual Prince Prince.' And he was like, 'Actual Prince.' I said, 'Oh, my God!'"
On patience: "I've had to have a lot of patience. Because there have been times at night where I want to pull my hair out and just put my music out for free on the Internet and just say fuck everybody. But then I have this conscience saying no, be smart, be strategic. There are ways of doing things and still getting your way. If I'm going to do Rita Ora, it's going to be Rita fucking Ora. It's not about who is on my album or who's featured or the names. It's about a solid body of work that I can call my own.
Read the full interview—and see all the photos—in the July issue of Marie Claire, on newsstands June 23.
And for a little behind-the-scenes action to hold you over, watch here:
Celebrity news, beauty, fashion advice, and fascinating features, delivered straight to your inbox!