Mariah Carey's Emancipation
Mariah Carey is tired of keeping secrets.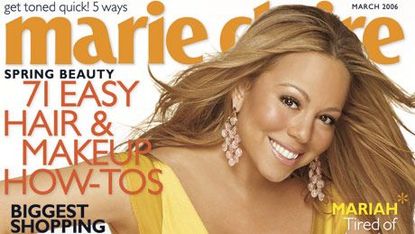 (Image credit: Matthew Rolson)
Mariah Carey may have to tattoo it on her forehead: "I was not born with a silver spoon in my mouth." In fact, she recounts an early memory, sitting in the back of a "putrid green" car that her mother called "the Dodge Dent": "I was looking out the window at the supermarkets and people driving normal cars ‑- forget Mercedes ‑- and I was like, When I grow up, I want to not have a Dodge Dent. I want to evolve from this," she says. "But more than that, I wanted to express myself through music, because that was what made me happiest."
The 36-year-old Carey has evolved, to say the least: As a performer as well as writer or cowriter of her songs, she has amassed a wealth estimated in the hundreds of millions. She has "expressed herself through music" to the tune of 150 million albums sold worldwide since her debut in 1990, with more number-one hits than any other female artist (her 17 are tied with Elvis's and behind only the Beatles' 20). That 17th number one was "Don't Forget About Us" from her most recent album, The Emancipation of Mimi, for which she has garnered eight Grammy nominations.
And while the past year has been, by her count, one of the best years of her life, she hasn't always been this happy. Now sitting in a hotel room in New York City's SoHo, wearing Hudson jeans and a white tank top in anticipation of a red-eye flight to Paris, Carey talks in a rich, dusky voice, alternately misting her tired throat with atomized Evian and a prescription medication. (She repeatedly refers to her throat doctor the way other celebrities might quote their agents or psychics.) She looks back on an unhappy marriage to music executive Tommy Mottola, her bitter divorce and extrication from both Sony and Virgin music labels, and a period five years ago of extreme physical exhaustion ‑- and she can peacefully pronounce that everything she went through makes her current success that much sweeter.
"There's this perception that I had a Cinderella story, but I extracted myself from a really negative relationship, one in which anyone who had any sense of self-worth would never have been able to exist," she says. "I think I allowed myself to live with that unhappiness because I didn't feel it would be fair for me to have everything. I have this career, I'm living my dream. Why should I be happy? I figured I was going to stay in that marriage until I died. I really did. And I really do feel guilty about being divorced, because as a child of divorce, that's the one thing that I always thought I wasn't going to do." But, as she sings in "Petals," she "fled to save her sanity" at the end of 1996.
Her divorce was perhaps more traumatic than her 2001 bout with physical exhaustion, which she says was grossly misrepresented in the press (she spent seven-and-a-half hours one day reading every clip, "because I wanted to be prepared") and derided by talk-show hosts ("who have since apologized to me, which is cool"). She categorizes the frenetic, exhausting schedule of making and promoting back-to-back albums as "telling the Energizer Bunny to work three times harder. My friend Maryann calls me 'I, Robot.' And I think that's how everyone looked at me." So when she needed a rest ‑- just a day or two or three to relax and sleep before the onslaught of making more videos and appearances ‑- it was seen as a nervous breakdown. She regularly records voice messages and posts them for her fans on her Website, and "it spiraled into me leaving the message that started all the breakdown rumors, which was something like, 'I don't even want to be doing music right now. I know you guys understand.' Because at that moment, I didn't. I was not a slave, I was a human being, and I needed to be treated like one."
When she retreated to her mother's home for the rest she craved, the telephoto lenses followed her ‑- and snapped a picture of her in her blue-cloud pajamas ("because I am 12 at heart") feeding her mom's dog out in the backyard. "They all said I'd had a nervous breakdown, but people don't recover from nervous breakdowns three days later! To my knowledge, that's not physically possible," she says. "But anytime you say 'breakdown,' people are going to scrutinize it and think, Whooo! This person went crazy! And it's like, hello? 'Physically exhausted' means I was physically depleted to the point of collapsing."
What upset Carey more than anything in the entire ordeal was the erroneous reporting that she had tried to commit suicide by slitting her wrists ‑- not only because, she says, "I am a God-fearing person and would never do that," and not only because her stylist and dear friend Tonjua Twist took her own life in the spring of 2000, but also because she would never want to set a bad example for her fans. Carey takes her position as role model to her young fans very seriously ‑- she does lots of charity work for kids and supports a Fresh Air Fund career-awareness program for underprivileged children called Camp Mariah. "I would never want them to think that the person who's writing about 'don't let go, don't ever, ever let go' ‑- whatever song you want to name, schmaltzy or not ‑- would try to commit suicide."
Carey and Her Fans
The responsibility Carey feels for her fans just may be her way of repaying them for their commitment to her: "I feel an unconditional love with my fans that I don't feel in any other part of my life," she says, then adds, "which I guess is a sad thing to say. But it's also a nice thing to say." (She notes that she does get unconditional love from Jack, her beloved Jack Russell terrier, but jokes that "he's sort of a celebrity himself, so that's different.")
With albums and songs that span genres nearly as vast as her seven-octave vocal range ‑- love songs, pop ballads, rap-singing mixes, a holiday-staple Christmas album ("Nothing against Casio, but I wrote 'All I Want for Christmas Is You' on my little Casio keyboard! I never knew it would turn into the hit it is!") ‑- Carey is the rare artist who can count grandparents all the way down to first-graders among her fans. When it's suggested that the only other performer with a similar appeal would be Judy Garland as Dorothy in The Wizard of Oz, she widens her eyes at the coincidence: "Let's say we're editing a video, and there's a moment in the film where I happen to look up and start smiling ‑- I can't even emulate it now, but it's what we always call a 'Dorothy moment.' We'll be like, Can we use it, or is it too Dorothy?" she says. "I think what that look is, is just the optimistic person within me who hasn't shattered. Thank God."
This very together woman actually stands to shatter several records in her lifetime. Turning 36 this March, with the momentum of The Emancipation behind her ‑- as well as those 17 number-one hits under her snipped-off jeans's waistband ‑- it is entirely likely that she could outdo the Beatles' record by the time she turns 40. Carey is understandably humbled in discussing it: "I don't even want to think about that," she says. "The Beatles are history. So is Elvis. Even if I did break those records, I'm a woman and they're men, so it would be apples and oranges. I really, truly am blessed and grateful at this moment that 'We Belong Together' is my biggest song of all time."
At press time, "We Belong Together" was up for four Grammy awards, a statuette Carey hasn't taken home (despite 18 previous nominations) since she was named Best New Artist and Best Female Vocalist in 1991, at age 20. In December she won five Billboard Music Awards, and she says she needs to get another antique jewelry case to hold all her awards. "We were putting some of the new awards in the case, and I was like, These look a shambles. So I need a new case, and I need to rearrange them. I will dust them and move them myself, because if somebody breaks them, I'll be mad!"
Strength, Power and Freedom
To be sure, doing her own dusting doesn't exactly jibe with the diva reputation that comes with her vocal range, wealth and three-story New York City penthouse. But Carey has a sense of humor about herself: She joked recently that it took her five hours to get ready to go skiing ‑- and people took her seriously. Following the early-morning Grammy-nomination announcements in December, a reporter from CNN asked her how she'd decided on her decidedly casual outfit of jeans and cozy gray sweater. Carey deadpanned, "Oh, not without drama." At the American Music Awards in November, when her dress seam ripped along the side and her microphone pack was flopping around on her back during a performance, she announced it to the audience while accepting an award later. "I told them, 'Okay, you have no idea what just happened to me,'" she says. "I just figured I'd talk to the audience like I was talking to friends."
She says her favorite outfit is "anything skimpy ‑- which people give me such a hard time about. But I see it as playing dress-up, like Barbies." When she met Aretha Franklin during a rehearsal for the VH1 Divas Live concert in 1998, they were waiting backstage together when, Carey recalls, "I made some flippant remark, as I often do. And Aretha was laughing, like" ‑- she lifts her voice in singsong ‑- "'Sense of huuu-morrr. Typical Aa-ries!'" (The two women share the same birth week in late March, along with Diana Ross and Chaka Khan.)
Carey also seems to be the unlikeliest of homebodies ‑- so much so that her favorite junk food in the world is actually homemade: a batch of popcorn whipped up by one of her best friends, Rachel, "because she dumps a whole thing of butter on it." Carey, who can happily spend an entire day in the house wearing a tank top and boxers, has a bathroom completely decked out in Hello Kitty. Her "humidifier bedroom" ‑- with mist-jets set into the ceiling, which is pitched to collect the condensation "because who can sleep with water drops falling on their face?" she asks, laughing ‑- seems a bit over-the-top, but it's to soothe her vocal cords. And her least glamorous habit, she claims, is eating in bed: "I'll have, like, a bib on. I am just like, Whatever, nobody is looking at me for once!" she says. "That's why I don't really like to eat in public. When people say, 'Mariah never eats in public,' I'm like, You're right."
On the cover of The Emancipation of Mimi, Carey says she is "a little thicker, curvier" than she's been on past album covers. "I'm bad with the weight thing. I go up and down really quickly, because I am a muscular person. People don't know I have this" ‑- she flexes to display well-defined biceps ‑- "and these could easily become weird body-builder arms. But I also don't want to be a skinny twig."
The Emancipation cover is also notable because Carey is facing the camera dead-on, whereas she used to tend to appear in semi-profile or partly obscured by a lock of hair. "People were like, 'What's going on? She looks like Beyoncé!'" she says in mock outrage. "I'm just actually facing the camera, and people aren't used to that. I took a chance. It was a moment to exude strength, power and freedom."
Marie Claire email subscribers get intel on fashion and beauty trends, hot-off-the-press celebrity news, and more. Sign up here.