Monica Lewinsky Responds to That Caitlyn Jenner Comment
And opens up about stepping out of the shadows.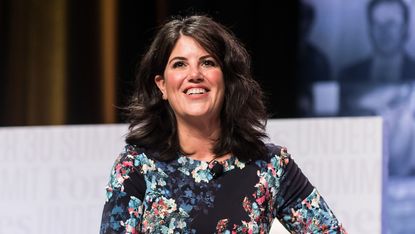 (Image credit: Getty Images)
Marie Claire Newsletter
Celebrity news, beauty, fashion advice, and fascinating features, delivered straight to your inbox!
Thank you for signing up to Marie Claire. You will receive a verification email shortly.
There was a problem. Please refresh the page and try again.
After a decade and a half of laying low, Monica Lewinsky has spent the last year vocally fighting cyberbullying. It's earned her a lot of surprising admirers—including Caitlyn Jenner.
"It was absolutely an evolution," Lewinsky said on Tuesday at the second annual Forbes Under 30 Summit, where she made her first-ever public speech last year. This time, she was introduced to the stage as a social activist, instead of as the first victim of bullying in the digital age. "I was patient zero, the first person to have their reputation completely destroyed by the internet," she said at the time, describing the trauma she felt when the Drudge Report revealed her two-year affair with then-U.S. President Bill Clinton.
Lewinsky, now 42, cut a stark contrast to the woman last year who tentatively took the podium in a somber black dress and paused during her speech to wipe away tears. This time around, she appeared happy, relaxed and chatty, even laughing off a mention of less-than-flattering rap lyrics referencing her name. She reflected on last year's speech, which jumpstarted her career in activism. "Ten days later I got a call from TED, and it went from there," Lewinsky said. "It was very much an out-of-body experience."
Her TED talk about shame has garnered nearly 6 million views, including at least one from Caitlyn Jenner—she has cited Lewinsky as an inspiration in overcoming her own internet bullying. " I was incredibly touched and flattered to hear that Caitlyn Jenner had found solace in my TED talk," Lewinsky said this week.
Lewinsky is now a strategic advisor to Bystander Revolution, supporting its anti-bullying campaign and advocating its Month of Action program, a series of 31 daily challenges like favoriting a social media post from someone who needs a boost or giving a shout out to a mentor.
"You're not just cured of trauma like a cold," she said. "It's cyclical, and it ebbs and flows." Humor is key in diffusing tension, she said, recalling the handsome 27-year-old man who approached her at last year's conference with the pickup line: "I can make you feel 22 again." Lewinsky laughed. "I'm probably the only person over 40 who does not want to be 22 again."
Follow Marie Claire on Instagram for the latest celeb news, pretty pics, funny stuff, and an insider POV.
Celebrity news, beauty, fashion advice, and fascinating features, delivered straight to your inbox!