Truly, Deeply, Maggie Gyllenhaal
She is having a moment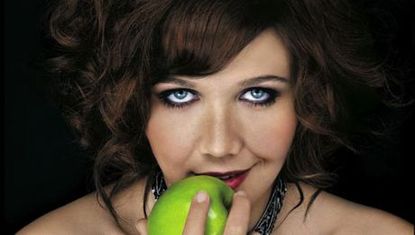 (Image credit: Ruven Afanador)
Whenever Maggie Gyllenhaal starts thinking about how to portray a role in a new movie, the first thing she focuses on is the wardrobe. "Clothing, for me, is expressive," she explains. "It's very important to me that I feel connected to what I'm wearing." She likes to play around with how women convey sexiness, using clothing to reveal character, such as sporting a revealing yellow halter top (for a role as an ex-con) or showing a more subtle sensuality (playing a pastry chef) with "gauzy things that looked like they were falling off."
On this sunny summer afternoon, Gyllenhaal is sitting in a Japanese restaurant in New York City's SoHo, looking radiantly rumpled. Life has now imitated art in her wardrobe choices. In Oliver Stone's new movie, World Trade Center, she plays the six-months-pregnant wife of a Port Authority cop trapped in the 9/11 rubble. Shortly after the film wrapped, Gyllenhaal discovered that she herself was pregnant. She has traded a fake big belly for the real thing.
Now on the verge of having her baby, she laughingly confesses that she had no idea what she was in for, physically. "My breasts have grown two-and-a-half cups," she says, sounding shocked, "which has been very hard to get used to." And she's a little bit anxious about dressing for the upcoming press tour. "I used to be able to look at a dress and think, That'll work, but now things won't fit over my breasts, let alone my belly."
Today, Gyllenhaal is dressed for hot weather. Her hair is pinned up; she's in light green pants and a skinny, pink, sleeveless tee layered over a similar white one, emphasizing her new curves. She also sports a sparkling platinum-and-diamond engagement ring.
At age 28, with a baby due and four — yes, four — movies out this fall, life is coming together for Maggie Gyllenhaal. Last year was her kid brother Jake's big moment, as the cultural phenomenon Brokeback Mountain turned him into a major movie star; this is likely to be the year that boosts her into the pantheon of bankable young actresses. "Maggie can play anything," enthuses director Marc Forster (Monster's Ball, and Gyllenhaal's latest, Stranger Than Fiction). "She likes to push herself. And she's adorable; people just love her." Gyllenhaal has been collecting raves for years, from bit parts in quirky movies such as Confessions of a Dangerous Mind to her breakthrough performance as an unhappy woman who finds joy through a sadomasochistic relationship in Secretary. New York Times movie critic Manohla Dargis wrote of Gyllenhaal last summer, "There isn't an American actress in movies today who holds the screen with as much deep-seated soul." Her eclectic new movies showcase her range as an actress. She plays whimsical, sweet-natured characters in two upcoming films: In the twisty and surreal Stranger Than Fiction, she's a tattooed, anarchist pastry chef who becomes the love interest of IRS agent Will Ferrell, while in the romantic comedy Trust the Man, she's a fledgling Manhattan children's-book author with relationship problems.
Gyllenhaal's heartbreaking performance in Sherrybaby as a troubled ex-con trying to reconnect with her daughter premiered at the Sundance Film Festival to accolades. "Maggie has the ability to take a character who is making bad choices, doing nasty things, and make her appealing," says Laurie Collyer, the film's director. Meanwhile, the hotly anticipated World Trade Center gives Gyllenhaal a dramatic turn as a worried and sympathetic wife, based on a real person. "I was immediately drawn to it," she says. "Everyone who read the script said they cried."
Gyllenhaal is at the tipping point of fame, with all the good and bad that comes with newfound celebrity. With the career of her fiancé, actor Peter Sarsgaard, also on the upswing, the couple, who have been together nearly five years, are now tabloid fodder. "The paparazzi know where we live. Ten of them will just follow us down the street as we do nothing interesting at all," she says. "Pick up dry cleaning, get coffee." The attention makes her self-conscious. "It's odd to have people take your picture. I'll think, Did I look okay? I didn't think about what I was wearing, is it all right? I should say, 'I don't care.'"
Gyllenhaal grew up in Los Angeles with movie-industry parents, but she's not used to this kind of scrutiny. Her dad, Stephen Gyllenhaal, is a director (Paris Trout), and her mother, Naomi Foner, is a screenwriter (Running on Empty). "They're a very close family," says director Doug McGrath, a family friend. "They're obsessed with politics, not showbiz." Says Gyllenhaal: "My parents weren't superstars. They made smaller movies." She used to visit her folks on movie sets and get the occasional walk-on with a line of dialogue. "I never liked it," she says, adding that her father once got her a job on a film set making snacks for the cast. "I got $50, but I had something to do, and I felt better." It was an acting class at age 11 that changed her mind. "I just felt like I was really good at it; it felt like really deep daydreaming," she says.
Ask her whether she and Jake have any sibling rivalry, and it's the only time she turns momentarily cranky. "I'm so bored with that question," she says. "I have a brother, we fight sometimes, we support each other." She finds it helpful to compare notes with Jake about their childhoods. "As you get older and start to look at things that are 'broken' about your parents — everybody's parents have those things — it's nice to have someone else to ask, 'Am I crazy? Or was this crazy?' Jake is very good at figuring that stuff out," she says.
Celebrity news, beauty, fashion advice, and fascinating features, delivered straight to your inbox!