You Don't Know the Real Amber Heard—But You're About To
Marie Claire's December cover star on love, life on the run, and her Texas-sized ambition.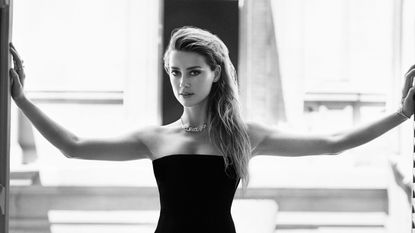 (Image credit: Boe Marion)
Marie Claire Newsletter
Celebrity news, beauty, fashion advice, and fascinating features, delivered straight to your inbox!
Thank you for signing up to Marie Claire. You will receive a verification email shortly.
There was a problem. Please refresh the page and try again.
Amber Heard's mother likes to say that ever since Amber was a little girl, she's been trying to see how far she can get, how fast. "A horse became a bike, a bike became a car, a car became a plane," Heard explains. And now, when I ask her if she likes flying, she looks puzzled. "It's like walking, I guess," she says. "It's just how I get around."
She's certainly picked up speed since she left Texas for Hollywood 13 years ago, landing, among other things, the perfectly descriptive title role in All the Boys Love Mandy Lane (2006), a part as Demi Moore's daughter in The Joneses (2009), and a life-altering costar in Johnny Depp, with whom she lit up The Rum Diary (2011). Much was made of this union in the tabloids, as they remarked on the age gap (Depp is 52; Heard is 29) and the timing (the end of Depp's 14-year relationship with the French singer and actress Vanessa Paradis was announced in June 2012). Heard and Depp were married last February, sparking more or less instant rumors of divorce. When, in September, they engaged in ostentatious public displays of affection on a series of red carpets during a film festival tour, that was deemed suspect, too. In other words, Heard has been thrust early into what her friend Olivia Wilde describes as "someone else's spotlight." But as soon as you meet her, you think it's only a matter of time before the spotlight becomes her own.
[pullquote align='C']"I wish I didn't have to pick between being seen as sexually viable and something more substantial."[/pullquote]
Over the summer, we met in the chic hotel in Paris where she was staying while promoting Magic Mike XXL. (The film is a fast-paced, hunk-studded comedy with serious dance numbers, but when Heard appears on-screen, the whole thing seems to slow down, as if the camera is literally entranced by her.) She arrived with her blonde hair falling around her shoulders as if recently unscrunched from a towel. On these press tours, she explained, you're pressed up against the glass, barely allowed to get out and relax. Still, she does so when she can. "I'm really good at it," she added with a grin, "which is, perhaps, why I must look like this …"
Like what? I wondered, as she patted nonexistent bags under her eyes and ordered coffee. To anyone but herself, she looked dewy-skinned, bright-eyed, neat-featured, as if she'd just sprung out of a rosebud like a character in a fairy tale. She wore a cream cashmere T-shirt and black Yves Saint Laurent jeans, with two mismatched gold earrings. "Is it still 1,000 degrees outside?" she asked. Mostly while on press tours, she stays indoors, going from hotel to hotel in city to city. Mostly there is no weather where she is.
"I've been on the road or on the run since I was 16," she says. Which is it? "A bit of both," she replies with a smile. Wilde met Heard on the set of Nick Cassavetes' 2006 crime film, Alpha Dog, and she remembers that Heard was "so fearless, already. She was at once wise and completely wild. She carries a certain grace that's inherent to her. But she's also spontaneous and very hungry for life. I think fearlessness is unusual in Hollywood but common in great actors."
Until she married Depp, Heard made a Los Angeles duplex apartment her base, but it was more like "ground zero for packing" than a home. Now she and Depp—who owns an island in the Bahamas—live in L.A. in something not dissimilar to a commune, with her younger sister, Whitney, next door and her best friend across the way. Heard describes it as a kind of "punk-rock Friends": "You know, how they're constantly coming in and out of each other's apartments?"
Private by nature, yet forced into the public and living out of a suitcase, she makes sure that when she's in L.A. she's surrounded by friends and family. "Every night, we have family dinners," she says. She loves to cook—she has a particular affinity for Southern food—so they use her kitchen, but they eat in her sister's dining room. (Heard does not look like she lives on a diet of Southern food, but then, none of her appetites are noticeable in her figure. In a kitchen scene in Magic Mike XXL, costar Channing Tatum says, "We were sitting around talking about what was better, cookies or cake, and we rolled it into the scene. She also ate about half of a red velvet cake, and I respect that.")
The trouble is, she's away all the time. "Combine it by two when I share a life with someone who also travels; it means that I'm never in a place for more than about a week or 10 days, ever." She and Depp have to make a point of spending time together. As soon as she was done in Paris, she would fly to Australia, where Depp was filming the latest installment of Pirates of the Caribbean, and where she was welcomed by criminal charges for having illegally brought their dogs, Pistol and Boo, on a previous trip in May. The importation charges carry a potential sentence of 10 years in prison, and Heard is still battling the case. (At least the couple got a holiday in Southeast Asia together after the furor.)
Heard is cautious about speaking of Depp, and as for the recent rumors of their separation: "I try not to react to the horrible misrepresentation of our lives," she says, "but it is strange, and hard." She says she would love to have children, and that being a stepmother to Depp's—16-year-old Lily- Rose and 13-year-old Jack—is "an honor and the greatest, most surprising gift I have ever received in my life … I feel new flavors that I didn't know existed. New colors that I didn't know existed have been added to my life. I'm so happy."
[pullquote align='C']"I try not to react to the horrible misrepresentation of our lives, but it is strange, and hard."[/pullquote]
When describing growing up in Texas, she stresses the isolation and relative poverty of Manor (pop. less than 7,000), just outside Austin. Her mother worked for the state, in telecommunications. Her father ran a construction company that employed mostly Spanish-speaking laborers, and Heard's Spanish reveals either an incredible ear or a precocious sense of democracy. David Heard had three daughters; the one he chose to treat, effectively, as a son, was middle child Amber. He also broke horses. "I was around a lot of young, spirited, untrained horses and learned how to ride in a very aggressive manner," she recalls. She also became her father's hunting and fishing buddy, though she didn't shoot anything herself. "I was very girly on the inside," she suggests, "but my dad was not raising a girly girl. He was raising someone who could keep up with him."
One thing Heard got from her upbringing was a strong work ethic. "You respect what it takes to earn it [money]," she explains, "and it also gives you a certain resilience, because it minimizes this false notion that that's what matters. I know that to not be true, and I know I'm fine without it. That's why maybe I'm so independent. I never expect anyone to give me anything—the notion of someone supporting me would be absurd to me."
She did everything early. Too young to attend classes at the community college in Austin, she asked an older girl to drive her so she could audit them, because she wanted to learn sign language. ("Some of my closest friends from that time are people who are deaf.") She got her first job—or jobs—at 13, lying about her age so she could work as a lifeguard or an office cleaner at a modeling agency to be able to pay for headshots. Three years later, she dropped out of high school, earned her GED, and left home. She did some modeling but disliked it (she appeared, much later, in a 2011 Guess jeans commercial shot by Ellen von Unwerth). The thought of her becoming an actress worried her parents, so she did so gradually. "I traveled a bunch without telling them I had moved out, because it was easier to do it in spurts. By the time I was 17, I was subletting a room in L.A."
While Heard's determination is unquestionable, it's not clear whether she was ambitious to become an actor or just desperate to get out of Texas. "Both," she replies. "I have a love-hate relationship with [acting], still to this day. But I was determined to do something and to see something and to use my voice. And to experience as much of the world as I could. When I was in Texas, people would say, 'Don't do this, it's crazy.' I didn't have anything to lose. I didn't care."
Once we finished coffee, we decided to go to Shakespeare and Company, the legendary bookstore on the Left Bank whose owner published Joyce's Ulysses, and where book lovers can find a bed for the night. Heard has been collecting antiquarian books for years; in every city she visits, she tries to find a copy of the Persian poetry collection Rubáiyát of Omar Khayyám, a line from which is tattooed in Farsi on her side (the line itself is "kind of personal," she says). She always travels with books and rues every day she packs her usual seven in her suitcase. (This trip, she brought Herodotus, and had just finished Blueprint for Revolution by Srdja Popovic and Matthew Miller.)
[pullquote align='C']"If I were a man, I'd be allowed to play roles that were compelling and that drove an audience to have an emotional response."[/pullquote]
We climbed the narrow stairs, stroking the spines of Anaïs Nin and Djuna Barnes, and Heard spoke, in a whisper, about an issue that troubles her. Though she didn't want to complain about the roles she's been given, and even less about her looks, she said the fact remains that women in her industry are judged by their covers. "If I were a man, I'd be allowed to play roles that were compelling and that drove an audience to have an emotional response. I would have gotten that opportunity, regardless of the packaging I come in. I would have been allowed to play characters that were more nuanced."
It's true that we have not yet seen her in complex roles, just bit parts as a Texan teen in the otherwise mostly male Friday Night Lights, as a young Charlize Theron in North Country, as Seth Rogen's girlfriend in Pineapple Express. But her film The Danish Girl (opening November 27), in which she plays 1920s Danish ballerina Ulla Poulsen, touches on a subject close to her heart. Based on the David Ebershoff novel about Lili Elbe (portrayed by Eddie Redmayne), the first person to undergo gender-reassignment surgery, it raises basic questions about prejudice and equality. "I love moments in history where we're forced as a society to go: 'Wait. What does this mean for us? How do these old systems function? How do we update or retrofit this old, long-standing architecture?'" she says.
Before she met Depp, Heard was in a relationship with the photographer Tasya van Ree and came out publicly in 2010. In terms of gay rights, she says now, "so much needs to change." She was proud that gay marriage was deemed a federal issue. "No matter what people want to label me as," she says, "I still fight for equality, and I think popular opinion will catch up. I think it already has, actually. I think our generation sees themselves as part of a larger global community, and therefore, it's harder to enact basic tribalistic prejudices based on ignorance and hate."
In the film, Redmayne's character spies on Poulsen through clouds of tulle in the costume department. "I wanted him to be confronted at that moment by the quintessence of the feminine," says director Tom Hooper. "And, of course, that's a very hard person to find. In Amber, I found my ideal of feminine beauty. She's breathtaking. And at the same time, I found an actress who was readily able to undercut that mood by her wit and charisma and her eccentricity. What I wasn't expecting was the impact of her energy on-screen."
Months after we met in Paris, Heard calls in a rare moment when she's at home. She has just returned from Brazil, where Depp's band, the Hollywood Vampires, played at the Rock in Rio festival. The performance was combined with a charity initiative, headed by the Starkey Hearing Foundation, to hand out and fit more than 200 hearing aids for free. "For me, and how connected I am to my friends in the deaf community, it's a perfect thing," she says.
Heard says she is staying put, but the truth is, she's not slowing down anytime soon. She is the lead actress in three films on deck: London Fields, based on the Martin Amis murder-mystery novel (costarring Depp); Pamela Romanowsky's The Adderall Diaries, with James Franco; and family drama When I Live My Life Over Again, with Christopher Walken. "It's both scary and thrilling to not have my next departure booked for anytime next week," she says. A pause. "I actually think I just lied. I'm looking at my desk calendar, and I don't even have a week." 
See Heard at her cover shoot here:
Follow Marie Claire on Instagram for the latest celeb news, pretty pics, funny stuff, and an insider POV.
Celebrity news, beauty, fashion advice, and fascinating features, delivered straight to your inbox!