2015 Was, When You Think About It, the Year of Drunk-Dialing Anthems
You have one new message from Drake...and Adele...and the Weeknd...and the Biebs...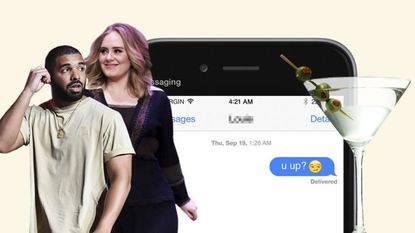 (Image credit: Archives)
There are plenty of similarities to be drawn between Adele's "Hello" and Drake's "Hotline Bling." Both songs directly address an ex-lover who lives far away. They're both gigantic hits performed by artists in their late 20s who go by one name. Both videos arrived late in the year—four days apart in October—and yet they defined 2015. Both spawned Saturday Night Live sketches. Your grandma is probably familiar with both, an impressive pop-culture feat in and of itself.
Oh, and they are totally about drunk-dialing a person you're accustomed to boning.
In fact, Adele and Drake sound like they could be talking to each other. "Hello, it's me." "You used to call me on my cell phone." "You make me feel like I did you wrong." "I'm sorry for everything that I've done."
The relationship is dead, but the drunk dial lives.
Which is to say, Adele and Drake are all of us. Even the famous, wildly talented, incredibly attractive among us can't control their tipsy fingers. (You may recall the news last month that Adele's notorious drunk-tweeting got her basically banned from the platform.) And in fact a cottage industry of apps has bloomed to break the drunk-texting habit, like Drunk Text Savior, Don't Dial!, Drunk Mode, and Drunk Dial NO!. The site Texts from Last Night spawned a book nearly six years ago, and the endlessly depressing scroll The Last Message Received recently went viral.
This year's big drunk-dialing/texting songs don't end with Adele and Drake, of course. The Weeknd's "The Hills" falls into the "Hotline Bling" camp of writing odes to booty calls—"I only call you when it's half-past five"—while Justin Bieber, like Adele, won't stop apologizing for making "a couple of hundred" mistakes.
Drake doesn't recognize the person his ex has become. Adele is incapable of ever making things right with hers. The Weekend flagrantly admits to being a f-ckboy, but seems to hate himself for it: "When I'm f-cked up, that's the real me." And then there's sweet, underfed puppy dog Justin Bieber, whose drunk texting isn't just some one-off musical composition. It's an ongoing, IRL, remarkably relatable thirst fest for his first love, Selena Gomez.
The messaging hasn't changed, even if the medium has. Your crush, a potential hook-up, a booty call, or the ex-boyfriend who leveled your life—they're all instantly available to you the second you place your fingers on that glass. And who knows what technological advances 2016 will bring? Maybe your upcoming Tinder dates can float in via hoverboard.
It's comforting to know that our favorite musicians will be along for the ride, helping us grapple with the queasy morning-after rereading of our sent messages from the night before. Hitting "play" on a song is just as easy as hitting "delete" on a contact.
Et tu, Rihanna? We need you here.
Follow Marie Claire on Instagram for the latest celeb news, pretty pics, funny stuff, and an insider POV.
Celebrity news, beauty, fashion advice, and fascinating features, delivered straight to your inbox!