Tina Fey: "I Was the Mean Girl, I Admit It Openly"
The Mean Girls screenwriter opens up about being a former Regina George.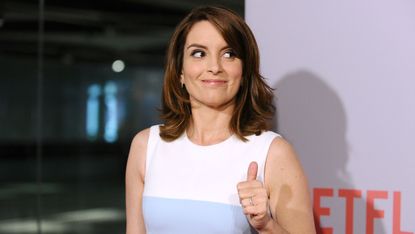 (Image credit: Getty)
More than a decade after writing and starring in Mean Girls, Tina Fey admits she was once the Regina George of her high school. (I know. Hard to believe, right?) Allow her to explain.
"I was the mean girl," the Sisters actress tells Net-a-Porter's The Edit, revealing the unlikely inspiration behind Regina's heinous—albeit very entertaining—persona. "I admit it openly."
While she regrets being a bully, Fey chalks up her misguided behavior to adolescent insecurity.
"That was a disease that had to be conquered," she clarifies. "It's another coping mechanism—it's a bad coping mechanism —but when you feel less than (in high school, everyone feels less than everyone else for different reasons), in your mind it's a way of leveling the playing field. Though of course it's not."
Years after her reign as Queen Bee, Fey is well aware of just how awful an IRL-alpha Plastic can be. Now a mother of two young daughters, the SNL alum cautions the Regina Georges of the world.
"Saying something terrible about someone else does not actually level the playing field," she warns, before adding: "If I meet a girl of 14 or 15 today who is that kind of girl, I am secretly, in my body, afraid. Even though I'm 45."
Same, Tina Fey. Same.
Follow Marie Claire on Instagram for the latest celeb news, pretty pics, funny stuff, and an insider POV.