Cate Blanchett: Cate The Great
After a breezy, chatty afternoon in Sydney, Cleo Glyde finds even more reasons to love Cate Blanchett than the chic cheekbones and impeccable performances.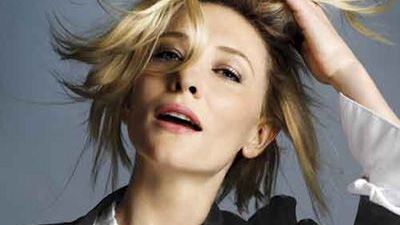 (Image credit: Richard Bailey)
Marie Claire Newsletter
Celebrity news, beauty, fashion advice, and fascinating features, delivered straight to your inbox!
Thank you for signing up to Marie Claire. You will receive a verification email shortly.
There was a problem. Please refresh the page and try again.
Cate Heats Up
I'm waiting for Cate Blanchett in a breakfast café in Balmain, a Sydney Harbour peninsula dotted with 19th-century cottages, close to the neighborhood where she lives with her husband and two golden-tressed boys. Given Blanchett's Streep-ian perfection on-screen, it's hard to imagine what she'll be like in person: Will those photogenic angles cast terrifying shadows? Will she speak in verse?
Blanchett enters stage right, completely backlit in off-duty jeans, flats, and a leather aviator jacket over a khaki cotton blouse with a grandfather collar (yes, I was reminded of her stylized turn as Katharine Hepburn in The Aviator, too). She is five-foot-eight but seems taller, given the graceful elongation of her every limb and plane. She shakes my hand heartily and flops down in her seat. "At last!" she says with a grin, referring to all the rescheduling we had to do to set up this meeting. (On top of opening three movies — including The Good German, with George Clooney, and Notes on a Scandal — and directing Harold Pinter's A Kind of Alaska at the Sydney Theatre Company, she'd actually lost her voice for a little while, which made talking to me impossible.)
In a Hollywood ecosystem stocked with attention junkies, hacks, pilot fish, and box-office whales, Blanchett is rare in having made consistently good, classy choices; in both her profession and her private life, she seems almost incapable of a misstep, as if held aloft by her unassailable cheekbones. For women, she's the blonde-joke antidote. She resolutely will not use her personal stuff as interview fodder, although she is more than happy to discuss the work.
Holding that line can't always be easy; starring in films opposite Pitt, Clooney, DiCaprio, Law, she's had a ringside seat at the celebrity circus. Tabloids are part of her world, yet she has avoided their glare. Just the idea of them deflates her. "I don't read them," she says. "There is some terrible statistic that the average person will only ever read 300 books in their lifetime — with two children, even that seems unattainable. So why would you waste your time? In order to switch off, I suppose, but I strive to find ways other than processing junk to do that — like sleep!"
These days, if you do see a candid shot of her in the paper, she won't be sans panties exiting a limo with Paris Hilton; she'll be marching in protest against global warming with 20,000 Sydneysiders, in jeans and a ponytail. The next day, there will be a shot of her on a red carpet in Hollywood in a tapered metallic-gold gown before heading back Down Under the next morning to direct the play.
With kids, it's an even more demanding schedule. "You have to let certain things go, and grooming seems to be the first one," Blanchett says with an exhausted laugh, picking up some unblowdried strands of her medieval-maid natural-blonde hair. "It just means getting two hours of sleep less. The parent-teacher night, the theater, dinner, jet-lagged kids, and the emails waiting at home — it's going to be 1 o'clock in the morning. This isn't particular to me - and I'm in a very privileged position."
You can't tell she's let the grooming go; as costar Judi Dench's character correctly observes about her in Notes on a Scandal, Blanchett has the complexion of a white peach. Hers is a face that can express a groundswell of feeling without a word. The payoff has been one remarkable performance after another: the teenage queen who must learn how to wield absolute power in Elizabeth; the Scottish spy Charlotte Gray, whose cherry lips are a foil for the rationing drabness of 1940s Vichy France; that flinty paragon of WASP derring-do in The Aviator, for which she won an Oscar. All virtuosic turns, which only heighten anticipation for what she'll do in the role of, yes, Bob Dylan in I'm Not There, opening later this year.
Yet it's a smaller stage that really excites her now: Blanchett and her husband, Australian playwright Andrew Upton, are set to take over as co-artistic directors of the Sydney Theatre Company.
"When the idea came up, I thought, wow, that is something to do with your life," she says. "It's in the company charter that it will be run by an artist, not a bureaucrat. Of course, now we've got to go about the hard slog of enacting all our visions and ideas!" — which include turning the theater "green," that is, making it the first theater company in the world to run on solar energy and rainwater.
Detractors would like to think that what chiefly recommends Blanchett for this job is her fame. "Some people are intrigued, excited, amazed, outraged. Good!" she says. "The theater is where I came from — that's the great irony. At the beginning [of my movie career], I felt a little outside filmmaking, and finding pleasure in it took me quite a while."
The STC's current artistic director, Robyn Nevin — herself a great actress — has referred to Blanchett and Upton as "true theater creatures, each wonderfully gifted." While other Aussie actresses, such as Nicole Kidman and Naomi Watts, spent their early years in purgatory doing bottom-feeder movies, Blanchett's craft was honed onstage playing Ophelia in Hamlet. In 1997, Bruce Beresford fought to cast her in Paradise Road, her feature-film debut, as a nurse who is tortured in a WWII prison camp. The female lead in Oscar and Lucinda followed, as did Elizabeth, which made her an international star.
I ask Blanchett if she was aware at the time that her life was going to change forever. "I just don't see myself as the heroine in my own narrative," she says. "It was all kind of business-as-usual for me. I thought, This is fine, thank you very much. One moment led to the next."
Although Blanchett's profile could be mistaken for patrician and aloof, it is belied by speech patterns still peppered with Aussie expressions like "give it a go" and "good on you," or the slang she taught her Babel costar Brad Pitt for trousers that ride up — "hungry bum." And when I ask her if the empathy that allows her to inhabit a wide range of characters ever spills over into real life, she says with a sultry laugh, "Oh, look, I'd like to think so, but some people just give you the shits! Obviously, curiosity is an enormous component of why we're actors. I discovered early on that some performers live their life in order to act, so all their relationships are simply an experience that they can feed back into their work. Which I find vampiric. Of course, there is a theatrical quality to your 20s and late teens, and I'm glad to have got all that crap out of the way at drama school, behind closed doors!"
Celebrity news, beauty, fashion advice, and fascinating features, delivered straight to your inbox!