Sandra Oh Talks About Life, Family, and Grey's Anatomy
Oh Baby!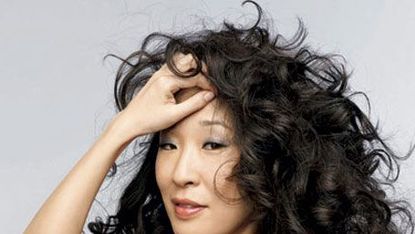 (Image credit: James White)
"Well, at first I wanted to be Cindy? Because I loved her hair?"
Sandra Oh, channeling a Valley girl, is bouncing on her heels, trying to keep warm between takes; for some reason the Grey's Anatomy studio is the temperature of a meat locker. To kill time, she and a few of the crew members are indulging me in a game of "Marcia, Jan, or Cindy?" — because, as we all know, the child you identify with from The Brady Bunch reveals everything about your personality. "But then as I got older, I wanted to be Jan," Oh continues. Artistic? Emotional? A little insecure? She nods, adding: "And the classic middle child."
Oh scampers back to the set for another take. Grey's Anatomy is an unusually meticulous show, and Oh had worried I'd be bored with the multiple do-overs. On the contrary — as a fan, I'm pathetically thrilled by everything. I'm thrilled that Justin Chambers as Dr. Alex Karev manages to nail the word "platysmaplasty," like, 20 times in a row; that Katherine Heigl, when the camera is off, emits a belch any frat boy would be proud of. But mostly I'm thrilled by Sandra Oh in close-up. She has one of the most expressive faces on television — at one moment hard and impassive, the next yearning, wry, tender, all while barely moving a muscle. That face, combined with GA's stellar writing, has made what could have been a stock medical-soap-opera surgeon into a woman we love and root for, even as we roll our eyes at her emotional cluelessness.
"I've always tried to play Cristina with a tremendous amount of focus and ambition — which is the reality for a female surgeon," Oh had said to me earlier. "I mean, in real life there aren't many of them. But the ones you encounter are at the very top of their game. You have to have a kind of ascetic personality to survive."
Says Chandra Wilson, a linchpin of the show in her role as "the Nazi," Miranda Bailey, "I've never met an actress as conscious, as analytical, as Sandra. She thinks about every word coming out of her mouth." Except when the cameras are off: "I remember our first day together. There I was, walking around, shouting orders, doing my thing." Apparently, Oh was impressed because, after the take, she turned to the rest of the cast, pointed at Wilson, and blurted, "Oh my God, I want to have sex with her!" "That was my introduction to Sandra," Wilson says.
The day before visiting the set, I meet Oh in a fragrant, dimly lit Indian restaurant. She is 35 but without makeup looks about 25. She is wearing a medley of tanks and T-shirts, plus one of those wrap sweaters with sleeves that extend past the wrist. But what really catches my attention is the owl hanging around her neck. It is part metal, part ceramic, and the size of a dinner plate. And suddenly I understand how Oh can both be considered fashion-forward (see raves for vintage Ungaro at the SAG Awards) and land on Mr. Blackwell's worst-dressed list. ("Layered lunacy," he sniped.)
Despite all the attention over the past three years — from the fashion press, celebrity magazines, awards shows (she's won a SAG award and a Golden Globe), Oh once thought she'd be spending the rest of her life playing wacky assistants, la her seven-season stint on Arli$. Then she kicked ass — or, more precisely, nose — in Sideways, landed a starring role in the top-rated drama in the country, and all of a sudden she's an Us magazine regular. You know you've made it when excerpts from your divorce papers turn up on tmz.com. Right?
Oh shudders. "I don't listen to this stuff. I don't see it," she tells me, referring to printed gossip about her divorce from Sideways director Alexander Payne. "I tell my people I don't want to know about it, because while rationally you might know it's ridiculous, it can hurt your feelings. It can knock me off from being my authentic self."
So who is the authentic Oh? Like Cristina Yang, she's had her overachieving moments: She was on the honor roll in high school and a member of the student council. And like her television alter ego, Oh's got a certain, shall we say, disregard for the domestic arts: Her trailer is strewn with clothes, books, videos (Jeeves & Wooster), unhung photographs, nutritional supplements. To sit down in her Prius, I pretty much had to excavate the front seat. "You should see my house," she says cheerfully. "It's sort of explosive. Like a crazy person lives there."
But in every other way, Oh is the anti-Cristina. For one thing, she's a hugger. For another, she is generous and noncompetitive enough to have not only clapped enthusiastically when Wilson won her recent SAG award, but also to have actually leapt out of her seat and woo-hooed. She never watches Grey's Anatomy but is addicted to The Simpsons. She is a believer in therapy, both cognitive and pharmacological, and she likes to talk — though unlike most actors she also enjoys listening, and is naturally empathetic and trusting. Perhaps too much so, she worries. "When your life changes and you become a more public person, in some ways you need to be a more closed person, you know?"
Like right now. Neither she nor Payne has talked about their divorce. Oh still finds the topic too painful to discuss. And a new relationship? "I can't, I just can't," she says apologetically. (She is reportedly dating Andrew Featherston, a percussionist in the indie band The Hereafter.)
So, while she doesn't quite open a vein about her marriage, she's an exceedingly good sport about everything else. I think if I asked her to recite her "naughty, naughty nurses" speech, she'd do it.Her Road to Success
Oh grew up in Ottawa, Canada, part of a tiny community of Korean immigrants. "Wherever Koreans are, they set up a church," she says. "There weren't many of us, maybe 10 families, so this was like a church in the basement of a church." That's where she and her siblings spent much of their time; they even went to camp there. "I couldn't believe American kids got to go away to camp, got to go and have crushes on boys and everything," Oh says.
This early religiosity made Oh both the good girl and the rebel — Jan, if you will — and the conflict has never been entirely resolved. On the one hand, she is an outspoken NARAL supporter, a feminist who is outraged that female actors are generally paid less than male actors on television (even in hit ensemble shows, she hints); on the other hand, even now she worries about what her parents think. What if they knew that she... Attention, Sandra Oh's parents: Your daughter is perfect. Nothing to see here, move along.)
They signed her up for dancing when she was 4, hoping to correct her pigeon toes, but were startled to see their daughter so at home onstage. Her father came to Canada to study economics, and her mother, biochemistry, so having a daughter more interested in jazz hands than, say, accounting was not part of the master plan. "They didn't see that there was any meaning to being an actor," Oh says. "It was like, What are you doing for society? Are you being a good Christian? They were classic immigrants — they wanted their children to become doctors or lawyers. My sister is a lawyer, and my brother is finishing his Ph.D. in medical genetics. The fact that now I play a doctor on TV? Nothing could be better!"
Oh began working professionally in television, theater, and commercials by the age of 15. She attended the National Theatre School of Canada and moved to Toronto, where she found plenty of work — none of it paying. "Sandra just decided that she was not going to do anything else but act, even if she would have to be broke," says Margo Purcell, an inspirational speaker and Oh's best friend since third grade. In the early '90s, when she finally got to the point of being almost destitute, she took it as a sign that she won the lottery. Not a plum role, no — she literally won the lottery."Five thousand dollars from this scratch-off ticket," Oh says. "I paid some bills."At 19, Oh beat out 1000 other women for the lead role in The Diary of Evelyn Lau, a grim biopic about a young Chinese poet who ran away from her overly strict parents and spiraled into drug addiction and prostitution. Director Sturla Gunnarsson still remembers how Oh won the role. "When she came in to the audition, she asked for a moment to focus herself. Then she lay on the floor for five minutes. Most people would have kicked her out of the room. I thought it was remarkable that at 19 she had the confidence — and audacity — to do that." Oh won a Gemini (the Canadian Emmy) for her performance.
And yet, when she moved to L.A. in 1996, finding work wasn't easy. "I remember one agent who was so, so mean," Oh recalls. "She said, 'People are going to lie to you, but I'm not going to lie. Someone like you' — and you know what the fuck that means, right? — 'you're just not gonna work.'"
It's not only that Oh is Asian; it was also that she wasn't our kind of Asian, with that delicate/ethereal/submissive/zen vibe. So what followed were years of walk-ons and one-liners and best-friend and cop roles. Oh's marriage may have gone south, but she certainly has one thing to thank her former husband for: When he cast her as the feisty, sexy wine seller in his movie Sideways and told her to "tap into her Korean female rage" during the infamous whupping of Thomas Haden Church, he put her on the star track.
Grey's Anatomy has been wildly popular almost from the beginning, and with that popularity has come scrutiny. Backstage at the Golden Globes, two days before I visited the set, Isaiah Washington denied calling T.R. Knight a "faggot," thus reigniting the tensions that ABC and the producers thought they'd put to bed in the fall. In the interest of keeping his job, Washington issued a carefully worded apology and went into rehab, thus alerting America that there are 12-step programs available to address the disease of being a dick.
I ask Oh about the brouhaha; after all, if Washington is canned it will affect her most directly, since many of her story-lines are intertwined with his. But even if this weren't the case, Washington's slur was an issue of considerable importance to Oh, who has been declared a "gay icon" by no less an arbiter than Out magazine ("Because I've played gay characters? Because somehow I represent 'the Other' in this weird way? Maybe because I love fashion? I don't know why, but it makes me happy."). She speaks cautiously. "You can't predict what will happen to you with this sort of fame. It affects everyone so intensely. Some people grow up. Some become really spiritual. And some of them...drink the Kool-Aid."
Celebrity news, beauty, fashion advice, and fascinating features, delivered straight to your inbox!