16 Iconic Beyoncé and Jay-Z Moments From Their New Music Video
They actually outshine the Mona Lisa.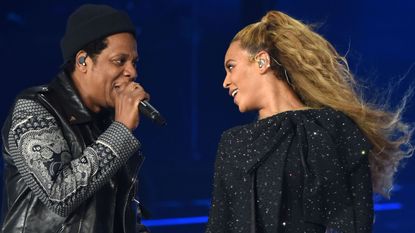 (Image credit: Getty Images)
The music video for "Apes**t," the second track from The Carters' (a.k.a. Beyoncé and Jay-Z) surprise album, Everything Is Love, is here—and it's sensational. Peppered with references to the Grammys, the Super Bowl, their individual and collective success, and even their relationship ("I can't believe we made it" doesn't feel subtle), it's also set in the freaking Louvre. Yes, that Louvre.
This video has the Mona Lisa, for God's sake. It has Beyoncé in outfits that, believe it or not, make the Mona Lisa look kinda dull. It has Jay-Z and Beyoncé singing while gazing into one another's eyes. It has a whole lot of dancing in front of world-respected artwork.
Without further ado, its 16 most breathtaking moments:
When They First Appear In Their Pastel Suits
When The Carters Reminded Us Just How Perfect They Are Together
And Also Just Very, Very Cool
When They Staged This All-White Setting
Did I Mention The Actual Mona Lisa?
Oh, And Here They Are Outshining Her, No Biggie
When It's Just Beyoncé And Really, Do We Need Anything More?
These. Freaking. Outfits.
This "Formation" Throwback
When Beyoncé Leaps Into The Spotlight And Jay-Z Is Just Watching
This!
I Don't Know What's Happening Here But I'm Into It
When Even Jay-Z Is Kinda Thrown At How Huge This Painting Is
This Is Just A Man On A Horse
When Beyoncé Is Head-To-Toe In Pearls
When They Made Us Want To Just Bow Down
You can watch the full video below.
RELATED STORY