Amandla Stenberg Comes Out as Gay—"Not Bi, Not Pan"—in a Rad Interview
Mila Kunis was her first celebrity crush.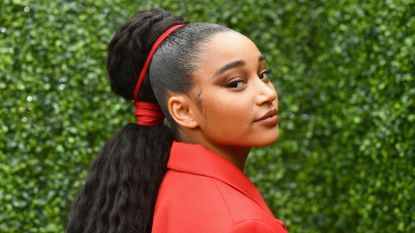 (Image credit: Getty Images)
In 2016, Everything, Everything and The Hunger Games actress Amandla Stenberg took over Teen Vogue's Snapchat story, and—looking directly into her iPhone camera, speaking softly in her bedroom, the scene intimate and raw—she came out as bisexual. She thanked Teen Vogue for the opportunity to come out: "I cannot stress enough how important representation is, and so the concept that I can provide that for other black girls is mindblowing."
Earlier this week, Stenberg came out as lesbian—not bi—in an interview with Wonderland magazine.
In the interview, she speaks to musical artist King Princess about moments during which she has been overcome with a "profound sense of relief" that she is gay—"not bi, not pan, but gay—with a romantic love for women." Stenberg and King Princess both dub these moments as "big Gay Sob moments." She cites poet Audre Lorde and artist Frida Kahlo as female icons who empowered and inspired her as she grew up, and Mila Kunis as her first celebrity crush.
Stenberg, in a recent Instagram post advertising the Wonderland article, thanks King Princess, "the fiercest garbagio pop queen," for providing her "with such a safe space to come out." The kinship between the two is energizing, and the interview's intimate tone implies that the two have long been each other's allies.
Stenberg has been ruling a generation—and keeping it on its toes—for years. In 2015, Stenberg posted a YouTube video she created for a high school class: "Don't Cash Crop On My Cornrows."
"Hair is such a big part of hip-hop and rap culture," Stenberg says, poised in front of a white wall, images of Fergie and Madonna in cornrows and grills flashing across the screen. She discusses the way the music and fashion industries commodify elements of black culture, and she defines, clearly, what appropriation really is. Stenberg asks: "What if we loved black people as much as we loved black culture?"
This was the beginning of our understanding of Stenberg as an activist, an ally, and a completely woke, dope woman working to pose real questions to our generation. In both 2015 and 2016, Time magazine named her Most Influential Teen.
When she came out as queer on the Teen Vogue Snapchat, Stenberg used a line that echoes today: "I believe in the concept of rebellion through selfhood."
Zoe is a contributing writer at MarieClaire.com; she covers celebrity and news. She loves sneakers and nicely organized bookshelves.