Nikolaj Coster-Waldau Says 'Game of Thrones'' Ending Will Be "Very Satisfying and Very Surprising"
He also dropped hints about which characters make it to the end.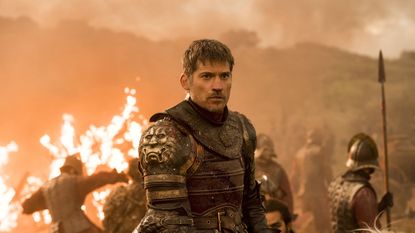 (Image credit: HBO/Kobal/REX/Shutterstock)
We may not know exactly when Game of Thrones (opens in new tab) is returning to our television screens, but we do know that the series' ending will be "very satisfying" to viewers, if we're going off of what Nikolaj Coster-Waldau has to say. The first-time Emmy nominee sat down with the Huffington Post (opens in new tab) and spilled the beans–well, however many beans he's allowed to spill about the notoriously locked-down series–on Jaime Lannister, the show's upcoming eighth and final season, and fan theories about the finale.
The script for season 8 episode "Dragon and the Wolf" describes Jaime as "a lone horseman heading north on the Kingsroad." The actor made mention of Jaime rocking a beard in the upcoming eighth season but kept mum about the details about Jaime's northern excursion: "Well, he is heading north. I don't think you can assume that he's going to make it up there, but who knows. For sure, we see him head north. He might be eaten by dragons, you never know. Or he might just stumble, things happen. Or he might find the love of his life and suddenly he's like, 'God, this is it. No more.'"
He won't even say if the "love of his life" is Brienne! Come on, Nikolaj.
Coster-Waldau points out that he was happy with the ending of the series, and hopes the fans will be satisfied as well. "I wrote the writers when I finished reading and just said, 'I don't think you could've done a better job at finishing this story.' To me, it was very satisfying but also very surprising and all the things that I was hoping for. It still made sense. It wasn't like one of those where the killer is suddenly revealed in the last act and you go, 'Oh! I didn't see that coming.' Here, they've done a really, really good job." He also reveals that the Lannister kids made it to the end.
He's going to miss the show pretty as much as the rest of the fans, it appears. He had a hard time coming to terms with the series' wrap: "It was a little bit emotional at the very, very end. It's also just a build-up because throughout the season we had a lot of teary goodbyes and farewell dinners. When my turn came around, I really didn't think it was going to phase me, but I have to admit that right when they said, 'This is a series wrap for Nikolaj,' there might have been a tiny bit of moisture in the air, just around my eyes. [Laughs] But that was it, that was it." Who knew Jaime Lannister was as emotional as the rest of us?
If you're impatient, HBO was kind enough to give a brief clip into the show's eighth season in a recent promo (opens in new tab) for their upcoming 2019 lineup. And by brief, that's not an exaggeration: If you go to the 1:10 mark and blink, you'll have missed it.
RELATED STORY
Amanda Mitchell is a writer and podcaster with bylines at Marie Claire, OprahMag, Allure, Byrdie, Stylecaster, Bon Appetit, and more. Her work exists at the apex of beauty, pop culture, and absurdity. A human Funfetti cake, she watches too much television, and her favorite season is awards season. You can read more of her work at amandaelizabethmitchell.com or follow her on Instagram and Twitter @lochnessmanda.