What Reese Witherspoon Wants You to Remember About Failure
The 'Big Little Lies' actress knows a thing or two about the risks that pay off.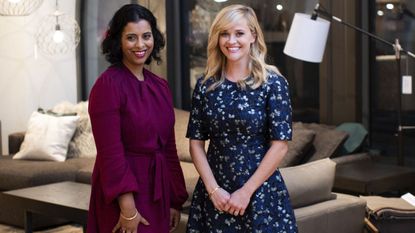 (Image credit: Courtesy of Crate and Barrel)
If Reese Witherspoon had a hat rack, it would be overflowing with brims and caps (and, of course, one or two floppy straw hats—she is a Southerner, after all). Figuratively, the woman wears lots of them. The 42-year-old Big Little Lies star added founder and producer to her resumé with her media company Hello Sunshine, which cranks out blockbusters such as Wild. She's the proud founder of lifestyle line Draper James, named for her grandparents. She's the author of her brand-new coffee table book, Whiskey in a Teacup. And she's built upon her décor success with a Draper James partnership with Crate & Barrel: The duo's new line, aptly named Indigo Vine for its blue and white china, is my must-need for the dinner parties I aspire to have (but the plates will more likely host single-sliced pepperoni pizza).

Which all begs the question: How does one get the courage to start multiple businesses…and succeed? (What, like it's hard?)
"I think challenging yourself to step outside of the lane that you had a lot of stuff in is really terrifying," Witherspoon tells MarieClaire.com. "I think we live long lives, and I think we have many chapters in those lives, and I think it's important to know when certain chapters end and when new chapters begin."

For Reese, a new chapter began in 2016 with the launch of Hello Sunshine. Backed by her own dollars, Hello Sunshine was created to push forward female-centric films and shows. Though the business is still young, its films are already making an impact on viewers—and in the box office. Gone Girl grossed a whopping $369.3 million worldwide. Big Little Lies won a staggering eight Emmy awards for its first season.
For Witherspoon, Hello Sunshine was a true labor of love. "I co-founded my production company many years ago, just because I felt like aligning with a company that didn't put women at the center of their storytelling wasn't going to help me," she says. "I needed to do it myself, and I believed in it so much that backing it with my own capital was important. And I think it paid off because it could've been a real disaster. But if I really believe in something, I'm passionate about it. I think that was the right way for me to go."
Sharing her passion for empowering women in the business sector? Neela Montgomery, the CEO of Crate & Barrel. The duo's shared zeal for elevating women in business made for a natural alignment between Draper James and the lifestyle giant.

Though she's a boss now, Montgomery is no stranger to the struggles women face in her field. She vividly recalls a former role in which she was the only woman and only person of color on the board: "I was like, 'What am I going do? How am I going to exit gracefully?'"
When she became CEO of Crate & Barrel, Montgomery made good on her promise to make her business an inclusive environment. Today, 75 percent of Crate & Barrel's senior leadership team are women, and 70 percent of Crate and Barrel's store associates are, too.
Both Witherspoon and Montgomery are keen to encourage all women—whether they're budding entrepreneurs or just big dreamers—to take risks in their career. "Power is not a dirty word," says Neela. "Maybe you'll succeed, maybe you'll fail, but you'll definitely learn a lot along the way."
"I definitely think failure is important," Reese chimes in. "It's a big aspect of becoming successful. If you're not failing, you're really not learning."
Let's cheers two blue-and-white teacups filled with whiskey to that, shall we?
RELATED STORIES
Celebrity news, beauty, fashion advice, and fascinating features, delivered straight to your inbox!
Megan DiTrolio is the editor of features and special projects at Marie Claire, where she oversees all career coverage and writes and edits stories on women's issues, politics, cultural trends, and more. In addition to editing feature stories, she programs Marie Claire's annual Power Trip conference and Marie Claire's Getting Down To Business Instagram Live franchise.