Third Eye Blind Back from Hibernation
Interview with Third Eye Blind's front man, Stephan Jenkins, from MarieClaire.com.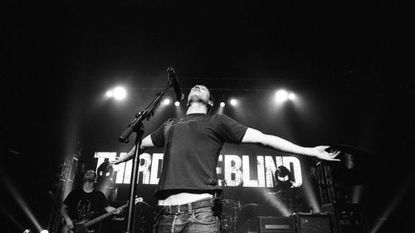 (Image credit: GirlieAction.com)
Stephan Jenkins has had quite a busy few years. Taking some time off from fronting alt-rock band Third Eye Blind (remember hits "Semi-Charmed Life" and "Jumper"?), he produced Vanessa Carlton's acclaimed album Harmonium, founded a record label, and has recently been touring and working on a new album, due out later this year.
Jenkins talked at great length about the ever-changing music industry, the new album, and their continuously growing fan base. "Third Eye Blind was this band that was marketed and processed and packaged in a way that we didn't really recognize. After all that marketing wore off, what you have left is a playlist," Jenkins said. "Fans discovered that in the ways that they do, which was very personal for them, and then they share it with each other. We had more people come to our shows this year than had ever come before." And, with a new album on the way, 3eb can expect sold-out shows with even more avid concertgoers.
What can fans expect from Ursa Major?
We wrote this album on the road in front of audiences; we tried songs out in front of them. I think the sound of this album has a big reverberant, confident sound that comes from that feeling that we've had on the road. We always want to maintain that as part of the sound of making the record.
What is your writing process like?
What I do is I tend to write down ideas that occur to me. Then they oftentimes take on some cohesion. The other thing I'll do is I'll have an idea and that idea will come in a rhythm. I'm a drummer by training, so a lot of what I do is rhythmically based. That's my primary mode of organizing some kind of emotion or provocation into a piece that makes that emotion travel.
I read that for this album you had more trouble thinking of lyrics than in the past.
Yeah. I still have trouble with some of the songs and the lyrics because I think that the reason for our shocking longevity is the lyrics. If I don't feel the idea, the governing ghost of that concept inside the lyrics, it can really, really stump me. I have songs I've worked on for three years and I can't get the lyrics right. Then another song like "Non-Dairy Creamer" just kind of comes together pretty fast.
Do you have any ways to work out your writer's block?
No. I just engage in a lot of self-hate and then I procrastinate. I do other things instead of working on music and put it off. That's why we're so slow at making records.
You're partnering with Indaba Music for "Studio Access," which basically allows fans to compete in mixing your songs, the winner performing a show with you.
We want to use the technology that's available to get closer to people, to actually make the community tighter and not have the sense of people being isolated and kept by themselves through technology, and instead, find out what's going on that's specific to them. The creative-expression part of that is definitely something that's happening through Indaba. It really helps us as well because we are fueled by it.
You were huge in the '90s during the MTV era. How different is the music industry for you now? Do you think it would be easier if you started today?
I think it was very difficult in the '90s. It took a very long time and one of the reasons why was because music needed to be funneled. The outlets for music were so tightly controlled by a few people who had pretty much no interest in music or understanding or sensitivity to music. They were these big, powerful dinosaurs that were hit by the comets of digital music. So now what's happened is it's become totally democratized. The jury is no longer rigged. I think that people with good music can go out and get it put out and it's eligible to find audiences in ways that it wasn't before. It probably would have been easier for us to come out now. It's really more exciting because we always have the answer for somebody else. In the end we're still in some way working for the man, which I never wanted to do.
You're also planning to release a follow-up album, Ursa Minor? What's the connection?
Ursa Minor, yeah. Ursa Major is the constellation of the bear. It's good for us because we've been hibernating and now we've awakened and we are hungry for spring and we want to feed and we want to thrive.
Annie Reuter is a freelance writer and music blogger who covers shows in and around the tristate area. In constant pursuit of the next show to attend and band to interview, Annie keeps up her own music blog, You Sing, I Write, where you can listen to her full interview with Stephan Jenkins and read more on the latest up-and-coming bands.
Celebrity news, beauty, fashion advice, and fascinating features, delivered straight to your inbox!