All the Justin Trudeau Controversies You've Conveniently Forgotten
Just adding a little balance to your obsession.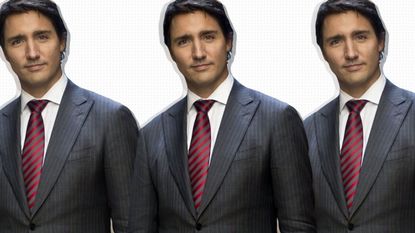 (Image credit: Archives)
Justin Trudeau, Prime Minister of Canada/our hearts, is, arguably, a perfect man. He fights to protect abortion access. He subtweets Donald Trump. His butt is the subject of viral memes. And let's not forget about the fact that he once explained quantum computing to us. Also, this GIF:
It's hard to find a blemish on the flawless canvas that is Trudeau, but he's not without his missteps. There's all kinds of drama lurking underneath the surface of that handsome exterior. You know, if you consider smoking pot and vacationing with the Aga Khan dramatic.
Here, a look at your boyfriend's slightly less stellar moments.
He's Down with Oil Pipelines
Despite concern from environmental and indigenous leaders across Canada, Trudeau greenlit two controversial oil pipelines. Canadians held vigils and protests in response to the decision, raising concerns about what an oil spill might do to the environment, as well as what this means for Indigenous land rights.
He "Manhandled" Parliament Members
Back in May 2016, Trudeau was so excited to get things started in the House of Commons that he ended up elbowing (or as the media put it, "manhandling") a parliament member.
The Prime Minister has been accused of "manhandling" a MP in the House of Commons. https://t.co/qrU0zYH9LZ #cdnpolihttps://t.co/qwaDHQPAK8May 19, 2016
See more
The poor guy was yelled at publicly as a result, bless his heart.
"What kind of man elbows a woman? It's pathetic! You're pathetic!" Mulcair to Trudeau https://t.co/eTkceO1fI3May 18, 2016
See more
Because he is #perfect (read: privileged and educated), Trudeau is fluent in both French and English—both of which are spoken regularly in Canada. But he stirred up drama during a town hall meeting when a refugee from Afghanistan asked him a question in English and he responded in French. He actually did this more than once, explaining "We are in Quebec, so I will answer in French." Trudeau was accused of not understanding the importance of "official bilingualism," and eventually had to apologize.
Because even woke baes need time off, Trudeau took his family to the Aga Khan's private island in the Bahamas. No bigs, right? Wrong. An investigation was opened to see if Trudeau broke ethics laws by staying on the island and using the Aga Khan's private helicopter to get there—after all, The Conflict of Interest Act bars sponsored travel in private aircraft, and prohibits ministers from accepting gifts that might influence government decisions. Trudeau's thoughts and feels on the topic? "The fact is I've been fortunate to know the spiritual leader of the Ismaili Muslims, the Aga Khan, for all my life and I was glad to see him on vacation. Of course, I'm open and welcoming of any questions and concerns people have because people's trust in government and in those who serve them is really important to me."
It's hardly shocking that Trudeau has smoked pot (you do you, buddy), but he admitted to doing so while being a member of parliament. "We had a few good friends over for a dinner party, our kids were at their grandmother's for the night, and one of our friends lit a joint and passed it around. I had a puff," Trudeau told The Huffington Post in 2013. Unsurprisingly, people weren't thrilled, and Justice Minister Peter MacKay said "By flouting the laws of Canada while holding elected office, he shows he is a poor example for all Canadians, particularly young ones." ¯\_(ツ)_/¯
When Cuban president (read: dictator) Fidel Castro died, Trudeau gave an extremely controversial speech, musing that "Fidel Castro was a larger than life leader who served his people for almost half a century." He went on to say Castro was "a legendary revolutionary and orator" whose passing brought him "deep sorrow." Naturally, the internet was quick to mock him.
.@JustinTrudeau Praising Fidel Castro as a "remarkable leader" is REPUGNANT. https://t.co/hyKYMuCoFn #polcan pic.twitter.com/PL1amrsewWNovember 26, 2016
See more
Mr. Stalin will be fondly remembered for increasing tourism to the otherwise unwelcoming Siberia. #TrudeauEulogiesNovember 26, 2016
See more
#trudeaueulogies "Today we say goodbye to Mr. Mussolini, the former Italian prime minister best known for his competent train-management."November 26, 2016
See more
But don't be sad. There's always this:
Follow Marie Claire on Facebook for the latest celeb news, beauty tips, fascinating reads, livestream video, and more.
Mehera Bonner is a celebrity and entertainment news writer who enjoys Bravo and Antiques Roadshow with equal enthusiasm. She was previously entertainment editor at Marie Claire and has covered pop culture for over a decade.