Meet Our 2017 Fresh Faces
Five extraordinary women on the brink of something big. They're talented, yes—but they're not afraid to speak their minds, embrace their feminism, and be vocal advocates for change either.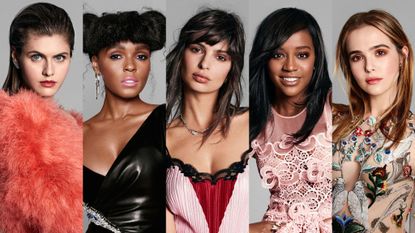 (Image credit: Nicolas Moore/Design by Betsy Farrell)
Marie Claire Newsletter
Celebrity news, beauty, fashion advice, and fascinating features, delivered straight to your inbox!
Thank you for signing up to Marie Claire. You will receive a verification email shortly.
There was a problem. Please refresh the page and try again.
It's Marie Claire's fourth-annual Fresh Faces issue, our spotlight on some of the most exciting up-and-coming talents today. Here—and being fêted at our annual Fresh Faces party on April 21—five brave women who capture the spirit of the moment.
On being known as both a sex symbol and feminist: "In every profile written about me, there is, 'She's so sexual and she's such a sex symbol,' paired with, 'But, wow, she knows about politics.' And that in itself is sexist. Why does it have to be one or the other?"
On the roles she's offered—and those she has to fight for: "I am way more interested in working with unexpected and cool directors on interesting projects than being in this big studio movie where you're in a bikini. I turn down a lot of movies, but I have to fight for the ones that I really want."
On the Trump administration: "One of the things that I really hope to see come out of [Donald] Trump's election, and what I am starting to see, is that people who were never political are starting to get motivated. My only thing is that I hope it's not just all anti-Trump. We have a broken system, so just getting Trump out wouldn't mean that we have fixed our country or that was the solution."
On working as a black woman in Hollywood: "Maybe I'm outdated in thinking this, but because I'm a young black woman and don't see very many being the lead in a film, I have this fear, Will I be working? When I first started in this industry, my goal was to be some best friend. The sidekick. I thought that would be an accomplishment. But seeing people like Viola and Tracee Ellis Ross and Gabrielle Union and Lupita [Nyong'o]—who was two classes behind me at Yale—I can hope for more."
On her role on the ABC hit drama How to Get Away with Murder: "That has been the real artist challenge, being given something so outlandish and then creating your own gravitational pull. But you learn very quickly that you can't ridicule it too much, because it will be harder to honor it and harder to do your job. I am still enjoying it, but it is hard work."
On approaching future projects for the joy of working and nothing else: "Now I am at this place where I realize that going into it, I never expected any of the initial attention and praise. So that is how I want to continue to approach all my work—with little or no expectations—because I am hoping I will always do things purely for the joy of doing things that matter to me. I don't ever want to do things that aren't making me expand and challenge myself."
On her life mantra: "I was raised to do what you love and work your f—cking ass off. Be humble. Be nice to people. And you might be ready to be lucky."
On whether actors should stay quiet about politics or not: "That will be a debate forever. Before I was an actor, I was a human and a citizen. As an actor, your job is to inhabit different people's lives and honor their feelings and be empathetic to other people's struggles. Just because you are an actor, you are not immediately an activist. But if you do have the platform and the opportunity to speak out, then I think it is your civic duty—especially right now—to be on the right side of history. We only have so long on this planet."
On the danger of falling into a 'likability trap': "As a woman raised by brave, strong women, and men who support brave, strong women, I still feel myself falling into that 'trying to be liked' thing, which is f—cking bullsh*t. If you're a nice person, just be nice. If you make art to please people or to make people like you—well, it's never going to happen."
On authenticity and living without boundaries: "Don't let your flaws define you. Become who you are. Be the best version of yourself."
On respecting women: "People have to start respecting the vagina. Until every man is fighting for our rights, we should consider stopping having sex. I love men. But evil men? I will not tolerate that. You don't deserve to be in my presence. If you're going to own this world and this is how you're going to rule this world, I am not going to contribute anymore until you change it. We have to realize our power and our magic. Because I am all about black-girl magic, even though I'm standing with all women. But this year? This year, I am so carefree black girl."
On being strong and in control as a woman: "It is important to redefine what sexy is. To redefine style… It is important for women to be [in control], especially when gender norms and conformity are pushed upon us. Women automatically are told that this is how you should look. This is how you should get a man. This is how you should get a woman. You need to fit into all these boxes to be accepted. I don't subscribe to that way of thinking. I don't think we all have to take the same coordinates to reach the same destination. I believe in embracing what makes you unique even if it makes others uncomfortable. I have learned there is power in saying no. I have agency. I get to decide."
On the origin of her singular sense of style: "Being poor helped me be more creative. It was my superpower. I had to get comfortable in my own skin—you know when somebody walks in a room and they have such a confidence that they dare you to say something about them."
On the intersection of emotion and politics: "I think we are beginning to look at ourselves differently now. Politics to me is finally about how we treat the people in our lives and those around us. What are we angry about? What do we hate? What do we love? Do we want other people to do what we do? Do we not care what other people do? Do we feel safe? It all becomes this jumbled mess of fear and hate."
On filming this month's Baywatch: "It's fun to be young and pretty and sexy, that's part of the joke—we're all ridiculously hot running around on the beach. Zac [Efron] and Dwayne [Johnson] are shirtless with all their abs. They wear less clothing than the women."
On her love scene with Lady Gaga on FX's American Horror Story: Hotel: "I got to make out with Lady Gaga, which is one of my favorite celebrity make-outs."
On turning to acting for therapeutic relief: "Everybody has something—kids bullying you, not doing well in school, some offhanded negative comment you hold your whole life—we all are sort of walking around with the wounds of our adolescence. I've been lucky to be able to act, because it has helped me deal with some of my own pain."
To see the full story, pick up our May issue on newsstands April 18. And for a little more behind-the-scenes action to hold you over, see all the Fresh Faces at their cover shoot here:
Featured music in behind-the-scenes videos: Bloodboy - "Important to the World"
Celebrity news, beauty, fashion advice, and fascinating features, delivered straight to your inbox!