At Long Last ... More Mandy
Out of the spotlight for a couple of years, easy-to-love Mandy Moore is back — with a new album, new plan, and, yes, a fiancé.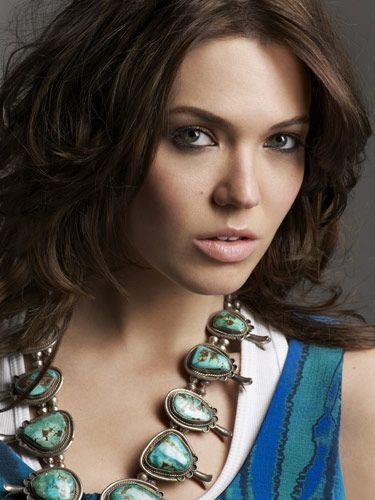 (Image credit: James White)
Tucked into a corner booth at an elite, recession-proof West Village restaurant, Mandy Moore and I are talking music and movies while sharing pancakes. All around us, toxically tanned Euros and Europhiles are sipping frothy drinks, bitching about the service in St. Bart's. Outside, snowflakes are filling the sky, and it's starting to feel as if we're sealed inside a very expensive snow globe.
Moore, sitting to my right, is like an antidote. Implausibly polite, refreshingly sincere, and serially apologetic — Sorry it's so noisy in here ... Sorry I'm such a Chatty Cathy ... Sorry for taking up so much of your time... (and later, via text, when she declines to answer questions about her engagement to Ryan Adams, Sorry Howie!! I hope you're not mad...) — she epitomizes the kind of goodness people mistrust, believing it must be a ruse. She's 5'10" and gives off a dermatological glow that calls to mind her origins as a teen pop sensation, known for straight-from-the-diary ballads and faux-sexualized middle-school dance tracks about candy. But Britney Spears or Jessica Simpson she is not. You simply don't see Mandy Moore, almost 25, shaving her head, then attacking the paparazzi with an umbrella, dirty dancing with the tabloid media, or defibrillating her career with the soul-stealing contrivances of reality TV.
Instead, you see her mixing it up on the cred-conferring Entourage, holding her own opposite Diane Keaton in Because I Said So, and looking reasonably at home in edgy indies like Dedication, Southland Tales, and, most notably, as a wonderfully creepy queen bee in Saved! Not that any of it came easily. "I feel like I keep coming up against the same thing: They think I'm very cute and so sweet," Moore says, tucking her down parka around her lap like a blanket. "But that won't cut it anymore. I don't want to be a wallflower. I don't want to be shy. Give me the opportunity to get in the room and have a conversation as to why I know I can do this. It's okay that you see me as this person, but I'm an actress, and I'll work my ass off to play the part."
And yet... "It has to be right," Moore quickly adds. "I've had the opportunity to play the drug dealer who gets gang-raped, and I'm like, For what reason? Doing it just to do it? To just show people that I can be sexy or dark? I don't want to do something just to make that point. It needs to happen organically, and I'm really confident it will. I'm a pretty patient person, and I'll wait until we find the right stuff."

SLIDESHOW: SEE PHOTOS FROM MANDY'S COVER SHOOT HERE
The struggle to determine her own image has been just as intense with her music. After famously being discovered at 14 by a FedEx guy who connected Moore with someone he knew in the business, Epic Records signed her and set about packaging her as a bright-eyed, button-nosed pop princess. Six years later, her growing pains forced a split with the label. (She wanted to cover Todd Rundgren; they wanted Top 40.) Now she's the flagship artist at Storefront Recordings, an independent label launched by her longtime manager, Jon Leshay, to coincide with her latest album, Amanda Leigh.
It's her first since 2007's Wild Hope. "I knew that record was my last chance," says Moore — a reference to faltering record sales as she struggled to bust out of the bubblegum pack. "So I pushed and made it the way I wanted" — channeling Patti Griffin and Paula Cole and Joni Mitchell in gutsy torch songs like "Ladies' Choice" and "Gardenia." She made the album far away from a sterile studio, in a big house on a mountaintop; for Amanda Leigh she secluded herself in a sound engineer's basement studio in Medford, MA, recording by candlelight as the beer cans and coffee cups piled up. "We were down in the wormhole," says Moore, who declined producer Mike Viola's suggestion to stay in a comfortable hotel nearby. "This was the full-on artistic experience," says Viola, "where you sleep in a drafty room and don't shower for days. But you also come out of it having made the best record of your life. Mandy got to a place with her vocals that she's never been. And I know some people think, Mandy Moore, whatever, but I swear, what she's doing is unequivocal. I don't think people will need to be convinced of anything once they hear it."
For the rest of this interview and to find out what happened when fiancé Ryan Adams showed up at Mandy's Marie Claire cover shoot, check out the April issue of Marie Claire — on newsstands now.
Award-winning New York-based writer Howie Kahn is a frequent Marie Claire contributor.
» Download now! Get free downloads of Mandy's music here
Celebrity news, beauty, fashion advice, and fascinating features, delivered straight to your inbox!