15 Celebrities Who Fell Asleep in Public
And kept sleeping as we made memes about it.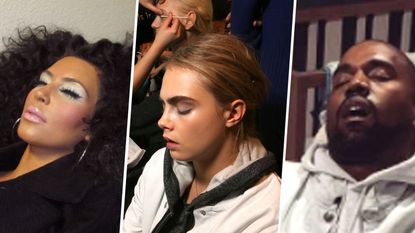 (Image credit: Archives)
Hush, little famous person, don't say a word—you can't anyway, because you've somehow fallen asleep in a very public place, such as an awards show or in the front seat of a vehicle millimeters away from plowing through a hedge of paparazzi. Did you take an Ambien? Are you okay? "Undetermined" may be the answer to all of the above, but here, all the photographic evidence speaks for itself.
Kanye and North West
Random sleep foundation, if you're reading this, why haven't you asked Kanye to be a spokesperson yet? (I realize the monetary compensation would have to be hefty.) But with his anytime, anywhere philosophy, it would seem that he's already promoting getting your nightly eight hours—or just passing out whenever there's a free moment. Which seems like an awful lot of the time, if you look at the pics.
Just Kanye
dying Kim & Kanye flew Economy to Armenia pic.twitter.com/Ixity1Fw9IApril 9, 2015
See more
In a chair! On a plane! In bed next to Kim Kardashian!
Kris Jenner (and Kanye)
On a couch, next to his MIL!
Chrissy Teigen
I think my favorite part of the Oscars so far has been Chrissy Teigen sleeping on John. She is my spirit animal. pic.twitter.com/bgabC5fmqMFebruary 27, 2017
See more
Kind of awkward for the people who were there to collect awards at the 2017 Oscars. But not for us!
John Legend
Take the age-old question "How much fun can you really be having at a party if you're posting about it on social media?" and multiply it by "sneaking off to have a nap during it."
Beyoncé
None of us knows how it feels to be Beyoncé, but we might deduce that it requires a lot of energy, some of which must be recovered while snoozing. (Does she do the Uberman sleep schedule thing, though? Someone find out and report back.)
Kylie Jenner
Ah, to be young and able to get your H&M done ("hair and makeup," in Kardashian speak) while supine.
Kim Kardashian
Same.
Cara Delevingne
Ditto.
Prince Charles
Heavy is the head that is next in line to wear the crown. (Though I feel like Queen Elizabeth swatted at him with a program or spare Corgi soon after this was taken.)
Tyga
The provided caption reads "Tyga falls asleep after hanging out with Chris Brown at 1OAK," which is...loaded, to say the least.
Wiz Khalifa
Meanwhile, this caption says he was caught resting up after "a late night of partying." Seems sensible.
Bruno Mars
Now I fell like Bruno, so I'm going to sleep! Sweet dreams, Hooligans 😴pic.twitter.com/FRRail6ZiwJune 26, 2017
See more
Reports say Mars "rested his eyes" during A$AP Rocky and Mary J. Blige's BET Awards performance, which some took to be shade, while others took it to mean he was tired.
Morgan Freeman
Bruno Mars after hearing he won a #BETAwards pic.twitter.com/RZ80IoLl25June 26, 2017
See more
You know what? You deserve it, Morgan Freeman.
Follow Marie Claire on Facebook for the latest celeb news, beauty tips, fascinating reads, livestream video, and more.
Celebrity news, beauty, fashion advice, and fascinating features, delivered straight to your inbox!
I'm the Digital Visuals Editor for Marie Claire and I help pick the most interesting, relevant and prettiest photos for our site.