What Was Mischa Barton Doing Before 'The Hills: New Beginnings?"
She's gone through a lot of ups and downs since her days as a teen star.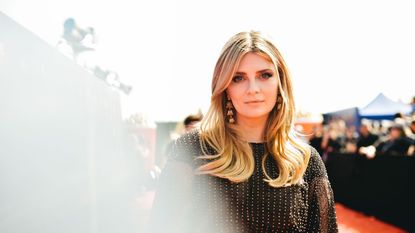 (Image credit: Getty Images)
In a stroke of pure casting genius, actress Mischa Barton will be a main character on The Hills: New Beginnings when the classic MTV series is rebooted on June 24. It's been nine years since the final episode of the original series—the one that brilliantly maybe-sort-of revealed how scripted the show actually was—and it'll be Barton's first time on the show. You'll no doubt remember her from her starring role as Marissa Cooper on the iconic early-aughts primetime soap The O.C. on Fox, from which the MTV reality show Laguna Beach and its offshoot The Hills were spawned.

But though she hasn't had a role quite as memorable as Marissa, that doesn't mean Barton has stayed out of the limelight.
So where has she been? And how did she end up on The Hills: New Beginnings? Here are some of the highlights of the past 11 years of her career, leading up to her new MTV gig.
(Warning: Spoilers for The O.C. below, though to be fair, the statute of limitations is probably up on that.)
Barton left the show that launched her into stardom after her character Marissa was killed off in a pretty tragic—albeit sort of anticlimactic—car accident. But exactly why this happened is kind of disputed.
In an interview with HuffPost, O.C. creator Josh Schwartz explained the decision to kill off Marissa thusly:
So it was a creative decision, not a personal one (or even one Barton necessarily made) to hear the showrunner tell it. But Barton has maintained, as recently as May 2019, that the decision to leave was hers. "I just had a lot in my career that I wanted to do and accomplish....I felt like things were really heavily reliant upon me, and I was getting no time to do any of the other offers that were out there," she told the New York Times.

But during The O.C.'s run, Barton was a big-time Hollywood actress, gracing magazine covers and even presenting at the 2005 Emmy Awards.
After her character was killed off, Barton moved back to England (where she was born before moving to the States as a kid) for "a year of real self-exploration," she said.
Like any gorgeous young starlet in the 2000s, Barton made a lot of headlines—and not all of them were positive. While anything that appeared in the pages of a tabloid should be taken with a grain of salt, Barton nevertheless started to gain the reputation for being a party girl, which may have hurt her career.
In 2008, she was arrested and eventually charged with misdemeanors after police found she possessed a small amount of marijuana and a higher-than-legal blood alcohol level after a routine traffic stop in West Hollywood. She later told Ryan Seacrest, "I'm really disappointed in myself."
There were also unflattering photos sold of her, and a lot of paparazzi attention. It clearly got to her, as one E! Story from the time suggests she was visibly upset after arriving to a club to find a bunch of photographers waiting.
At this time, she also embraced her sexiness, according to E!, appearing in Maxim and FHM.
The short-lived, Ashton Kutcher-produced drama series about models, The Beautiful Life, featured Barton in a primo role, as supermodel Sonja Stone. But the show was cancelled after two episodes due to poor ratings. (TBH, we think they should reboot it—would totally watch now.)
Also this year, Barton was hospitalized in New York for a "nonemergency" "medical issue," according to her publicist at the time—an event that was also covered with much curiosity by the tabloids. In an interview with The View, Barton suggested that her stay had to do with painkillers that she initially started taking for her wisdom teeth, though didn't go into very much detail.
In 2012, Barton launched a now-defunct fashion website called Mischa's Place, and then opened some retail stores in Dubai, according to Racked.
Also that year, she appeared in leopard print underwear in the music video for a song from Noel Gallagher's High Flying Birds (the band formed by the former Oasis member), called "Everybody's On the Run." It's kind of a weird video:
From 2012 to 2016, she starred in a slew of small roles in mostly independent movies, according to her IMDB page. She also had a fair share of high-profile drama, including some tabloid-y breakups and a very public legal fight with her mother in 2015. Still, these years found Barton lying pretty low.
In 2016, she made the beginnings of a comeback to stardom with a contestant role on Dancing With The Stars.
But unfortunately, she was eliminated second. In December of 2016, she spoke negatively about the experience to The Ringer, in an interview that framed her as a teen star approaching her 30th birthday:
Yikes. Sounds like she did not have a good time.
In an interview with Amanda Knox, Barton revealed that she found out an ex of hers was allegedly trying to shop around a sex tape for half a million dollars. Even worse? She read it in the tabloids. Instead of cowering, she made the decision to go public with the story and filed restraining orders against that ex as well as his friend, another former partner who she alleged knew about the images as well. Ultimately, the two men agreed not to release or distribute the material, but Barton told the New York Times that the case dominated her life.
COURT VICTORY today with Mischa Barton. Distribution of the explicit images banned, ex stays 100 yards away forever. pic.twitter.com/cr0cWtveYgJune 5, 2017
See more
She opened up about the experience in the interview with Knox, and said that since it was before #MeToo, the whole idea of "revenge porn" was still pretty foreign to her. See the interview in full below:
She told Knox, "It's a wonderful feeling to know you've done the right thing, even if you had to fight for it."
Watch the full interview:
According to the New York Times, Barton had been living quietly in the Hudson Valley in New York, keeping out of the spotlight, when The Hills came knocking:
Eventually, according to the same article, Barton agreed to take on her first-ever reality show assignment (Dancing With the Stars being more of a competition show).
She also, naturally, appeared in the show's teaser trailer in April:
We can't wait to see what happens and whether she gets the new beginning the show promises.
The Hills: New Beginnings premieres on MTV on Monday, June 24.
For more stories like this, including celebrity news, beauty and fashion advice, savvy political commentary, and fascinating features, sign up for the Marie Claire newsletter.
RELATED STORY
50 Surprising Things You Never Knew About 'The O.C.'
RELATED STORY
10 Beauty Secrets Lauren Conrad's Makeup Artist Swears By
RELATED STORY
Will Kristin Cavallari Return to 'The Hills: New Beginnings?'

Celebrity news, beauty, fashion advice, and fascinating features, delivered straight to your inbox!